Each Friday, we share three topical longreads in our Weekend Reader newsletter. This week, LionsRoar.com's editor Sam Littlefair explores walls, both literal and metaphorical. Sign up here to receive the Weekend Reader in your inbox.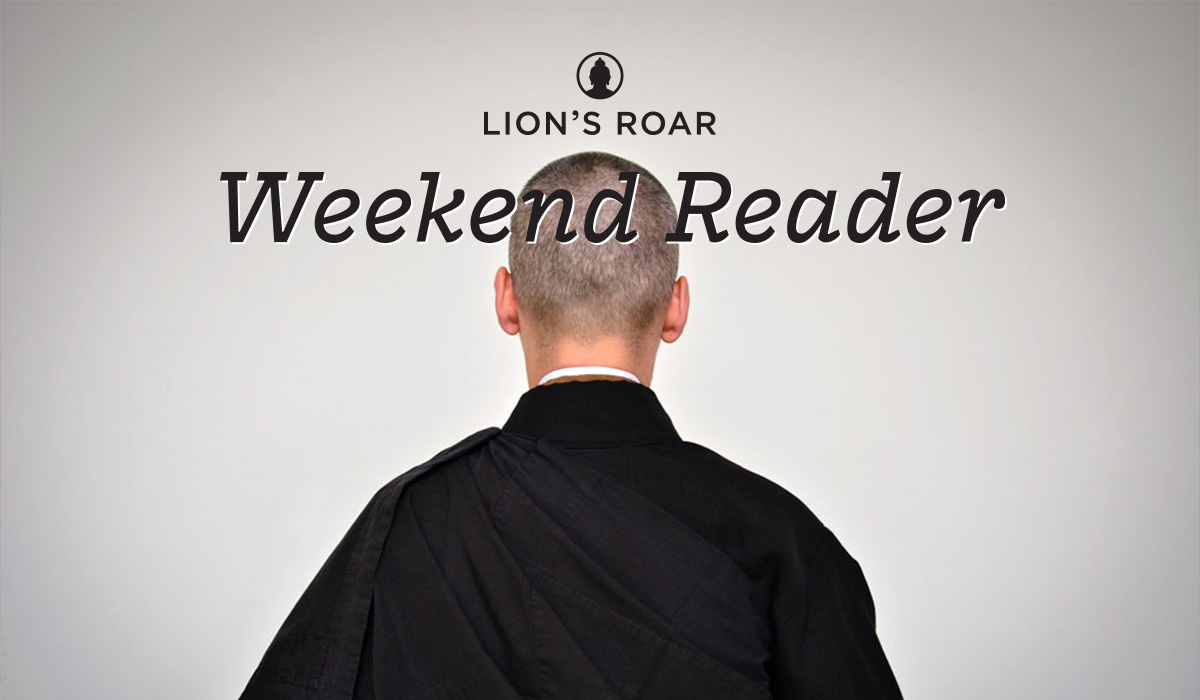 These days, we're talking a lot about walls. Right now, I'm in Berlin, where the remnants of a historical wall are strewn throughout the city. That wall may have been destroyed, but 27 years later the city's neighborhoods are still defined by where it once stood. Walls have power as structures and as metaphors. They can represent security, confinement, stability, division, obstruction. Often we use walls to keep others out. But they also keep ourselves in.
When you stare at a wall, it directs you back toward yourself. In many Buddhist traditions, we're encouraged to get intimate with the barriers we construct physically and mentally. Some traditions even invite meditators to sit immediately in front of a wall.
While some walls give us security and stability, others isolate us from truth and happiness. As Pema Chödrön has written, "by beginning to look clearly and honestly at ourselves — at our emotions, at our thoughts, at who we really are — we begin to dissolve the walls that separate us from others. Somehow all of these walls, these ways of feeling separate from everything else and everyone else, are made up of opinions. They are made up of dogma; they are made of prejudice. These walls come from our fear of knowing parts of ourselves."
In the articles in this Weekend Reader, we explore walls — literal and metaphorical. In their essays, Lin Jensen and Lisa Carver describe what they learned about themselves when they came up against physical walls. Meanwhile, in a Q&A from 2013, primatologist Jane Goodall says she has hope for the future, because nothing is indestructible. Even a great wall crumbles against the onward march of time.
I hope the articles in this Weekend Reader help you learn to work skillfully with all of the boundaries you face — whether political, geographical, physical, or psychological. And, if you'd like to try the Zen practice of wall gazing, try Karen Maezen Miller's teaching on the practice, complete with instructions from the great master Bodhidharma.
—Sam Littlefair, editor, LionsRoar.com
Lin Jensen recounts his experience with the ancient Zen practice of wall sitting.
What is it about a wall that so penetrates the consciousness of one who sits with it? For one thing, there's nothing you can make of a wall but a wall. It's obstinately resistant to imagination. My wall never tried to be anything other than a wall. It didn't try to be a floor or ceiling or even a sunset, the colors of which light up its pine surface on summer evenings. It was perfectly content to be what it was. I found that hard to match, often wanting instead to be other than I was.
I saw how naturally the wall fulfilled its function as a wall. I saw that it met the horizontal floor and ceiling with vertical exactness. And the particular section of wall that I faced daily met two other sections of wall at a perfect ninety-degree angle. Over time, I had the feeling that the wall wasn't so much a wall because it supported the bedroom ceiling. Its wallness had to do with something other than its function. It wasn't a wall relative to anything else; it was a wall in and of itself.
Everyone, it seemed, liked to tell Lisa Carver what she couldn't do: it wasn't proper, it wasn't art, it wasn't done. But Zen koans and Yoko Ono turned all that upside down.
Yoko Ono's "Wall Piece" consisted, in entirety, of this instruction: "Hit a wall with your head." So at a club in Oakland, I told the crowd, "Hit a wall with your head." Nothing happened. People went on talking, drinking, and waiting for the show to begin. I didn't mind. If ignoring me was what they did with it, then that would be the show. Then one girl said, "Okay."
She bashed her head really hard into the wall, slowly and deliberately, maybe five times. She looked all starry-eyed after and she was smiling. She said, "That felt good." I'd never hit a wall with my head, either. This wall was cement. I touched my forehead to it hesitantly. Then harder. It did feel good! It felt concentrated. I felt everything right there at the top of my face and nowhere else in my body, as if all sensation had drained upward. It was cool. I had a tender feeling; I felt fragility. Most of the time you don't feel your head and face. You see out of them, so you can't see them—only images or reflections of them. We have such a floaty life, gelatinous. If there is no boundary between self and universe, as some practices or philosophies conclude, then what do we even have these bodies for? The sudden contact of head to wall delineates it. It is a uniquely satisfying sensation.
Andrea Miller talks with celebrated environmental and animal activist Jane Goodall, about the compassion that exists in our natural world.
My reason for hope is — first of all — my youth program, Roots and Shoots. This is the way I explain why it's called that: children are like plants. They start out as a tiny seed. Then wee roots and shoots appear. They're weak at first, but the power within the seed is so magical that the little roots reach water and the little shoots reach the sun. Eventually, they can push rocks aside and work through cracks in a brick wall. They can even knock a wall down. The rocks and the walls are the problems we've inflicted on the planet — environmental and social — but roots and shoots surround the world. Plants can change the world; they can undo a spot of the damage we've created. And young people are definitely going to change the world.