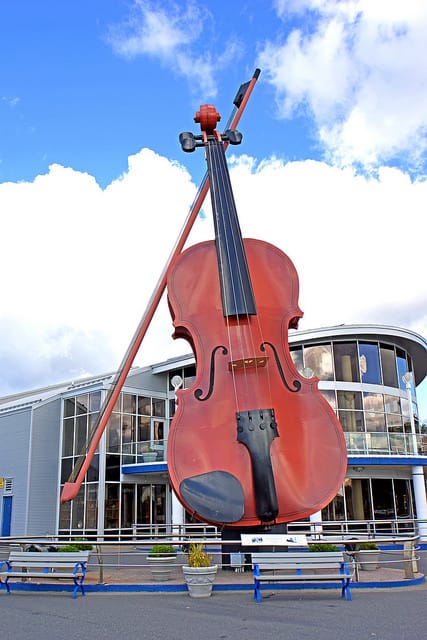 Photo by
Dennis Jarvis
.
Some music is so genuine, so deeply-rooted, so true that it lifts you out of your usual self, time and place. Dan Menaker loses his New York self in the music and dance of Cape Breton, where the fiddles fuel the ceilidhs up and down the coast.
From May through October every year, there is demotic music—mainly fiddle music—everywhere on Cape Breton, the mitten of land at the end of the arm that is the Canadian province of Nova Scotia. Scottish in its origins, with significant Irish and some French influence, the musical foam from waves of immigration in the nineteenth century, Cape Breton fiddling is a little like the species of the Galapagos: it has evolved into uniqueness.
For four days last summer, I traveled up Route 19 on Cape Breton from Port Hastings, the southern front porch of the island, to Cheticamp, the Acadian French town at the corner of Cape Breton Highlands National Park. It's called the sunset side of the island, and its inhabitants believe it's the best side. They will tell you that gladly and often, but the fact is that the whole island is beautiful, with its wild highlands and boggy taiga; the huge body of saltwater at its aqueous center, Bras D'Or Lake; its swales of close-cut lawns at seasides with small, neat, colorful houses put down on them like chess pieces set down on a green board; its ridges like whalebacks and deep evergreen forests, and long, protected coves and beaches, with water
warm enough to swim in during the summer. Cape Breton is soaked with water—rivers, lakes, estuaries, bays, straits, streams, waterfalls, inlets, marshes.
Route 19 sticks to Cape Breton's western coast, and it is saturated not only with water but with music and dancing, a hybrid of square dancing and step-dancing. This highway is called "The Ceilidh Trail." "Ceilidh" rhymes with "Bailey," and in Gaelic it means party or get-together. There are regular ceilidhs in most of the small towns along the way—Creignish, Judique, Port Hood, Mabou, Inverness, Margaree and Cheticamp.
I stayed at the Glenora Inn and Distillery, between Mabou and Inverness—the only single-malt distillery in North America. (They're not allowed to call their product Scotch—Scotch comes only from Scotland—but that's what it is: Scotch. Arrest me.) It's a small inn all by itself off Route 19 with ten or twelve rooms in a well-tended white stucco annex to the white-stucco distillery, and there are six or seven log-cabin honeymoon chalets set into the hillside above. It has a decent restaurant and a small pub, where a fiddler plays to piano accompaniment every day from 12 to 2 and from 8 to 10. When I was there the fiddler was a septuagenarian named John MacDougal, who sat straight up in a plain chair and rasped out jigs, reels, strathspeys and airs with solemnity worthy of a judge. He looked mad, he was so serious— like an aged version of Christopher Lloyd in Back to the Future. And he wasn't a virtuoso—some of the notes he played started out sounding like unfastening Velcro. But he had complete dignity, and his music was clearly as much a part of him as his bones.
In the morning at the inn, a CD called "Tranquil Sounds of Cape Breton" played quietly in the restaurant— restrained melodies like musical meditations—and caused the tourists to linger over their breakfasts. This moment seemed to me to represent perfectly one of the best parts of travel: those times when what is happening around you takes you out of yourself, when you lose yourself, and without thinking or studying, realize that it is precisely what is different about your surroundings that makes you feel at home in them, and that what is here and now takes you everywhere and into timelessness. I have tried to find that CD online, in order to re-create that meditative spell, and have failed. If I'm lucky, maybe I'll come back as a Cape Breton fiddler and take myself and others there anytime I want.
Inverness, just north of Glenora, has a gift shop called the Bear Paw. Its wares are the usual—lighthouse statuettes, T- shirts, tartan ties, pewter wind chimes, fridge magnets—but a gray-haired lady there was plying a loom, making a plaid scarf in the back of the shop, and while I was looking around another woman sat down at a small upright piano that I hadn't noticed and commenced playing lilting, Scottish-sounding melodies. It may have been part of the shop's atmosphere strategy, but it didn't feel like that at all, partly because I was the only customer at the time. The weaver said, "What's that one called again?" and the pianist said, "It's a pretty one, eh?"
The weaver, as it turns out, was the owner of the shop, Alice Freeman, a retired nurse and mower of lawns who is also an accomplished and well-recognized a cappella singer of Gaelic songs. "My father sang in Gaelic and English all the time," she told me. "He would sing hymns on the weekdays and songs on Sunday, just to bug my mother." The piano player was Marian MacLeod, daughter of Alistair MacLeod, the increasingly famous Canadian writer whose volume of short stories, The Island, serves as an excellent introduction to the climate and to some gloomier aspects of the psychological atmosphere of Cape Breton.
Further up the coast, in the Acadian town of Cheticamp, at the Doryman tavern, Celtic ceilidhs take place across the road from an arm of land and a beautiful inlet of water every Saturday from 2 to 6 in the afternoon. Mairi Rankin was playing the fiddle the day I visited, and she was good. (The Rankin Family was among the best-known Cape Breton music groups until it broke up, and the name Rankin is all over the place— there's even a Rankinville. Other common surnames turn up all the time—MacMaster, Maclsaac, Beaton, etc.—as in most small and geographically isolated communities.)
In her early twenties, Mairi had rusty-red shoulder-length hair and was wearing jeans and a slightly hippie purple blouse, and she played assiduously, catching fire when she glided from a slower part of a set to a faster one. As in Irish and Scottish music performances (the Chieftains, for example), Cape Breton fiddle sets can be ten minutes to half an hour long. They can consist of from three or four tunes to six or seven, many of them with AABB melodic structures, and the individual tunes have whimsical, ceremonial, authorial, dedicational or geographical names: "The Little Pickle," "The Five-Mile Ridge," "Trip to Mabou Ridge," "Alex MacDonnell's Favorite," "The Gladstone Reel," "Glad You Made It, Howie." These simple tunes sometimes gain more art and complexity in the way they're assembled into sets. A slow, wistful, modal air slides into a strathspey (like a reel but slower) in a related major key and with a melody that complements the first, and then the third, modulated again and with another related melody, may be a frenzied reel. But often, Alice Freeman told me, quoting the dean of Cape Breton fiddlers, Buddy MacMaster, "They have no idea at the beginning what's going to happen at the end." Predetermined or improvisational, this is fiddle music, not violin, and despite the art of assemblage (and except in the airs, which when played well can draw tears from a brick) it frequently has a rough, insistent quality that can drive the unaccustomed ear to drink or distraction, and the accustomed one to dance.
They both drink and dance at the Doryman. People from the audience of a hundred, inspired by pitchers of Keith's beer and a lot of whooping and hollering, got up one by one, walked to a small patch of floor in front of the rudimentary stage, and step-danced—a little like Irish dancing, a little like Appalachian clog-dancing. It's high-impact work, and a couple of women with off-the-shoulder blouses had to make apparel adjustments as they danced. These dances would energize a slug, but it's the slow airs that lingered with me most profoundly, like that CD back at the Glenora Inn. Once again, I felt lifted out of the moment by the moment, and the mournfulness that clung to even the loveliest slow melody seemed to me to speak of the painfulness of longing and the sadness of desire and conflict. It struck me again that a journey into the highly distinctive specificity of a place and a kind of music could produce a feeling of transcendence of time and place.
The music at the Doryman is booked and organized by Jerry Deveau, who lives in nearby Bas Cote. He is a solid person, around sixty, and he has short sandy hair on the back of his head that extends downward and outward from his neck, like a roof eave, big features, and a genial expression, as befits an emcee. He greeted me in the parking lot and, in his distinctly Acadian French accent, asked me where I was from. When I said New York, he said, "Well you don't look it. I'm Jerry Deveau, and I run this crazy business here."
Mr. Deveau told me that he knew of sixty-eight fiddlers on Cape Breton—"forty-seven of them ladies," he added. "And some of the ladies are better than the men, to be honest with you." Music runs in his family, too: "My father played the mouth organ," he said, "and my mother played the accordion, and an uncle of mine played the piano." Deveau himself played the guitar and for a while accompanied a well-known, punk- rock-ish young fiddler named Ashley Maclsaac, but five years ago he took up the job of managing the music at the Doryman. "Used to be that they had the same fiddler there every week," he said. "But I came in and now we have different people all the time. They're trying to get me to come down to New York and bring some of these musicians down there," he went on. "1 think it's the Mercury Lounge or somewhere around there."
Forty-five minutes into Mairi Rankin's performance, Jerry joined her and her keyboardist, Jackie Dunn, onstage and added percussion to the jigs and reels with a pair of spoons, which he played with manual flourishes worthy of a preacher.
"It's always good to play back home," Ms. Rankin said to me later. She travels extensively, mostly with the Celtic fusion group she's part of, Beolach, and they appear at festivals all over the world, especially in the summertime. "This is the first day I've been able to buy groceries in weeks," she went on. "The Doryman is always a guaranteed good time, because the French communities love music. They're very open-minded, upbeat and lively." She started out step-dancing as a little kid, moved on to try the piano, which she didn't like because at the time she wanted to "ear play," as she put it, rather than learn to read music. She turned to the fiddle when she was twelve, took lessons, listened to her grandmother's party tapes, and also listened to a fiddler neighbor named Kenneth Joseph MacDonald. "Fie would play, play, play, play, play," she said, "and I would tape him, and a lot of my repertoire came from that."
That same night I went to the square dance at the West Mabou Parish Flail, another plain, functional building, like a VFW lodge. (I'd asked a waiter at the inn how I would know the place, and he said, in the Irish-Scottish-Canadian accent one hears often on Cape Breton, "Yeh'll know it easy, bekahz yeh'll see all the cairs goin' in 'n' oot.") Richard Wood, from Prince Edward Island and of considerable local note, was playing the fiddle. Mac Morin (who is also a member of Beolach) was the keyboard player and Pius Maclsaac played the guitar. Even though I was, as they say, "from away," I felt comfortable just walking in, paying my $5 cover charge, ordering a 7-Up from the guy at the hall's kitchen counter, and sitting down at one of the twenty or so long wood- and-metal tables and watching. "Adult dances," as they are billed, are not what you might think—lascivious, lap-oriented, grindy things. They're simply dances where beer is served. This one was not an adult dance but a family dance, and a lot of children, from three or four to eighteen, showed up, just learning and showing off, respectively.
What happens is this: After the lights are turned down a little and the music begins, circles are formed, with from eight to twenty people. Couples who arrive together usually but by no means exclusively dance together. The circles circle, then devolve into couples dancing together, then re-evolve into circles and begin figures of more complicated kinds, from grand-right-and-lefts to partner exchanges to promenades of couples between two long lines of segregated men and women, who feed into the promenades until everyone has gone through, like a sock turned inside out. (Other complexities occur and if you go on the Web and Google "West Mabou" you'll eventually be able to track down instructions for the dancing they do there.) Between and among the patterns, there is dancing in place, some of the dancers doing simple foot shuffling, others doing fancy and sometimes explosively loud steps. In days gone by, dancing, like rapping, was competitive between one community and another, particularly in the town of Judique, home of Buddy MacMaster, whose citizens would banish others from dancing with the cry, "Judique on the floor!" This sometimes raised the competitive ante from dancing to fistfights. (There are many different kinds of insularities, Manhattan having its share— when I first drove through this small town and saw a sign that said "Judique Center," I wondered if it was a French-Canadian Jewish settlement.)
Oh, it would have been so nice to be able to join the dance, especially since there was a lot of square dancing in my family and I recognized some of the figures that were being done. And since, yet again, I felt the sublime and self-losing aspect of the music and the dancing. Dancing is, after all, a species of meditation, isn't it? Or, at least, it can accomplish some of what meditation accomplishes—the shedding of immediate concerns and planning and scheming and wanting. Unless, of course, there is a beautiful woman brought to your attention by the occasion, in which case you can be drawn straight back into desire.
I saw this very pretty young woman from the inn—the distillery tour guide—come in and greet a few people but then sit down by herself. But it was late and I didn't have the nerve. The next morning, when I was checking out, I ran into her in the inn's little gift shop and mentioned that I'd seen her at the dance the night before. "Oh, well why didn't you ask me to dance?" she said. (As a formality? It didn't seem that way.) "I'm not from around here, and we could have helped each other through the night," she added, with that ultra-nice Canadian smile. "Next time," I said.
What impresses a Manhattanite about this vital kind of autochthonous popular culture is, first, that it has survived and flourished. Many of the children of West Mabou were not home watching television that Saturday night. (There are no movie theatres in Cape Breton except in one or two larger towns.) Richard Wood, for all his young, punky, dyed-blond, scraggly looks, is obviously an accomplished traditional fiddler, and I was told by an expat New Yorker whom I met at the dance that young people continue to learn and take pride in playing music and dancing. In fact, Jerry Deveau had told me, "There are new fiddlers coming along every month, every month. Oh my God, I swear I can't keep track of them anymore."
Second, the pervasiveness of the music makes it seem like a kind of aural weather—something not set off from but immanent in everyday life. Third, one could sense that it was a distinctive tradition, one of a kind. Fourth, the people at the Doryman and in West Mabou danced with pride and pleasure but without self-consciousness. As travel often does, it made me wonder if
mobility and cosmopolitanism have costs that equal or outweigh their benefits.
And finally, there was that odd sense of escape from myself that the music and dancing brought about three or four times. It had happened even at the Bear Paw gift shop, when Marian MacLeod sat down and played the piano, even though it lasted only a few minutes. This is a sort of deep and implicit meaning of the saying, "Traveling is broadening." One way of understanding the enormous strangeness and mystery and transitoriness of our existence is to sit down in one place quietly and empty your mind of thought and perceptions, insofar as you can. Another way is to go somewhere you've never been, so that a sense of mystery and wonder has a chance, however temporarily, to replace the small and quotidian situations you routinely encounter.
As I drove back south along Route 19, toward the airport near Halifax and my flight home to New York, I felt as though I were beginning to come back down to earth, from a high place and a time out of time. The summer weather on Cape Breton is spectacular—all the watery prospects give dramatic views around nearly every curve in the road—and now the cape seemed to me to glow with a sort of transcendence. At last, returning the car I had rented put me in closer touch with the everyday. I'd forgotten to fill it and was charged the customary $53,000 per gallon for the oversight. Then my flight turned out to be overbooked, and for a half hour it looked as though I might have a serious delay, resulting in another (what we call) reality check. Nevertheless, when the attendant at the gate finally determined that I was among the fortunate un-bumped and noticed that 1 was on my way back to New York, and said, "I hope you enjoyed your stay in Nova Scotia," it somehow seemed more than a courtesy. ♦