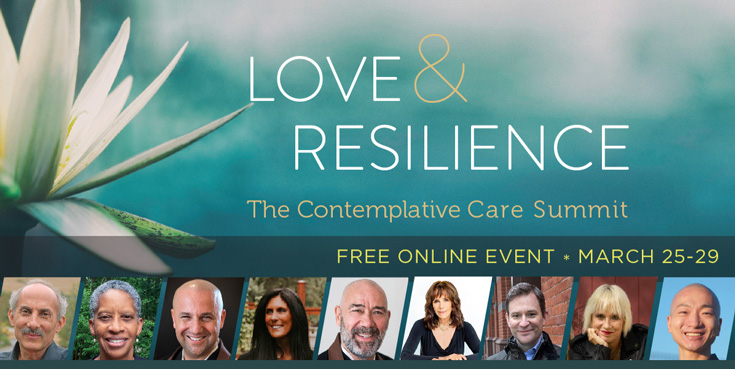 Lion's Roar & the New York Zen Center for Contemplative Care are honored to invite you to a free 5-day online event: Love & Resilience: The Contemplative Care Summit. The summit convenes over 30 fascinating figures from an array of fields to offer medicine for these times. Explore how to apply a contemplative care approach to life – and death – through their deep insights and practical guidance.
Educators, health care professionals, end-of-life care partners, organizational leaders – and anyone who has experienced conflict in their relationships, cared for a loved one, or suffered from illness or grief – will learn how to take on the enormous challenge of being authentically present and caring to another person, while balancing personal wellbeing at the same time.
Learn from an exceptional panel of presenters – including Jack Kornfield, Sensei Koshin Paley Ellison, Sensei Chodo Robert Campbell, Trudy Goodman, Sebene Selassie, Pamela Ayo Yetunde, Dawa Tarchin Phillips, V (formerly Eve Ensler), Seth Godin, Dr. Carolyn Jacobs, Ira Byock, MD, and many more – who offer personal and professional insight, gentle guidance, and a sense of joyous celebration of those who give of themselves to others.
Click here to learn more and sign up.
THANK YOU FOR READING LION'S ROAR. CAN WE ASK FOR YOUR HELP?
At Lion's Roar, our mission is to communicate Buddhist wisdom in today's world. The connections we share with you — our readers — are what drive us to fulfill this mission.

Today, we're asking you to make a further connection with Lion's Roar. Can you help us with a donation today?
As an independent nonprofit committed to sharing Buddhist wisdom in all its diversity and breadth, Lion's Roar depends on the support of readers like you. If you have felt the benefit of Buddhist practice and wisdom in your own life, please support our work so that many others can benefit, too.

Please donate today — your support makes all the difference.

Lion's Roar is a registered charity in the US and Canada. All US & Canadian donations are tax deductible to the full extent allowed by law.