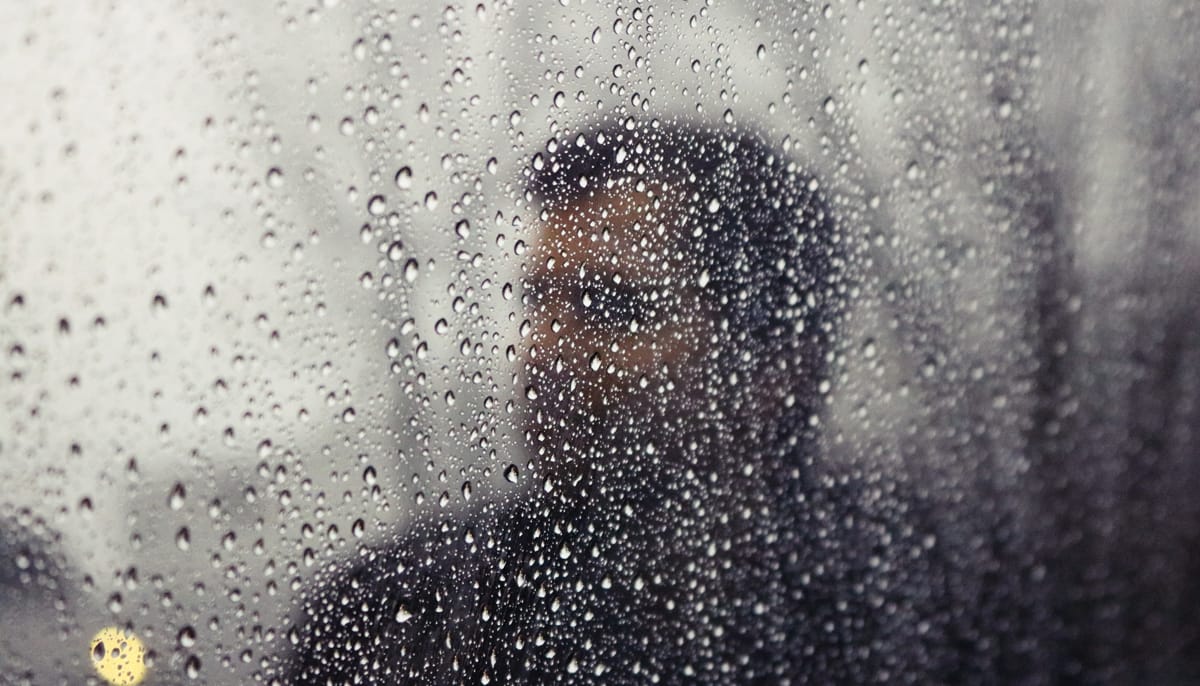 Vietnam Veteran Claude Anshin Thomas shares how he learned to live with the past by living intensely in the present. From the Lion's Roar archive, originally published in the November 1993 Lion's Roar.
I would like you to think about rain. Close your eyes, and think about rain, and the thoughts and feelings it brings up in you. I want to share with you what happens to me when it rains.
When it rains, before I can get to the sound of the rain, I have to walk through the sounds of war. I have to walk through the screams of young men dying. I have to walk through the visions of tree lines going up in napalm. I have to listen to seventeen-year-old boys crying for their fathers, for their girlfriends, and their mothers, before I can get to the place where it's just rain.
Today I can get to the place where it's just rain. For years I couldn't.
I understand now that to heal the aggression within me, I had to be able to touch it and acknowledge its reality in my life. That wasn't an easy process; nothing in this culture encouraged me to do that.
When it rains, before I can get to the sound of the rain, I have to walk through the sounds of war.
I was trained to be a soldier from the day I was born, by the way I was brought up and the things I was encouraged to do—to hunt, to kill, to dominate, to rule and control my environment. I was taught to be not mindful, to be not thoughtful. I was taught only to serve authority, whatever that authority was.
I grew up very simply. My father was a school teacher. My mother never graduated from school. The environment in my house was not any different from a lot of the houses I saw around me. It was full of anger, full of violence, none of which I understood at the time because I had no skills to understand it.
I went into the military, and then to Vietnam, at the age of seventeen. I didn't know what else to do and my father suggested it would make a man out of me. I was an athlete in high school, so I was trained, I was primed. A writer in the local newspaper said that if he had to charge a hill with anyone, he wanted it to be Tommy Thomas.
I realized on my second day that the military was not a good choice, but I didn't know that I could get out. So I did the next best thing: I learned to be the best soldier that I could be. I trained to be a ranger, which just meant that I was more skilled in killing. The military is about nothing else. The military is not about defense. The military is about offense. The military is not about peace. The military is about killing. That is how I was trained.
The nature of my training was to learn to dehumanize the enemy, and in the process of dehumanizing the enemy, I became dehumanized myself. At seventeen, the American military broke me down and reshaped me. I remember a drill sergeant—maybe six-three or six-four—standing in my face screaming obscenities, taking out his penis and urinating on me. There was nothing I could do because I didn't know that I could do anything, and I wasn't aware at the time of how deeply those kinds of actions affect human beings. Those experiences never go away.
In Vietnam my job was to crew helicopter gunships. The only purpose for existence was to take human life on a daily basis—I was responsible for the deaths of hundreds of people. But war was not confined to the boundaries of my service in Vietnam. There was the war before the war, and the war after the war, and the war that continues to rage on a daily basis all over the world. My life in high school was one form of war; my family was another form of war.
I was prepared to go to war before I went to war. I was prepared to kill before I killed, because I was full of anger, resentment, hurt, despair, and suffering. My story is not unique: it is happening every day in houses all over the country, all over the world to larger and lesser degrees, but it continues to happen. We can't have peace on earth unless we can have peace within ourselves. We have to be able to look deeply into the nature of our suffering—to touch it, embrace it, hold it—before we can get to that place of peace.
In I967 I was shot down for the fifth time. The pilot and the aircraft commander were killed, the gunner critically wounded. As I lay pinned in the overturned helicopter, I could smell the fuel leaking, and I could hear the gunfire hitting the helicopter. I was convinced that I would die, and I believed that I should die. I didn't want to survive because I hated myself and what I'd done. But for some reason, I didn't die. I was in the hospital for nine months, and at the age of twenty I was discharged from the military.
On my way home, as I walked across the airport in Newark to change planes—a highly decorated soldier in uniform—I was approached by a very attractive young woman. I thought she was interested in me or wanted to talk to me, but she got within inches of my face, and she spit on me. My reaction was that I wanted to kill her. I was threatened, invaded, violated, and I had been trained to kill in such situations. I didn't. I went to a bar and got drunk, and I stayed drunk and high for the next fifteen years.
I needed intoxicants because I had no skills or ability to touch the tremendous depth of suffering in my life. It was the only avenue available to me. What I have learned since is that by not being able to touch the suffering, to really embrace it, it cannot transform and it comes out in indirect ways. It was the war after the war. I was in jail in many states. My life was full of anger and rage and violence; it was the only way I knew how to touch the world.
It is an insane proposition that because we are human beings it is natural for us to fight and kill.
I got involved in the anti-war movement, not because I believed in peace, but because I believed that if you are going to fight a war, you might as well fight it to win. My thinking has changed radically since then: I'm convinced that we don't need to fight. It is an insane proposition that because we are human beings it is natural for us to fight and kill. Through mindfulness there are ways to resolve conflict without violence.
But the peace movement was really another war movement. It was violent and ugly, and Vietnam Veterans were a prized possession of the movement, yet expendable in the same breath. If we could serve their purpose, then they wanted us there, but when it came to healing, they weren't there to help us.
Beginning in I970, I began to leave the United States on a regular basis. I was embarrassed to be an American, and I couldn't stand to turn on the television any more and listen to them talk about the war.
In I974, I bought a one way ticket from London to Tehran. I didn't speak the language, I didn't have any idea what went on in Iran, I just knew that it was far away. I thought the insanity of my life rested outside of me. I felt that if I could find the right place, it would heal me. If I could meet the right person, it would heal me. If I could find the right teacher, it would heal me. Whatever I was seeking, it was outside of myself, because I did not have the skills or the encouragement to look inward.
In Iran, it became more and more difficult to keep the lid on the untouched issues of war and violence in my life. The Iranian secret police could come into a family and take away every male above the age of sixteen and imprison them for ten years without a trial, and I saw this happen on a regular basis. I reacted in the only way I knew, in anger and in violence. A taxi cab driver would stiff me for fifteen cents and my response was to total his taxi with my hands. I continued to put myself at risk, hoping that I would die because I couldn't stand to live with what was going on inside of me.
One night the police showed up and took me away. They interrogated me for ten days, trying to get me to sign a paper that I was a spy. In the interrogation they broke four ribs on one side, five ribs on the other side, cracked both my cheek bones, ruptured my spleen, sodomized me, and finally just threw me out on the street. I survived that, and I didn't want to. My response was to act out more violently and I ended up in jail two more times. I had no other recourse than to act out the anger to punish the punisher; I didn't know any other way.
When it began to turn around for me, I have no idea. I know that in I990 I found myself shut up in my house, afraid to leave. I could no longer touch society because of all that it represented for me. I would walk outside and see a plane fly by; I would cringe because I would see tree lines going up in napalm, and young Vietnamese running from villages, their flesh on fire from this jellied substance, not able to put out the flame. I would walk into the grocery store and I couldn't take a can of vegetables off the shelf because I was afraid it was booby-trapped. I knew it wasn't so, but suddenly the feelings were present, and this time I wasn't running away. In order for it to be transformed, I needed to stay with this reality.
I first heard about the Zen teacher Thich Nhat Hanh from a woman who has helped me a great deal, a social worker in Cambridge, Massachusetts. In her sensitivity she mentioned this Zen monk who had some success working with Vietnam veterans and helping them to heal. She didn't say that he was Vietnamese himself. And I said, yeah, yeah, yeah, and didn't do anything.
Six months later another person told me about a retreat for Vietnam Veterans run by this same man. This time I called, not because I wanted to, but because nothing in my life was working. I didn't know what would work but I wanted life to be different. So I went to this retreat; I was terrified, but I went.
My training had enabled me to walk through terror and not experience it. Part of my military training was to operate in small units of four or five people. We were dropped in to gather information, assassinate, or destroy. If during an operation any of us got hurt, our job was to kill them because they would slow us down. I knew how to build walls against terror. I have come in on a helicopter, looking at the fifty calibre tracer rounds come at me, glowing, as big as softballs, knowing that when you see one, there are five that you don't. I learned how to deny terror and to just go forward.
That's what got me to the retreat. I sat down in the front row because I couldn't stand to know that there were other people. This Vietnamese Zen monk walked in and sat down and I started to cry. I realized in that moment, just in the moment of him sitting there that I didn't know the Vietnamese people any other way than as the enemy. They were the enemy, and if they were the enemy then I didn't know how to relate to anyone else in the world other than as the enemy. Everyone was the enemy.
One of the first things this monk said was, "You veterans, you are the light at the tip of the candle. You burn hot. You have the ability through your experience to help in the transformation of the world, to transform the violence, to transform the hate, to transform the despair. You need to talk."
And he said, "You, the non-Veterans, you need to listen because the veterans deserve to be understood. And to understand someone you need to place yourself in their skin."
All my life when I tried to talk about these things, people always went away.
They always said, "Oh, you're too intense. I can't deal with you. I've got to leave." I've come to understand that what they were really saying is, "In relationship with you I am touching parts of myself that I don't want to touch. And I don't want you around to remind me of what I don't want to touch."
Thich Nhat Hanh said that the non-Veterans were more responsible for the war than the veterans, and I knew the truth in that. He was articulating things I had known all my life. Since the end of the war, Vietnam Vets have suffered high rates of suicide. In the war, 57,693 died in combat. I can be sure that there are one or two veterans in every group of homeless people I see on the street, and many have ended up in prisons. We have been marginalized.
I didn't know what to do. I approached Thich Nhat Hanh's assistant after the retreat, a nun by the name of Sister Phuong. I wanted to make amends for the killing but I didn't have the courage to say that. All that came out of my mouth was, "I would really like to go back to Vietnam." And she smiled and she said to me, "You need first to come to Plum Village. Let us help you." I said, "I can't afford to come." She said, "We'll buy your ticket." This was my enemy. No one in this country ever offered me that opportunity.
Plum Village is Thich Nhat Hanh's retreat center in France, and Vietnamese Buddhists come there from all over the world, as well as Thich Nhat Hanh's western students. Plum Village is separated into an upper and a lower hamlet and most of the Vietnamese people live in the lower hamlet. When I arrived Sister Phuong told me that I would live in the lower hamlet.
There I was in a community of four hundred Vietnamese, terrified. Every place I turned another memory would come up from the war. I couldn't work hard enough, I couldn't be busy enough to get away from those memories. I wanted to talk to somebody, and I would approach a monk or a nun and try to explain what was going on, saying, "I see the young Vietnamese women in their traditional dress coming into the zendo and what I can remember is a gun run in a village where I was responsible for killing maybe thirty or forty people." I'd start to talk and these monks and nuns would say, "The past is in the past. There's only the present moment."
"If you are living intensely in the present moment, the past and the future are also there. You just need to live with them like still water."
Driven by my guilt, I didn't know how to deal with that. So I didn't say anything until one day I began to talk about the war and I got the same spiel from a monk, and I turned around in real anger and said, "The past is not in the past for me. It's in the present moment and it's ugly. I hate it." I talked to Sister Phuong about this; she said that the information that I was being given, although correct, was not complete. She said, "Yes, the past is in the past, but if you are living intensely in the present moment, the past and the future are also there. You just need to live with them like still water." That's all I needed, and then I went away and put myself into life.
I went back to Plum Village this spring. It doesn't get easier, it just gets more subtle. I'm confronted with myself over and over again. I was victimized but I cannot continue to maintain the posture of being a victim. I need to heal.
I need to transform. I don't know how that process takes place; I just know that I need to challenge the ideas that I have been subjected to throughout my life.
There are some precepts that Thich Nhat Hanh exposes people to as part of his teaching. I want to end with one of these five precepts:
Aware of the suffering caused by the destruction of life, I vow to cultivate compassion and to learn the ways of protecting the lives of people, animals and plants. I am determined not to kill, not to let others kill, and not to condone any act of killing in my thinking and way of life.