Each Friday, we share three topical longreads in our Weekend Reader newsletter. This week, LionsRoar.com's Sam Littlefair looks at whether our phones can be both an object of distraction starts and an object of meditation. Sign up here to receive the Weekend Reader in your inbox.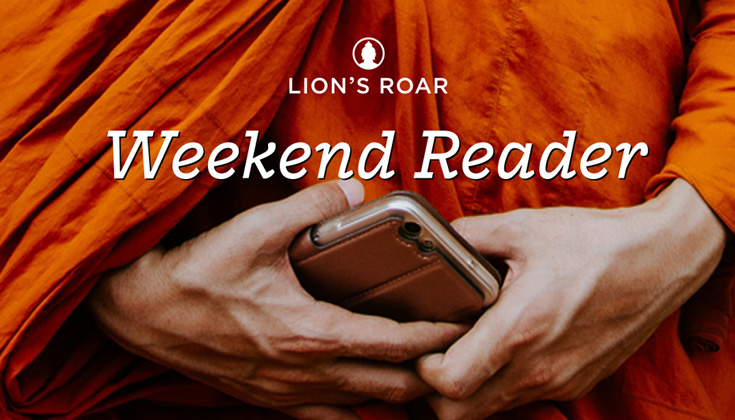 I invented a new practice for myself recently. Here's the instruction: don't look at your phone.
That's what I tell myself when I feel myself start to get restless. Waiting for the elevator. Waking up in the morning. Standing alone at a party.
And it doesn't mean Never look at your phone. There are many moments throughout the day when it's reasonable to do so. But I often look at my phone by default, even when there's no reason to. Or, worse, I look at it because I'm avoiding something uncomfortable — like a squishy emotion.
When I try this new practice of not looking at my phone, I discover a lot. Sometimes, choosing not to look at my phone reminds me that there's something I'm avoiding. Other times, it reminds me to relax and enjoy myself. And other times still, it prompts me to ask: what am I using this phone for?
Most of us have smartphones — literal supercomputers strapped to our hips. How are we using them? How are they using us? I find that when I start asking these questions, this object of distraction starts to become an object of meditation.
—Sam Littlefair, editor, LionsRoar.com
PS: If you want to take your smartphone practice a step further, check out our growing list of Buddhist iPhone apps.
Yael Shy on how to bring mindfulness into your digital life.
The key to mindful living "off the cushion" is building in a pause to check in with our intention, our body, and our heart before we reach for our favorite distractions. Nowhere is this more palpable and powerful than in our relationships to our devices. When do you reach for your phone? When do you click on social media sites? How do you feel right before heading to your page on the site? What happens in your mind while scrolling or posting? How do you feel afterward?
If you don't have anything nice to say, don't say anything at all — but that's a lot easier said than done. Sarcastic scribe Michael A. Stusser tries right speech for a month.
"You're not going to be perfect in your practice," Dawn noted in her nonjudgmental yet powerful way, "but if you ritualize the way you go about it, and proceed with compassion, you should be all right.
As we reviewed the various scriptures and guidelines, the Buddhist concept of "right speech" came into focus. "The first element is abstaining from false speech — basically lies and deceit," Dawn noted. I don't do a whole lot of lying (anymore), so I thought avoiding flat-out fibs for the month shouldn't be a problem. "The second notion is abstaining from hateful or slanderous speech." Hmmm. Slander: making false and malicious statements about others. Okay — I can stay away from that. "Third element is avoiding harsh words that hurt or offend other people," she continued.
I must have looked dumbfounded.
Sister True Dedication, a Buddhist teacher and former BBC journalist, offers tips for keeping your head clear in the modern media landscape.
Decide how much time is enough for certain apps, websites, books, movies, or television series. Make a commitment like "No Facebook in the evenings. Only 10 minutes per session. No phones at the table." Try a one-day media fast.