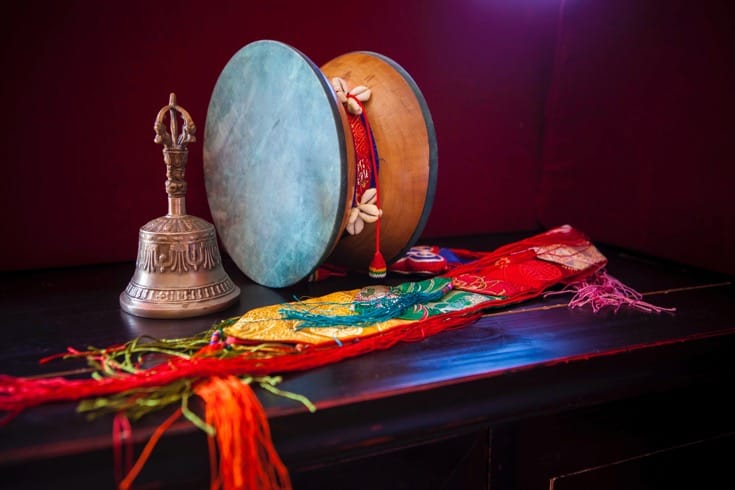 Tibetan Buddhist practice supplies. Photo via taramandala.org.
The Historic First International Chöd-Zhijé Conference will run from July 12 to 16 at Tara Mandala Retreat Center in Pagosa Springs, Colorado.
The conference will explore the ancient practice of chöd, which is considered one of the Eight Chariots of Spiritual Accomplishment in the Tibetan tradition. The practice involves offering one's body as food to demons in order to cut away the false concept of ego. Organizers say chöd provides a model of integration that practitioners can apply to all areas of their life, and will be explored through keynotes, panels, small groups, and practice opportunities.
The conference is also tailored for those who wish to deepen their understanding of the lineage of Tibetan yogini Machig Labdrön, the originator of chöd. On top of that, participants will discuss the teachings of Indian yogi Padampa Sangye, the role of women, and the application of chöd in the modern world. This marks the first time leading scholars and practitioners of chöd will gather together for a conference.
Speakers for the retreat include Lama Tsultrim Allione, founder and spiritual director of Tara Mandala; Lama Sarah Harding, translator and associate professor in religious studies at Naropa University; Michael Sheehy, director of programs at the Mind & Life Institute and assistant professor at the University of Virginia; and Kunze Chimed, chöd singer and teacher of chöd in the Gelugpa tradition.
The Historic First International Chöd-Zhijé Conference is sponsored by Shambhala Publications, Wisdom Publications, and the Tsadra Foundation. Following the conference, there will be chöd practice retreats available from July 18 to 23 at Tara Mandala. For more information about the conference and following retreats, visit the Tara Mandala website.