Wounded by her work with abused children, pediatrician and Zen teacher Jan Chozen Bays found healing in a special ceremony invoking Jizo Bodhisattva. As Andrea Miller tells us in this profile from the May 2015 issue of Lion's Roar, she now offers this healing ceremony to all parents who've lost children through miscarriage, abortion, or death. Trigger warning: child abuse. Photos by Jennifer Binkman.
As a pediatrician specializing in child abuse, Jan Chozen Bays was the one called in to examine limp, pale bodies in the intensive care unit. With a respirator inflating their lungs, it would seem like they were still breathing naturally. The nurses would be angry with the parents, who were usually the ones who had shaken or beaten the child. Dr. Bays would speak gently to the frightened, troubled parents, and also to the nurses. When no one was looking, she'd hold each child's hand.
Bays also attended autopsies. She opened small mouths and genitalia to swab for semen. She photographed burgundy brain hemorrhages, cigarette burns, rib fractures. She meticulously labeled evidence, dictated reports, and testified in court.
Disturbing images haunted her. At the end of every day, she'd try to wipe the slate of her mind clean to start fresh in the morning—efficient and compassionate with each new child, parent, nurse, and law enforcement officer.
But after ten years of child abuse cases, there came a time when there were just too many dead children. For Oregon, 1993 was a record year. Usually there are fifteen to twenty child abuse deaths in the state annually. That year there were thirty-two.
One Friday, during a particularly difficult week, Bays was called in to deal with a rape case and didn't end up leaving work until late. On the drive home, a sappy country and western song came on the radio. "I started crying," she says. "I wasn't sure I'd be able to stop."
Jan Chozen Bays is also a Buddhist teacher, a Zen roshi. She received dharma transmission in 1983 from the late Taizan Maezumi Roshi, and in 1985 she became the teacher for Portland's Zen Community of Oregon. Until her breakdown in the car, Bays' meditation practice had kept her from burning out, as the doctor who'd held her job before her had done. Now, she needed something more.
Our original face sees the beauty of things as they are. That face shines out of Jizo statues, and we recognize it when we see it.
A mizuko kuyo is a Japanese ceremony to remember children who've died in their first years of life, as well as children who've been aborted or miscarried. It's not an ancient tradition; it arose out of a human need in the 1960s.
In the years leading up to World War II, the Japanese government was aggressively pronatal and stigmatized abortion as scandalous and even unpatriotic. Following the Japanese defeat, food and resources were scarce and the population was swollen by soldiers and civilians returning from countries Japan had occupied. Facing economic strain, the government reversed its policy and legalized abortion. Birth control was expensive and not widely available, and by 1960 two out of three pregnancies in Japan ended in abortion.
"While modern medical technology made the procedure safe and efficient, and poverty and legislative sanction made it common, the effect of abortion upon the psyche of the women was overlooked," writes Bays in her book Jizo Bodhisattva: Guardian of Children, Travelers, and Other Voyagers. "People do what has to be done to survive in desperate circumstances, but it does not mean they escape without emotional pain."
Japanese women began requesting help from their religious leaders. In response the mizuko kuyo ceremony was developed and the ancient bodhisattva Jizo gained a new aspect. Mizuko Jizo became the protector of unborn, miscarried, and aborted babies, and of children who died young.
Today, Mizuko Jizo is the most popular form of the bodhisattva in Japan. Grieving parents often purchase a statue of him to place on the family altar or at a cemetery. It can be placed in the family plot or in a Jizo garden, a special section of Japanese cemeteries featuring rows and rows of Jizos.
In a certain garden in Japan, hidden among the trees, there are a thousand images of Jizo. It is said that if any of us looks carefully enough, we will eventually find our own face among them. What we discover, Bays explains, is our original face—what lies beneath the genetics of our chin, eyes, mouth, nose.
"Our original face is connected to our buddhanature," she says, "It's a face of serenity—the serenity that's our innate birthright. It's a face of happiness, like coming home when you've been away for a long time. Our original face sees the beauty of things as they are. That face shines out of Jizo statues, and we recognize it when we see it."
At her first mizuko kuyo, Jan Chozen Bays used red thread blessed by the Dalai Lama to string together a cape of green-gray eucalyptus leaves. She used one leaf for each child who'd been battered to death that year in Oregon, and another leaf for each of the two babies she'd miscarried in her life. As she worked, she thought about each lost child, and her tears dripped on the leaves. Other participants made their own small garments, mostly bibs.
This mizuko kuyo was being held at Green Gulch Farm Zen Center outside of San Francisco. Although the ceremony is normally reserved for mourning parents, Bays had asked the ceremony leader, Soto Zen priest Yvonne Rand, if she could attend.
"Only as a participant," Rand told her. "No observers are allowed."
For Bays that was fine: she was beyond being an observer.
Rand invited anyone who wished to say a few words about the children they had lost. Most people remained silent, but one father talked of his baby succumbing to sudden infant death syndrome and a young woman—sobbing as she sewed—spoke of her stillborn child.
When everyone had finished sewing, they carried Jizo statues to the garden and in a bamboo grove they chanted the Heart Sutra, offered incense, and dressed the statues in the garments that they'd made. Finally, Rand read the names of the dead children. Most participants stayed for a while to quietly wander in the garden.
Later, Bays realized that a weight had been lifted from her heart. "There's a particular kind of suffering when a child dies," she says. "This ceremony is so impactful, so helpful for this kind of suffering. I really needed to bring it to Oregon."
Two important healing elements of the mizuko kuyo are the silence and the sewing. Noble silence gives participants the opportunity to enter a meditative state and prevents the ceremony from becoming divisive over the issue of abortion. Making something with your hands is helpful, Bays explains, "because you feel like you're doing something for the child who died."
But the fundamental reason why the mizuko kuyo is so transformative is that it offers a sensitive yet direct way of dealing with death.
"In our society we don't talk about death," says Bays. "We say someone 'passed away,' or is 'no longer with us.'" When people are dying, we hide them away in hospitals and nursing homes. And most of us enjoy such long lives that it is a rude awakening if we outlive our child.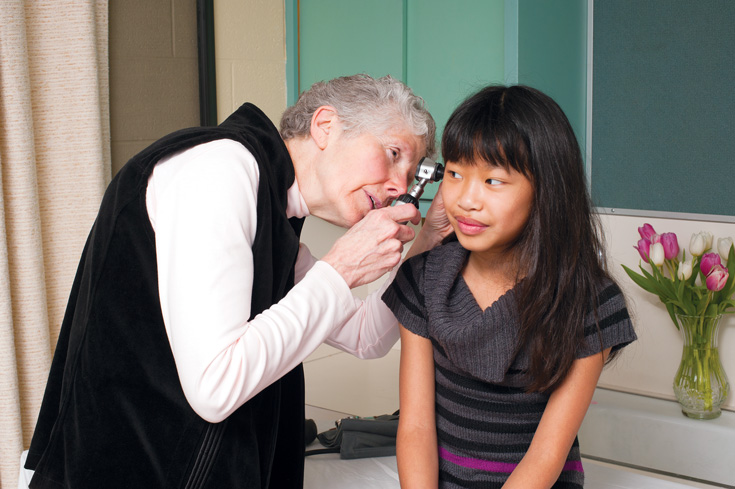 In modern North America, the way we approach miscarriage is an extension of how we approach death in general. Between 10 and 20 percent of known pregnancies end in miscarriage, yet people rarely talk openly about these losses or acknowledge how devastating they are. Since most miscarriages occur in the first twelve weeks of pregnancy, doctors encourage women to keep their condition under wraps during this time. As a result, one woman grieving a pregnancy loss might be sharing an office with another who has gone through the same thing, but they don't know about each other. They're in their own silos of grief.
The situation is similar for women who have abortions. No matter where someone stands on the pro-life, pro-choice spectrum, abortion isn't an easy decision. And with so much shame surrounding it—not to mention conflicting feelings—people often grieve alone, which creates more suffering. A mizuko kuyo helps women understand they're not alone. It has the potential to connect mourners to each other.
"In our culture," Bays says, "we look at life as beginning at a certain time. We may argue over the precise time—Is it at conception? Is it at quickening? Is it at birth?—but we have a time when we say, 'This is when life begins.'
"Then we declare a time of death, when we believe life ends. That's one lifetime. It's discrete. In Japan the idea of life and death is not like that. It's more like there's a great ocean, which contains all life. Periodically, due to cause and effect, a wave emerges, which is an individual. You can interact with that person—touch them, love them, hate them. Eventually, due to cause and effect, the life energy of that individual disappears back into the ocean. But it doesn't die in the sense of being gone forever."
Wherever people are suffering, they turn to Jizo for help.
As Bays sees it, "One of the powers of a Jizo ceremony is that people switch from grieving because they lost a child to wishing or praying that the energy, which touched their life briefly, will reemerge in a place where it's fully supported and loved."
This, she continues, reflects the shift basic to all religious and spiritual traditions—the shift from self-concern to concern for others. It's a loving-kindness practice, she asserts: "May this life go on and reemerge in a place where its full potential can be realized. May it be at ease, may it be happy, may it not suffer."
Jizo, one of the four principal bodhisattvas of Mahayana Buddhism, is known by different names in different lands. Jizo is his Japanese name. In Korea, he's Ji-jang Bosal; in Tibet he's Sati-snin-po. It is thought that his precursor was Prithivi, a Hindu earth goddess, because he first emerged in India as Ksitigarbha, literally "Earth Womb Bodhisattva," or "Bodhisattva of the Mysteries of the Earth." When Buddhism spread to China, he became Ti-tsang Pusa, the overlord of the lower regions of hell, and in Japan the belief developed that he regularly descends into hell to liberate the human beings who are suffering there. As protector of those in the spiritual realm, Jizo's protection extends to travelers in the physical world.
Jizo's forms are almost limitless. In today's Japan, says Bays, "There's a Jizo for everything. Jizo is a guardian of firemen because they go into the hellish realms like he does. There's also a Jizo for people who feel like they're a lost cause. And then there's a Jizo for headaches, one for low back pain, one for toothaches, one for deafness, one for blindness. There's even a Jizo for averting dementia." In short, Bays explains, "wherever people are suffering, they turn to Jizo for help."
When Bays originally brought the mizuko kuyo to Oregon, the first thing she had to do was get a Jizo statue, but she couldn't find one at any of the local garden stores. "Well," her husband Hogen Bays Roshi, told her, "you're always talking about how we're making ourselves into bodhisattvas. Here's your chance." And he bought her an easy-to-carve substance called Oregon carving stone.
Making Jizos came to be a spiritual practice for Bays, and she vowed to make 10,000 of them—a goal she believes that she's already reached with the help of others.
In 2002, the Zen Community of Oregon established Great Vow Zen Monastery in a converted elementary school. Today, a section of what used to be the school cafeteria is used for creating and shipping Jizo statues. Some have a baby in their arms and a child at their feet. Some hold a glass jewel or a rosary. Some are dancing.
"For a while, I made pocket Jizos," says Bays, "little ones that were smooth like stones. People could put them in their pockets and rub them if they were feeling distressed. I've made Jizos for twins, where I've stuck two Jizos together, and I made triplets for somebody once."
Sangha members at Great Vow help Bays produce the Jizos, but sometimes they can't keep up with the demand and have to get outside help. "Sending out an army for peace" is what Bays calls fulfilling the orders. She says, "Armies are created
for war all over the world, but our Jizos are an army for peace. They go where they're needed."
Great Vow has a Jizo garden in the forest behind the zendo. Every August they hold a Jizo celebration called "Jizo Bon" and twice annually they offer the mizuko kuyo. Unlike how it's practiced in Japan, the ceremony at Great Vow is also open to parents who have lost older children, even adult children.
Mourners are welcome to attend the mizuko kuyo year after year and to visit the Jizo garden whenever they like. "We have one family that comes every year around Christmas," says Bays, "which is when their child died. They come with their two living children and bring a poinsettia. The kids make bead necklaces and put them on a Jizo statue.
"Grief lasts as long as it lasts," says Bays. "There will always be a hole in your heart that's the shape of that life, which you knew however briefly. People sometimes try to have another child right away, but that hole will never be filled in by anybody else. It will be with you your whole life, but it will soften and get filled in over time. It gets filled with love and happy memories, and with the prayer or hope that the life energy will go on—that it will reemerge in a beneficial place."
If you do not live in a place where the mizuko kuyo is offered, you can hold your own. There is a step-by-step description of this relatively simple ceremony in Jan Chozen Bays' book, Jizo Bodhisattva: Guardian of Children, Travelers, and Other Voyagers (Shambhala Publications, 2003).