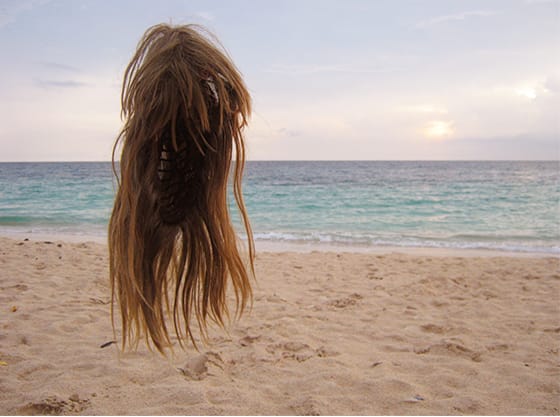 "Force of Stillness," is a two-day festival that highlights the significant influence of Buddhism on contemporary art.
Filmmaker Amber Bemak first envisioned a Buddhist experimental film festival five years ago while on retreat in the mountains of Nepal. On November 4, her vision will become a reality in the form of "Force of Stillness," an experimental film and performance festival curated by Bemak at The Rubin Museum of Art in New York City.
"Force of Stillness" brings together the work of 14 prominent international artists in a two-day festival of experimental films and performances that highlight Buddhism's significant influence on contemporary art.
The films and performances featured in the festival don't necessarily include in-your-face Buddhist references. Rather, each work is informed by the artist's own practice and meditative experience. The works themselves, from artists such as Trinh T. Minh-ha, Zach Layton, and Vanessa Anspaugh, create a meditative experience through the transmission of Buddhist energy.
"Some of the work has more direct Buddhist content than others. Some of it is completely devoid of any Buddhist reference whatsoever," says Bemak.
Bemak's own life has been saturated with Buddhism, and as a creative herself, the intersections of Buddhism and art hold a special interest for her.
A self-proclaimed "dharma brat," Bemak grew up in the Theravada tradition, but after living between India and Nepal for seven years, she now comes at her work from a Tibetan Buddhist perspective.
She is the mind behind films such as When the Iron Bird Flies, and Blessings, both of which played extensively at the Rubin Museum before she approached them with her idea for a film festival.
The festival, co-presented with Samadhi Arts, serves as a platform for the east coast premiere of Forgetting Vietnam, a feature film by Trinh T. Minh-ha, as well as in-gallery performances, film screenings, and a film shorts program. Works featured in the festival also address topics such as visual colonization, queer performativity, alternate experiences of temporality, and experiments with meditative gestures in public space.
Bemak hopes the films and performances featured in "A Force of Stillness," will give attendants a very real perspective on Buddhism, and furthermore, a look at what art informed by a Buddhist practice looks like.
For Bemak, the stereotypes of what Buddhism looks like in America are candy-coated, and devoid of the "wild energies" that come along with an authentic, grounded practice.
"It's part of my larger mission to bring a holistic, really grounded picture of Buddhism to places like the United States," she says.
Buddhism isn't all cute little mantras, mandalas, bells, and like, mysterious incense swirling.
"What we get [of Buddhism] is so little of the real picture. It's not all cute little mantras, mandalas, bells, and like, mysterious incense swirling," says Bemak.
"Inside of the incense swirling, the mandalas, and the mantras are all these really cool energies that are wild, and dynamic, and crazy. The practice itself is wild. Artistically it intersects with the wild energies of art."
Bemak will be interviewing the individual artists about their own spiritual practice, and how it's informed their work to be included in an upcoming book based on the festival.
10 of the 14 featured artists will be attending the festival, some even making the long journey from faraway locations like Lebanon and the Netherlands on their own dime.
"I've been really touched by the artists," says Bemak, "It feels like they really understand that something's being seen in their work that's special."
The festival takes place on November 4 and 5. A schedule of screenings and performances can be found on The Rubin Museum of Art online.