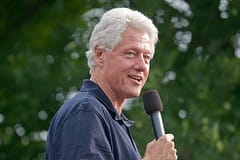 According to an article in the Daily Mail Online this morning, former US President Bill Clinton is learning the art of meditation to help relax – part of a plan to improve the health of his heart. President Clinton, who started a vegan diet in August of last year, has had a host of health problems relating to the heart. Clinton underwent a quadruple bypass in 2004 and stent surgery in 2010.
Clinton has reportedly employed the services of a Buddhist monk to provide him with private meditation instruction to help him relax. A source at the gossip site Radar Online said, "Meditation offers him that, he has a mantra that he likes to chant and after every session he feels transformed and full of positive energy. It's definitely doing him the world of good — he feels fitter and stronger than ever."
THANK YOU FOR READING LION'S ROAR. CAN WE ASK FOR YOUR HELP?
At Lion's Roar, our mission is to communicate Buddhist wisdom in today's world. The connections we share with you — our readers — are what drive us to fulfill this mission.

Today, we're asking you to make a further connection with Lion's Roar. Can you help us with a donation today?
As an independent nonprofit committed to sharing Buddhist wisdom in all its diversity and breadth, Lion's Roar depends on the support of readers like you. If you have felt the benefit of Buddhist practice and wisdom in your own life, please support our work so that many others can benefit, too.

Please donate today — your support makes all the difference.

Lion's Roar is a registered charity in the US and Canada. All US & Canadian donations are tax deductible to the full extent allowed by law.