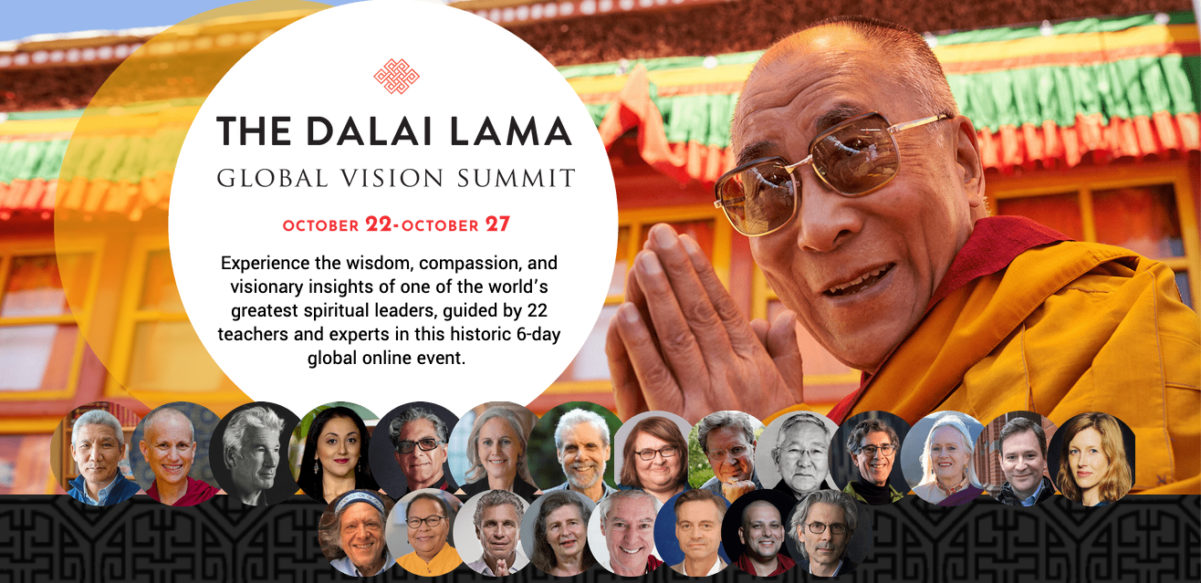 Richard Gere, Karenna Gore, Robert Thurman, Sharon Salzberg, and Deepak Chopra headline this month's Dalai Lama Global Vision Summit, a historic celebration of one of the great spiritual figures of our time.
Produced by Tibet House US and Lion's Roar, this six-day free online event brings together 22 renowned spiritual teachers, scientists, activists, and interfaith leaders to share and discuss the Dalai Lama's wisdom, how it is relevant to our lives today, and his message for a better world. The event has the personal support and endorsement of His Holiness.
"This global summit celebrates the Dalai Lama's wisdom and message to the world, which we need now more than ever more than ever now," says Melvin McLeod, Editor-in-Chief of Lion's Roar. "We are honored that His Holiness is personally supporting this historic event."
The Dalai Lama Global Vision Summit will address six themes the Dalai Lama has personally identified as important to his life and work. Guided meditations by leading teachers and experts will help viewers bring the benefit of the Dalai Lama's teachings into their own lives.
The six themes of The Dalai Lama Global Vision Summit are:
The Art of Happiness: Bringing the Best of Human Values into Our Lives
Transcendent Wisdom: Buddhist Teachings of the Dalai Lama
Toward a True Kinship of Faiths: Creating Harmony Among the World's Religions
The Universe in a Single Atom: The Science of Spirituality
My Land, My People: Tibet's Message of Peace, Compassion, and Sustainability
Ethics for a New Millennium: The Dalai Lama's Vision for a Better World
The Dalai Lama Global Vision Summit is free to join. Register now, and see the full list of presenters and schedule, at: lionsroar.com/HHDLsummit
THANK YOU FOR READING LION'S ROAR. CAN WE ASK FOR YOUR HELP?
At Lion's Roar, our mission is to communicate Buddhist wisdom in today's world. The connections we share with you — our readers — are what drive us to fulfill this mission.

Today, we're asking you to make a further connection with Lion's Roar. Can you help us with a donation today?
As an independent nonprofit committed to sharing Buddhist wisdom in all its diversity and breadth, Lion's Roar depends on the support of readers like you. If you have felt the benefit of Buddhist practice and wisdom in your own life, please support our work so that many others can benefit, too.

Please donate today — your support makes all the difference.

Lion's Roar is a registered charity in the US and Canada. All US & Canadian donations are tax deductible to the full extent allowed by law.