The free app includes news, videos, photos, livestreams, and details on the Dalai Lama's global travels.
You no longer have to be one of his 16.6 million Twitter followers to keep digital tabs on the Dalai Lama. The Office of His Holiness has launched an official app that allows practitioners to follow his activities, travels, and teachings.
The free iPhone app includes news, videos, and photos, as well as a schedule that allows users to track the Dalai Lama on his tours around the globe and watch live streams of his scheduled teachings.
The app also contains an extensive video archive of recent talks from the Dalai Lama on a number of topics in either English, with translators, or with subtitles. Many of these videos can stretch up to two hours in length.
The Office of His Holiniess the Dalai Lama has released 'Dalai Lama', a new iPhone App now available for download at the Apple App Store https://t.co/F7V8IpkgDl. With Dalai Lama stay up to date with what His Holiness is doing, his travels, and his teachings. pic.twitter.com/zQnY5QNP8j

— Dalai Lama (@DalaiLama) December 14, 2017
So far, the app holds a five-star rating on the Apple Store based on 65 reviews. It is one of few dedicated Buddhist apps in the app store.
In the past, the Dalai Lama has spoken of the wonders and dangers of modern technologies. While he believes they will play a crucial part in our future, he said we must be wary of becoming slaves to technology and allowing it to dictate our lives.
"Without technology, humanity has no future, but we have to be careful that we don't become so mechanized that we lose our human feelings," he said in 2015 at an event in Surat, India.
The app is the first of its kind to come directly from the Office of His Holiness. According to the description, it has everything the aspiring Tibetan Buddhist needs while on the go.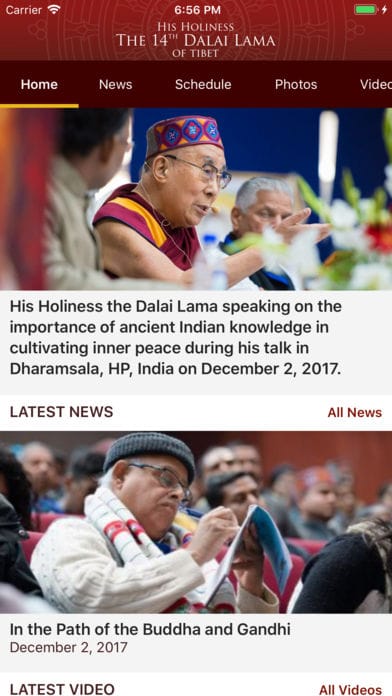 However—much like other applications relating to those living in exile—the app has been blocked on China's Apple Store. Because China controls Tibet, this means most Tibetans will not have access to the app.
The Chinese government maintains that the Tibetan spiritual leader is a dangerous separatist, and meetings between foreign leaders and the Dalai Lama often spark political tension.
As a result, few leaders have been willing to meet him, including President Trump who toured sacred locations of the Muslim, Jewish, and Christian traditions in May.