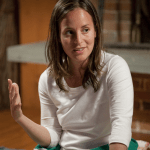 Forget drinking or drugs — Jessica Morey offers teens a straightforward stress buster for teens in our special section "Real Peace in Times of Stress." You might be tempted to skip it if you're too old to be worrying about proms or math tests, but as Deputy Editor Andrea Miller suggests in her editorial, "If you look more deeply at the practice Morey suggests — and give it a try — you may find that it's helpful no matter what stage in life you find yourself."
The mind, says Morey, the executive director of Inward Bound Mindfulness Education, creates stress by dwelling in the past or the future.
"But your body is always in the present moment. So when it comes to working with stress, the body can be your best friend. Through it, you may discover that most things are manageable in this moment, and now in this moment, and now in this one. You simply have to 'come to your senses,' and to do that you can use the five-senses drill."
Click here to learn how to do Morey's three-minute five-senses drill. And you can see what else is in the magazine, including lots more stress-relieving techniques, here.