"Reincarnated Lama goes off the rails." That's one version of a headline for what might just be a big news story, for the Buddhist world and way beyond. But don't believe everything you read.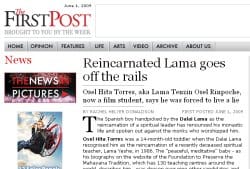 Based on an original story from El Mundo, the UK's Guardian and also The First Post are running pieces about the "former" Lama Osel of the Foundation for the Preservation of the Mahayana Tradition (FPMT), in which Osel seems to be coming out against his having been recognized, when he was a child, as the reincarnation of the great Lama Yeshe. (The Guardian piece has already been picked up by the Huffington Post.)
But again: don't believe everything you read. First of all, there are various "small" details in the stories that show research wasn't done. "Lama" is defined in the Guardian piece as "one of a lineage of reincarnated spiritual leaders." Actually, a lama is simply a teacher. (The word that should have been used is tulku.) Whether a lama is also a reincarnated spiritual leader or not is another matter.
Far more important, though, is this: the story just doesn't paint a full picture. It's been known for years now that Osel was going to quietly pursue film and explore life as a non-lama. (And while the news here suggests that he's still addressed as "Lama," he isn't; the FPMT folks have been happy to address him as he wishes.) So why would someone who wants to quietly pursue their own thing knowingly seek publicity? And why would that person seek publicity that might damage his relationship with the FPMT, which, from all I've heard about, is just fine?
And what seem to be Osel's complaints about being essentially kidnapped don't wash, either – the young Osel often visited his family in Spain, and his father and his brother even lived with him for a time at Sera Monastery!
One dear friend suggests that perhaps Osel was caught in a "Phelpsian moment." Only, where Michael Phelps let his guard down and had a big ol' bong hit with a camera present, Osel instead let his guard down and perhaps said some things that were taken wildly out of context. Was this lazy journalism? Was it somehow agenda-based?
Whatever it was, this will be an important story to watch, because it should create discussion: about how we think about reincarnation (especially within the framework of Tibetan Buddhism), and how we think about the media, especially when it's about Buddhism.  Perhaps the FPMT (a wonderful organization from all the contact I've had with it, and from all I've ever heard about it) will even see this as an opportunity to lead us toward a smarter and more balanced discussion. (I mean, they should have been interviewed by El Mundo to begin with!) At the very least, it reminds us that there's never just one side to a story. We Buddhists should be watching closely when it comes to how the mainstream media treads into our world.
So: stay tuned!
UPDATE: Go beyond words, the Wisdom Publications blog, has a link to the real Osel story. Click here.