A round-up of metal bands' appropriations of Buddhist ideas and imagery — including the cool and the just plain ridiculous.
A friend/colleague of mine and I have joked about how metal some Buddhist imagery is. (By "metal," I mean, heavy metal. And not of the happy, big-hair mall-metal-music variety; I'm talking dark. Black Sabbath dark.)
Think about it — the wrathful deities, the outlandish colors and depictions of the hell-realms as seen in Tibetan thangkas, the occasional dragon… that's all pretty darned metal.  While my friend and I have "joked" about this, we were always only half-kidding. I don't think either of us are ashamed to say we listen to metal — there's some good, smart metal out there, I swear! — and we're both drawn to the kind of imagery I'm talking about here. Coincidence?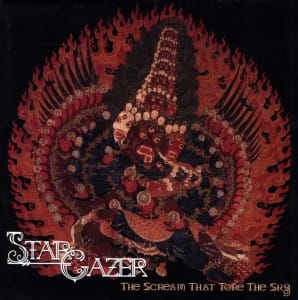 I mean, even the vocalist for the band Morbid Angel — a guy who, um, self-identifies with the Church of Satan — has just said that he's cool with Buddhism. (Granted, that's not exactly the kind of endorsement most Buddhists are going to cherish…)
So it's no surprise that more and more metal bands are, for better or for worse, adopting Buddhist imagery on their album covers and merchandise and such. For example, here's a cover I just learned about, for The Scream That Tore The Sky by the "Metal/Death Metal/Experimental band Stargazer. (I'll include links to the music by the bands I mention here. Not that I'm recommending them all!)
What connection does Stargazer have to Buddhism? Sadly, I can't tell you, because (and I'm gonna sound like a fuddy-duddy here) I can't make out the lyrics through all the screaming and Cookie Monster vocals. Their MySpace page doesn't give any real clues, either. But if the question is, Why would this band feature the wrathful deity Mahottama Heruka on their cover?, part of the answer has to be, simply: Because no band could be considered mistaken for thinking that that image is positively — for lack of a better word — bad-ass.
And they're not the only ones. After the jump: 10 more metal-band appropriations of Buddhist ideas and imagery.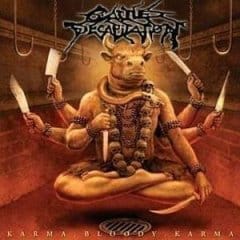 1) Yes: this is a real cover for a real album, (Karma. Bloody. Karma.), by a real band – the notorious Cattle Decapitation.
With a name like that, you might think that these guys, who play metal in the death-metal/grindcore vein, are insensitive, bloodthirsty goons. But nope. They're actually primarily concerned with such things as animal rights, vegetarianism, and the environment.
The cover depicts a six-armed, knife-wielding, bull-headed figure that's quite obviously a nod to the wrathful deities of tantric Buddhism (and also some of the gods of Hinduism).
It's even levitating, in meditation, over the slaughterhouse drain. Strangely, it's kind of a nice touch…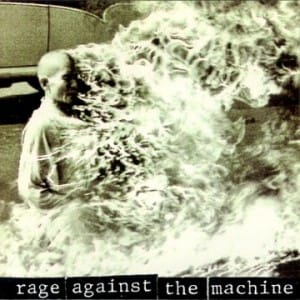 2) Ah yes: the cover of Rage Against the Machine's self-titled 1992 debut. Outside of Howard Beale from the classic film Network, nothing in the popular culture's consciousness conveys "I'm mad as hell, and I'm not going to take this anymore!" like this (in)famous photo. It shows Vietnamese Buddhist monk Thich Quang Duc setting himself on fire to protest his government's oppression of his religion.
So it's fitting that Rage Against the Machine, a band whose music embodied large-scale protest — on the corporation's dime, much like Howard Beale! — would employ the image for its eponymous debut.
Rage weren't Buddhists, but they knew that this photograph might make their already-long band name worth at least a thousand words.
And apparently, another long-named band has had a similar thought: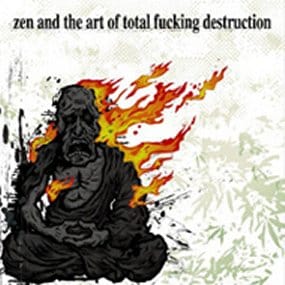 3) No, the music from this band, the subtly-named Total F**king Destruction, isn't Buddhist. (I know you're surprised.)
First the Rage Against the Machine album cover (above) and now, some 15 years later, this. Have the music marketing mavens somehow determined that depicting a monk immolating himself "moves units"?
Sorry, that was just cynical — and I know that TFD isn't getting rich doing what they're doing. That being said, at least the Rage Against the Machine cover seems somehow to celebrate Thich Quang Duc's spirit and sacrifice.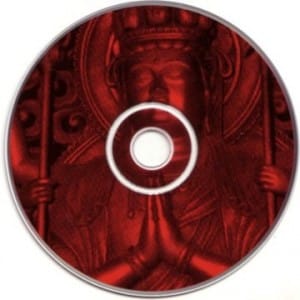 4) The imagery here is less intense, but just as perplexing: Earth are known among intellectual metalheads for their brand of unfathomably slow, dirgey, darkly beautiful instrumental music. If you like that kind of thing, then you'll love Earth. I sure do.
But why did they pick this image for the disc and back cover of their live album Sunn Amps and Smashed Guitars?
I honestly don't know, so if someone out there does, by all means help an Earth fan out!

5-8) And more underground/heavy bands have gone even less "intense," embracing the kind of "Buddha statue" imagery you might expect to find on a CD of "spa music." Shown here from left to right: Amount to Nothing and Samsara (featuring Jizo Bodhisattva) by Yakuza; Angry with the Sun by Congress; Songs for Worship by Sons of Otis. What is it about heavy music and imagery like this?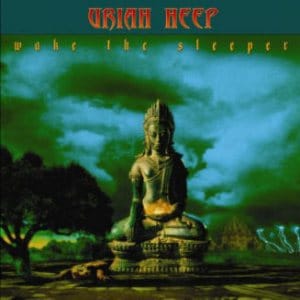 9) Also along these lines — but still somewhat dark — is the cover for Uriah Heep's 2008 comeback, Wake the Sleeper. Unless you're a Baby Boomer, you likely don't know of the rock band Uriah Heep. But they were kinda big, back in the day. Like, say, "Molly Hatchet" big. (Oh wait, you likely don't know them, either…)
Despite the art (and album title) it seems that the Dharmic Nutritional Value here is pretty much an unsurprising zero.
The album's website, too has a similar taste. You can hear samples there too — if big, raucous, absurd metallic prog-rock is your thing.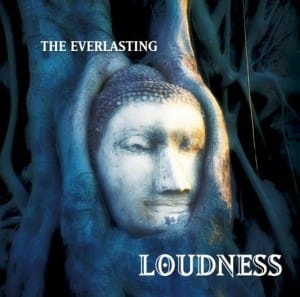 10) All the way on the other side of the spectrum is this new cover by Japanese metal stalwarts Loudness. Not a very "metal" image, that's for sure. But then again, it got me to stop and at least notice Loudness… which hasn't happened since I saw them open for AC/DC back was when I was 15 or so.  (And I'm not quite a spring chicken anymore.)
Such gentle depictions are usually used on rock, electronic, and folksy/new-agey covers. (But that's a subject for a whole 'nother post sometime.) One thing seems certain: we'll all be seeing more and more Buddhas staring at us from the covers of albums that don't exactly sound like "spa music."
If you've seen any, leave a comment and let us all know.