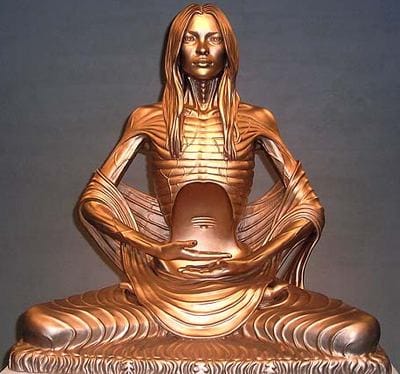 Apparently, she sees herself. (As should we all!) According to the Daily Mirror: the supermodel "is trying to slow down her fast-moving life by meditating. And now a pal tells us: 'She's really into Buddhism and has bought a bronze Buddha.'"
Of course, that's not the statue, pictured there to the left. That's actually a statue OF Kate Moss, AS the Buddha, by artist Marc Quinn. I originally covered this back in From The Worst Horse's Mouth, my column which ran in the magazine for a while and is now, obviously, online. ("Obviously," mainly, because you're reading it right now.)
I wonder if Quinn is somehow responsible for Kate getting the meditation bug?
At any rate, you'll find my original report about the statue after the jump.
From the November 2007 issue of the Lion's Roar (formerly Shambhala Sun):
We've all fantasized about winning the lottery. Me, I've always thought I'd buy a farm, donate a cool million each to a couple of local mediation centers, and maybe even start one myself. But now that I've seen "Sphinx (Road to Enlightenment)" by sculptor Marc Quinn, I might just have to re-budget accordingly. In the piece, notoriously waif-like model Kate Moss stands in (or rather, sits) for an emaciated Shakyamuni Buddha. Quinn says in a press release:  "In a world without Gods and Goddesses, celebrity has replaced divinity. … Kate Moss is someone whose image has completely separated from her real self and [now] has a life of its own. Our problem is: How do we measure ourselves against the impossible infinite virtual world of perfect images?" I called and spoke to one of the directors of NYC's Mary Boone Gallery, which has been showing the piece, in the hopes of getting an interview — and finding out the price tag for the piece. I instead received one of the most polite brush-offs in journalistic history. Perhaps they could sense that my lucky number has yet to come up.