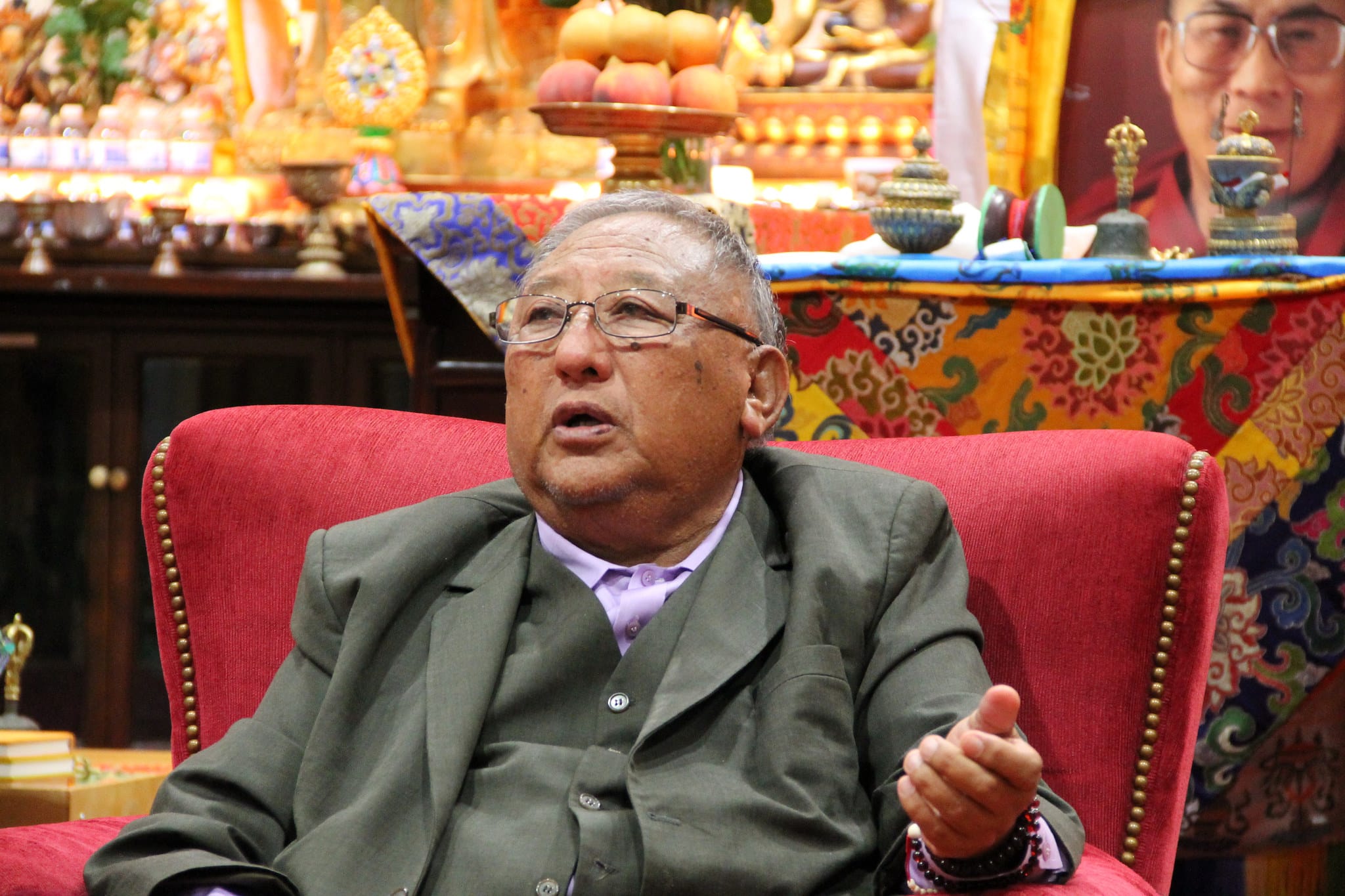 Gelek Rinpoche. Photo by
Gyuto-naut
.
From his warm and easy manner, it's hard to imagine that Gehlek Rinpoche spent years wrestling with temptations and spiritual doubt and it's hard to imagine that he's an incarnate lama. It's hard to imagine, says John Kain, and Gehlek Rinpoche likes it that way.
In late March, 1959, ten days after the Dalai Lama slipped the grasp of the Chinese and fled to India, a large group of Tibetan refugees sat stalled at the foot of the Himalayas. Only a few miles away, over a cluster of four peaks, lay Arunachal Pradesh in India, and freedom.
Time and time again throughout the day members of the group tried the treacherous climb, yet they were unable to find passage. To get here they had traversed mile after mile of rugged terrain while strafed by Chinese aircraft. There was no turning back. Tired, hungry and cold, they sought advice from an incarnate lama who had joined their exodus – nineteen-year-old Nawang Gehlek Rinpoche.
"I sat there and looked at the situation," Rinpoche tells me in his clear and lilting English. "I don't know if it was a coincidence or the effects of a flu shot or common sense, but I saw that the range had four peaks and I thought we should zigzag across to the farthest one on the right. So I happened to be the one to suggest that route and the people began to follow me."
We're sitting in Gehlek Rinpoche's tiny, modestly furnished New York City apartment; he's smiling–which is often the case–and wearing a loose-fitting maroon sweatshirt with matching sweat pants. (No longer a monk, he rarely dresses in robes.) He is quick-witted and prone to bouts of serious laughter-usually at his own expense. His round and friendly face continually animates his words.
Given Gehlek Rinpoche's easy manner and unassuming demeanor, it is hard to imagine that forty-two years ago he led that large group of Tibetan refugees into exile and that the passage he "suggested" became a major route for tens of thousands in the coming decades. It is hard to imagine he lost everything he once held dear. Hard to imagine he spent years wrestling with spiritual doubt. It is even, at times, hard to imagine that Rinpoche is an incarnate lama who spent fourteen of his first nineteen years in rigorous monastic training in Old Tibet. It's all hard to imagine and Rinpoche likes it that way.
Gehlek Rinpoche happily upsets the apple cart of expectations. His approachability gives him a "regular guy" quality, yet he is a highly trained and disciplined lama. His teaching style is woven from a life of constant upheaval and worldly experience, as well as an unstinting dedication to Tibetan Buddhist practice. He is a master at adaptation.
"Adapting is not that difficult provided you don't have so much pride," says Rinpoche. "Pride is the problem-you know 'I'm the king! I'm the king!'-that sort of thing. If you have that pride, it's extremely difficult. But if you let go of that, it's not too hard."
In a time when spiritual teachers are scrambling for recognition, Rinpoche is refreshingly uninterested in self-promotion, and his willingness to expose his own faults is an expression of his realization that we're all in this together. "Rinpoche is unusually direct and open," says Sandy Finkel, a meditation teacher who in 1988 co-founded Jewel Heart Buddhist Center in Ann Arbor, Michigan, with Gehlek Rinpoche and Aura Glaser. "This quality makes him extremely accessible. He often shares personal stories that are less than exemplary, even embarrassing."
This candor, however, arises simply from his classic Buddhist training. "One thing that's interesting about Gehlek Rinpoche is how traditional he really is," Philip Glass-a long-time student-told me. "That becomes apparent when you've been around him and seen the way he conducts his teachings. He's actually a very traditional lama in disguise."
Gehlek Rinpoche's life has been a hard-won lesson in non-attachment. When he fled Tibet he lost his parents, friends, wealth, many of his teachers, his monastery and his country. And what he found on the far side of the Himalayas-where he settled in New Delhi-was a completely alien world. "I felt that I was picked up in the middle of the seventeenth century by helicopter and carried over and dropped in the twentieth century," he says. This upheaval at such an early age led him to a decision that would profoundly change his life and set the course for his unique teaching style.
In the early 1960's, after much agonizing, he gave up his monastic vows and jumped headlong into secular life. "I tried everything," he writes in his recent book, Good Life, Good Death: Tibetan Wisdom On Reincarnation, "smoking, drinking, sex, looking for some kind of kick that I thought I couldn't get from dharma."
His decision was precipitated by many years of doubt centering on his status as an incarnate lama, doubts that had been stirring even while he was still in Tibet. "I read the biographies of the different incarnate lamas. Many of them contained recollections of their previous lives. But when I tried to remember anything regarding my previous lives and circumstances, conditions and friends, my vivid, reliable recollections equaled zero. Then I wondered, What am I? A fool?" he writes.
For Gehlek Rinpoche-who had studied at Drepung monastery in Lhasa-the buddhadharma was not something that could be switched on and off with a flick of a switch. "Buddhist practice was such a part of my life that it didn't matter whether I believed it or not," Rinpoche says. In fact even during his years of personal struggle he never stopped his meditation practices nor ceased studying with his many teachers, such as Lingstang and Trijang Rinpoches-the senior and junior tutors of the Dalai Lama. Nor did he lose his dedication to preserving and promoting Tibetan culture through his work with Tibet House-editing, translating and publishing nearly 200 rare Buddhist manuscripts, works that would have been lost but for his efforts.
"Rinpoche's translations were very useful," says Rinchen Dharlo, the former U.S. representative of the Dalai Lama and current president of the Tibet Fund, a nonprofit organization dedicated to preserving Tibetan culture. "So many texts were destroyed in Tibet. Many of them were burned in large bonfires. Many did not have second copies. But some Tibetans were able to carry a few with them into exile and Rinpoche helped tremendously with their preservation."
The unusual circumstances of Gehlek Rinpoche's life helped him adapt to American culture when he moved to the United States in the early 1980's. His combination of classical Tibetan training and lay practice experience has given him certain "real-world" insights that mesh well with secular students.
"When Rinpoche briefly experimented with alcohol and cigarettes, he had a first-hand experience of the pleasure and the desire for the kick that these substances can elicit," says Finkel. "He caught a glimpse of the type of attachment that can eventually lead to addiction. He also was acutely aware of the limitations and dangers of indulging in these substances. As a result, his students feel his empathy and ability to relate to their addiction and attachment struggles more keenly, perhaps, than if he had always abstained from such things."
This is not to say that he took his monastic vows lightly, nor that he encourages people to follow his path. "I don't think under any circumstances I should say that giving up my monastic vows has been good. It has been disgraceful. It was a very bad thing for me. However it might have helped me a little bit to understand the American life and what people go through," he told me. It is this kind of honesty that has endeared Rinpoche to so many students.
Gehlek Rinpoche was born in Lhasa in 1939 into the family of Thubten Gyatso, the Thirteenth Dalai Lama. His relatives were, as Robert Thurman writes in his foreword to Gehlek Rinpoche's book, "the 'first family' of that era-sort of like the Roosevelts in America." His father was an important incarnate lama and at the age of four he was recognized as the reincarnation of the abbot Tashi Namgyal. His first year away from home was spent in a cave with his teacher.
At the age of five he moved to Drepung monastery, the largest Tibetan monastery that ever existed, housing in its prime over 13,000 monks. There he was taught by many of Tibet's greatest masters and received at a very early age the degree of Geshe Lharampa, the highest given. An exceptional student, Rinpoche was known for his extraordinary memory, fierce debating skills and piercing intellect.
After Rinpoche's escape to India and his first few years in New Delhi, he spent 1964 studying as an exchange student at Cornell University, where he greatly improved his English and re-ignited a fascination with America. "I thought about America way back in Tibet," Rinpoche explained. "I always tried to talk about it. All I was able to talk about was the White House-the White Palace-and the wheels on all the cars and the trains. We didn't have that much knowledge. I was very fond of talking about America. And when the Chinese started moving into Tibet in the forties and early fifties, you felt very close to America. You looked to it as a friend, as a savior."
Though tempted to stay in the U.S., Rinpoche decided to return to New Delhi to help run Tibet House. In the 1970's he served as head of Tibetan services at All India Radio and began getting offers to teach from around the world. He took another trip to the U.S.-this time to Arlington, Texas-to teach on the healing arts. But it wasn't until 1980 when he met Glaser and Finkel, who were traveling in India, that he decided to move to America. Glaser and Finkel sponsored him for numerous visits to Ann Arbor, Michigan, where he eventually settled in 1987.
Once again he had to adapt to a new culture, and he displayed an intuitive sense of Western student's needs. "When I started Jewel Heart," he says, "I emphasized that people didn't need to fold their hands in a certain way or anything like that. I was just a simple guy coming up to talk about the teachings. Then gradually people began to appreciate the message and when they found it helpful they were able to develop some kind of a profound relationship to it. Which is better than when they're told to stand up and fold their hands and bow down. So I opted for the light touch right from the beginning, and I'm still doing that."
Though he jokingly told me that he "can make neither heads nor tails of psychology," he has a very thorough understanding of the Western mind and heart, as well as the flexibility to work with various cultural norms. "The whole basis of Western psychology is the idea of guilt. Rinpoche doesn't buy it. He's simply not interested in that," Glass says. "He's coming from a very different place. People that come into the sangha-any sangha-are usually having some type of emotional problem or psychological problem and a dharma teacher has to deal with that. Rinpoche's therapies, however, are Buddhist. One of his prescriptions for depression is Bodhi mind-developing compassion for other people. In other words, if you're depressed, go out and help somebody else. He's not against medication in some cases, but then he's not interested in endless analysis of your childhood either."
Rinpoche has a classical lama's mind, yet is savvy enough about Western students to understand which societal tendencies-entrenched in personal behavior and outlook-need to be transformed and which need to be nurtured. "One of the things Rinpoche does marvelously well is help Western students develop serious levels of practice in the midst of our complex and busy lives," says Glaser. "He's much more interested in people putting in a steady effort over a long period of time than with some kind of heroic 'sit on your cushion sixteen hours a day' thing, or running away from your home, your job and your family in the name of dharma."
One of the people who helped Rinpoche get a handle on American culture was Allen Ginsberg. They met in the early 1990's, forming a fast friendship. Allen eventually became Gehlek Rinpoche's student, with Rinpoche performing the ritual at Allen's death. "Allen never missed the opportunity to teach me about American culture and language," Rinpoche told me. "He pushed me all the time. He was really so kind. And then what little dharma I know I contributed to him."
Rinpoche learned a great deal about America's straightforward and frank attitudes from Ginsberg. "Once Allen gave a workshop called 'Spontaneous Poetry,' and he insisted I come," writes Rinpoche. "He asked people, 'What are you thinking? Say it now.' He asked everybody and I kept my mouth shut. Then he turned to me and said, 'Rinpoche what are you thinking?' I said, 'I don't want to end up in the shoes of Jim and Tammy Faye Baker.' He said, 'The way not to fall into that trap is to make sure you keep nothing hidden in any closet. No matter what it is, don't hide it. Keep everything out in the open.' I followed his advice, which was really great. He was totally and completely himself and he showed me how comfortable I could be in my own skin."
Adapting to a new culture doesn't mean throwing the baby out with the bath water, however. Rinpoche is very much concerned with the integrity of the dharma. "I would describe Rinpoche as a radical traditionalist," says Glaser. "He is enormously careful about things he feels it's important to be careful about, such as the pure and authentic transmission of the teachings, and the seriousness with which some practices need to be approached. But at the same time he is quick to dispense with the things he sees as cultural baggage, or perhaps not helpful to a western student. His focus is on the continuity of a living tradition in a new cultural context."
Over the years Jewel Heart has expanded and Gehlek Rinpoche splits most of his time between the centers in Ann Arbor and New York. He also regularly visits Jewel Heart centers in Chicago, Cleveland, Lincoln and San Francisco, and overseas in the Netherlands, Malaysia and Singapore. Though now an American citizen who has embraced Western culture, he has not forgotten his roots. He is still very dedicated to preserving and promoting Tibetan culture. The Jewel Heart centers have a humanitarian wing that provides financial assistance to young Tibetan lamas at monasteries-in-exile in India. It also provides aid, in conjunction with the Tibet Fund, to Tibetan schools in poor rural areas and gives financial support to orphans and physically challenged children.
When it comes to training Buddhist teachers, Rinpoche uses the "old, traditional style."
"Teachers must possess their own knowledge," he says. "That is to say having listened and learned, they must have contemplated and analyzed the material fully, followed by meditation."
"Rinpoche encourages people to investigate the teachings and practices for themselves," says Glass. "He stresses intelligent faith, not blind faith."
Rinpoche is also very much involved with the nearly 8,000 Tibetans in North America, who are living in thirty different cities. "In every city where we have more than fifteen Tibetans we make sure that there's an association established," says Rinchen Dharlo. "Right now we have twenty-eight Tibetan associations in North America. We have biannual conferences, and Gehlek Rinpoche attends many of these, giving advice and suggestions. He's very active. He's a good writer also. Not many of the lamas are skilled in writing. And Rinpoche is always willing to give advice to fellow Tibetans. He knows an incredible amount about the political history of Tibet from the 1920's up until 1959, so he can give the younger folks some perspective."
An astute observer of society, Rinpoche continually absorbs nuances of the culture that bring creativity and playfulness to his teaching style. His ebullient humor inspired Robert Thurman to open his introduction to Rinpoche's book by stating, "Over the years, I have probably had more fun with Gehlek Rinpoche than with almost any other lama I have known."
Rinpoche's humor is all the more powerful in light of the great suffering he has endured. In the late 1990's he learned the fate of his parents, with whom he'd lost contact in 1959. He found that his mother had been tortured and pushed to insanity. She tried to commit suicide and died a few days after her release from her so-called "house arrest." His father, under the harsh strictures of the Cultural Revolution, died three years later.
"Thanks to my teachers, to the training they transmitted to me, my struggle with anger has been much simpler than it might have been," writes Rinpoche. "Anger didn't overwhelm me. But I did notice a little hitch later on. I didn't have a problem with the Chinese in general, but in 1998 on my first trip to China, I discovered I had a problem with Mao. When I changed money to Chinese yuan, I saw Mao's picture on every single bill. The thought of putting his face in my pocket gave me the creeps. It was a strange feeling. Under the circumstances, I had to forget about Mao. In order not to be bothered ever again by the idea of Mao's image in my pocket, I took refuge in patience. Patience here means exactly this: not submitting to hatred."
Over the years Gehlek Rinpoche has developed an unshakable faith in reincarnation and accepted his role as an incarnate lama. His belief, he says, "comes from a deeper consciousness that lies at the heart level, a kind of pervasive understanding. Not a voice, but a comprehension coming from inside rather than outside. That's why I believe in reincarnation-not because Buddha said one should."
This realization translates into a deeper way of perceiving how to live this life and die this death, not in any abstract sense but in a real and palpable relationship to our inner and outer worlds. "Traditional teachers tell us that each and every one of us has committed every kind of good and bad action in this life or another. Bad actions lead to more suffering and to a lack of freedom, and that's why it's so important for us to correct our negative habits. Good actions lead to freedom and a good life. That's why it is so urgent that we develop good qualities, since we are expert at making mischief."