Actor, activist, and humorous social media powerhouse George Takei is scheduled to be the keynote speaker at "Being Gay, Being Buddhist: The LGBTQ Community and Shin Buddhism," a seminar being organized by the Buddhist Churches of America on Saturday, June 28, 10 am to 3 pm, at the Jodo Shinshu Center in Berkeley, California.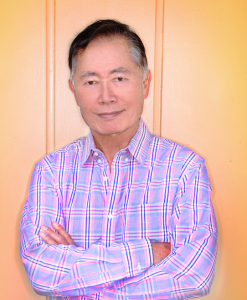 Other speakers will include Pieper and Lois Toyama on "Parenting our LGBTQ Children" and Rev. Kiyonobu Kuwahara, who "will provide an overview of Buddhist, particularly Jodo Shinshu, doctrinal views relevant to the LGBTQ community."
George Takei, best known for his role as Mr. Sulu in the original Star Trek television series, grew up attending Senshin Buddhist Temple in Southern California, and as a UC Berkeley student he attended the Berkeley Buddhist Temple. He and his partner, Brad, were married by Rev. William Briones, resident minister of the LA Hompa Hongwanji Buddhist Temple. Last month he was the recipient of the GLAAD Award in New York, for his role in fighting for equity in the media field.
According to a press release about the seminar,
"Beginning in 1899, the Buddhist Churches of America (BCA), comprised of sixty temples in the continental United States, has been dedicated to sharing Buddhism, particularly as taught by the founder of Jodo Shinshu Buddhism, Shinran Shonin (1173-1263). Shinran taught that enlightenment is accessible to all, according to the Buddha, without discrimination whatsoever. Accordingly for almost forty years, BCA ministers have been performing same-sex marriages at various temples in the continental US.  In 2004, the BCA Ministers Association passed a resolution supporting same-sex marriages; and in 2011 it passed a resolution urging the Boy Scouts of America 'to remove all limitations of participation due to sexual orientation.'"
The BCA cautions that Takei's attendance "is subject to professional conflicts."
To learn more about the "Being Gay, Being Buddhist" seminar, including registration details, visit here.