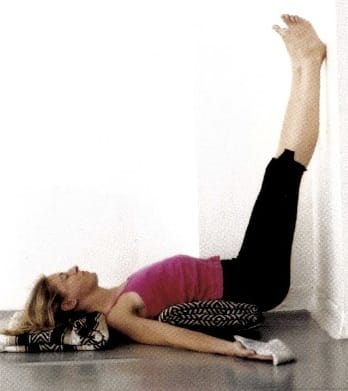 Only three weeks after I started high school I was asked out on my first date by a very popular senior. I wasn't really looking forward to it. In fact, I was petrified. I had absolutely no experience with boys-no brothers, not even a boy next-door playmate. I simply didn't know anything about boys at all, except that I was hoping a nice one would like me.
The day of the date arrived and, although nobody who knows me now would ever believe it, I was so shy that during the entire evening I sat still with my head tucked onto my chest, unable to speak or even to look at my date. I was utterly intimidated by his Big Man on Campus-ness. The worst moment was when, to my complete embarrassment, he touched my hand and said, "Relax." I had hoped he might think my quiet attitude was an expression of cool mellowness, but obviously he could see that I was uncool and uptight. Each time he suggested I relax, I cringed more until my whole being stayed tied up in an energetic contraction for the whole evening.
As suave as he was, neither my poor date nor I knew how to create a situation that would allow me to let go and open up. Just as we can't find happiness by desperately wanting to be happy, or become enlightened by craving freedom from attachment, we can't force ourselves to be relaxed by saying, "Relax!"
Restorative yoga creates the conditions for opening to occur. Using blankets and cushions in specific set-ups, one establishes environments that support physical and mental relaxation. Placing your body in these positions is like creating a map for the internal rivers of blood, breath, water and energy to follow, which nourishes your abdominal organs, rests your muscles and balances your hormones. It also soothes the nervous system, which, in turn, calms the mind.
One of the most valuable benefits of restorative yoga, though, is how it creates balance. In yoga, the downstairs part of our body contains apana, the feminine aspect of our energetic being. Apana lives below the diaphragm, travels in a downward direction and relates to functions such as digestion and reproduction. Our masculine aspect, prana, is an upward-moving energy that affects respiration and heart rate.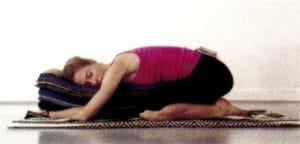 Because we are usually standing or sitting, our apana gets stuck in our lower regions where it becomes dull. And because we exercise too little, but talk and think too much, our prana gets overstimulated and overused. Restorative yoga poses often create balance between prana and apana on the physical level through inverted poses such as the Legs Up the Wall pose. On a deeper level, restorative yoga balances our feminine and masculine aspects of out-go and input, form and space, acting and receiving.
When you look at these pictures of Heather Shaw, director of development at OM Yoga Center, you can see that she looks relaxed, grounded and open. As I set her up in each pose, I asked her if she was comfortable, and she purred, 'mmmmmmm…." She did manage to express that she felt a nice lengthening in the back of her legs. Not a stretch she said, but a release.
Restorative yoga is neither stretching, which can easily become another focal point for generating craving, nor a fancy way of taking a nap. Although Heather was clearly relaxed, she was not asleep. Rather than being passive, which we often think of as the counterpart to active, restorative yoga is a practice of being receptive.
This receptive element in restorative yoga is the ground that leads to experiences of well-being and equanimity. As your body is being reprogrammed to reduce brain arousal, fluid retention, adrenal burn-out and toxic build-up, your mind is invited to watch the process. Restorative yoga is not a magic bed that lets you sleep and guarantees perfect health when you wake up. It is a practice that creates a strong possibility for a certain response but no promise when that will happen or how it will show up. That's why you have to stay awake. What is happening is subtle and profound, but you will miss it if you fall asleep or space out.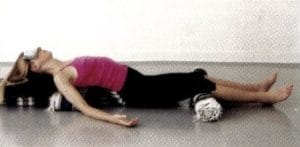 Restorative yoga suggests that we can relax our idea of what we want to get from this exercise and simply pay attention to what it feels like to be you in this physical configuration. Letting go of what we want from this practice, or from anything else we do, is a huge step toward feeling relaxed, restored, rejuvenated. Rather than accomplishing only one goal, this approach provides endless possibility for opening to occur in every level of our being.
Chögyam Trungpa Rinpoche said, "You can relax in the confidence that the earth will always be there to hold you up." But we keep forgetting that and instead have a habit of tightening up our body/mind in the face of our world's instability. In restorative yoga we regain that confidence by bringing the earth up to meet us with small piles of pillows and blankets. In each pose, make sure that every part of your body feels supported by having a cushion or blanket under the curves of your body. That is crucial to restorative work. Keeping our joints in flexion gives us the feeling of being held, and this is a big part of what allows us to let go on a deep, subconscious level.