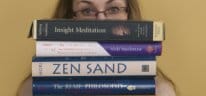 As seen in the Spring 2010 issue of Buddhadharma: The Practitioner's Quarterly.
Click here to browse the entire issue.

Some people love to practice but not to study, and others love to study but not to practice. Whichever type you might be, Judy Lief has sound advice for you.
Plus, more helpful guidance for unaffiliated practitioners, as seen in the Spring 2010 issue of Buddhadharma:
Buddhism's New Pioneers
Norman Fischer's introduction to Buddhadharma's "Going It Alone" coverage, and why it's important.
Buddhadharma editor Tynette Deveaux leads our readers in a discussion of how they do — and don't — make it work.

"Sit still amid your doubt, loneliness, and anxiety," counsels Barry Magid. "They are not obstacles to your practice—they are your practice."
Gaylon Ferguson on the real meaning and value of community among Buddhists.
Sylvia Boorstein looks at the hallmarks of real spiritual friendship.
Lewis Richmond addresses how to go about choosing a teacher when you're ready.