The project was inspired by the destruction of the monumental Bamiyan Buddha statues by the Taliban in 2001.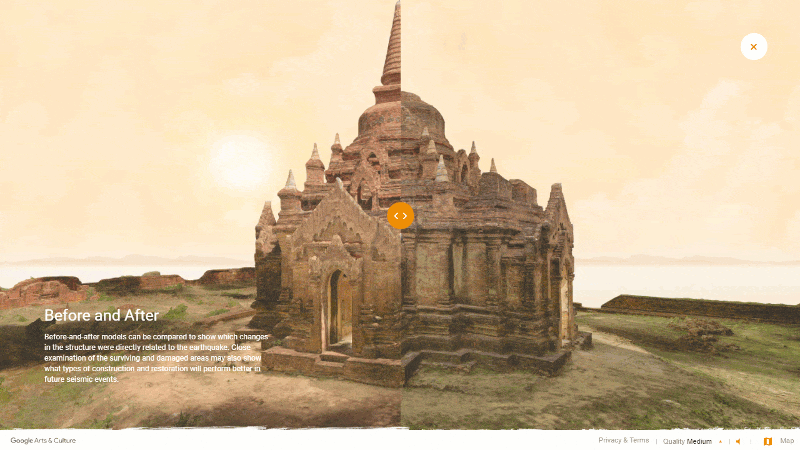 Google has collaborated with CyArk, a California-based nonprofit, to preserve heritage sites in online 3D libraries. The Open Heritage project has posted 3D models of 26 heritage locations in 18 countries, including ancient Buddhist temples at Bagan in Myanmar and three temples at Ayutthaya in Thailand.
Since 2003, CyArk has documented more than 200 heritage sites around the world with digital photography, aerial drones, and 3D laser scanning technology. "We've been collecting these sites for 15 years," CyArk CEO John Ristevski told NBC News Mach.
3D models and 360-degree photographs of Open Heritage's 26 locations can be viewed on a web browser or with a VR headset. Nine more locations are planned to be released in a few months, with more to come.
CyArk was founded by Ben Kacyra, an Iraqi engineer living in California, after he learned of the destruction of Afghanistan's Bamiyan Buddhas in 2001. The 1,500-year-old statues were destroyed by Taliban militants, leaving behind two massive cavities in the cliff face where the monuments once stood.
Kacyra decided to create digital records of world heritage sites in case they too faced future damage or destruction.
After CyArk technicians mapped the temples at Bagan in 2016, an earthquake badly damaged the site. Bagan is an ancient city known for its 2,000 Buddhist monuments that were left abandoned and untouched after the population fled the city at the end of the thirteenth century.
According to NBC News Mach, CyArk's digital records are currently referenced in reconstruction work at Bagan, and the Open Heritage project offers a virtual reality tour of the temples, including one temple no longer open to the public.
Visit the project's website to view CyArk's expedition overviews, learn more about digital preservation technology, and take a virtual stroll through these timeless heritage locations.
Can you help us at a critical time?

COVID-19 has brought tremendous suffering, uncertainty, fear, and strain to the world.
Our sincere wish is that these Buddhist teachings, guided practices, and stories can be a balm in these difficult times. Over the past month, over 400,000 readers like you have visited our site, reading almost a million pages and streaming over 120,000 hours of video teachings. We want to provide even more Buddhist wisdom but our resources are strained. Can you help us?
No one is free from the pandemic's impact, including Lion's Roar. We rely significantly on advertising and newsstand sales to support our work — both of which have dropped precipitously this year. Can you lend your support to Lion's Roar at this critical time?