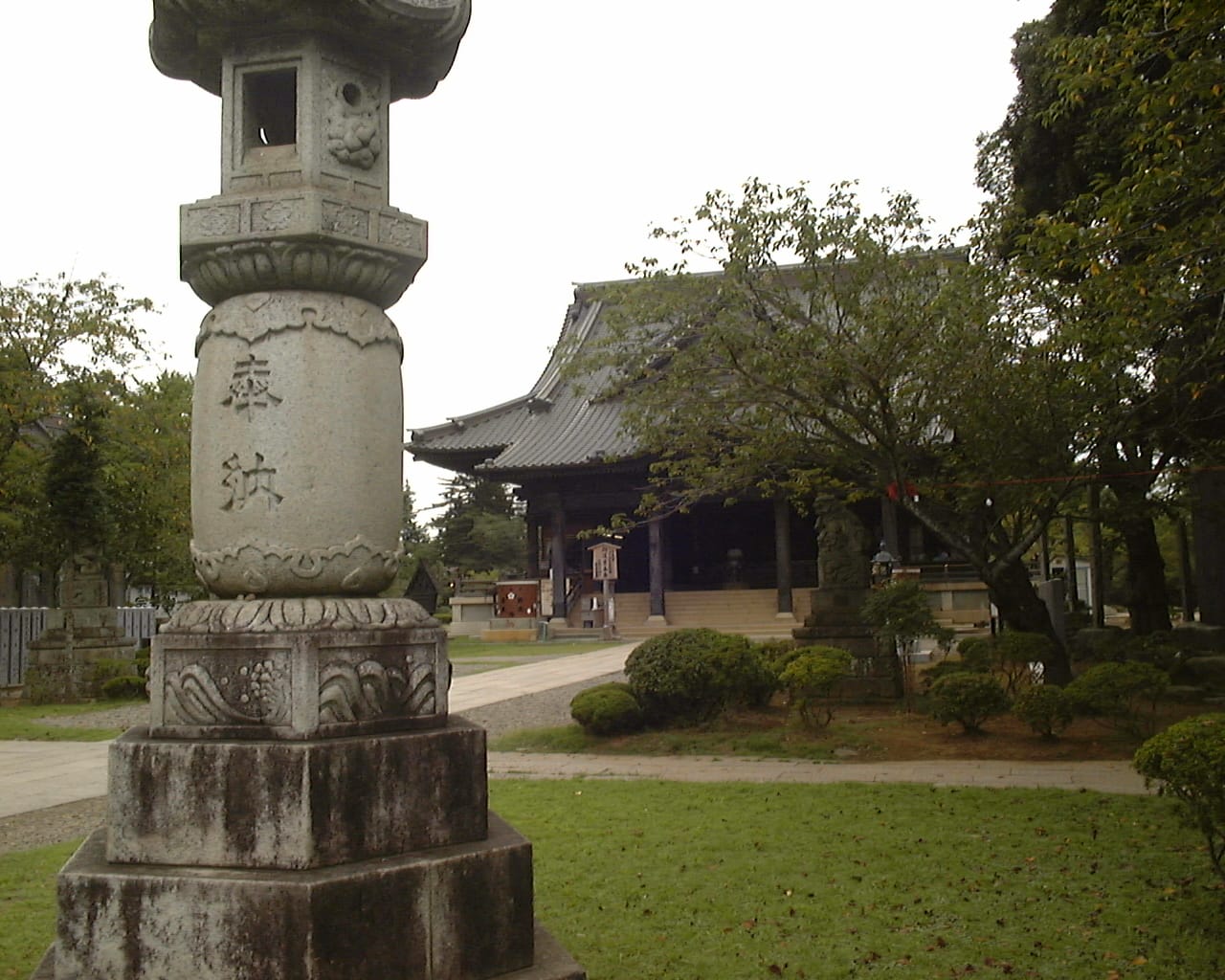 Photo by
Ed Blankestijn.
In 1979, a young Irish-American woman left a waitressing job in Boston to visit Japan. Socially engaged and academically brilliant, Maura O'Halloran was 24 when she entered Toshoji Temple in Tokyo for what became three years of continuous Zen practice. In 1982, her enlightenment experience was officially recognized, but she would never realize her great potential as a teacher of Zen.
Tragically, at the age of 27, she was killed in a bus accident in Thailand on her way to Ireland, where she planned to establish a Zen center. In Japan, a statue was erected in her honor and she was awarded the posthumous title "Great Enlightened Lady."
Lion's Roar is pleased to present these selections from Pure Heart, Enlightened Mind: The Zen Journal and Letters of Maura Soshin O'Halloran.
Dear Family,
. . . my heart will be with you so think of me at Christmas. There'll be no plum pudding here. Bean cakes are nice, though.
I was settling in nicely to Tokyo life, met a few people and had loads of work opportunities. But I realized I was only meeting gaijin and all the foreigners form a little clique with an occasional Japanese girlfriend or boyfriend. I was speaking no Japanese and wasn't attracted by the culture, so I've taken a leap into real Japan, and ancient Japan at that!
I'm living at Toshoji temple and get room and board in exchange for some cleaning every day and I'm learning zazen. I'm the only woman and only foreigner studying here.
When I arrived at the Togoshi Koen station, I phoned the temple and they said someone would come down to meet me. I stood up straight, expecting to be greeted by some quiet, dignified, old abbot. Next thing I jump backwards as a bicycle hurtles at me. Billows of black leap and land at my feet as Tetsuro-san straightens his glasses, catches his breath and welcomes me. At the temple, it's tea-time and the monks, sitting on the floor, are laughing and smoking and not looking at all austere. They all try out their high school English and laugh ever more. They're lovely, like great big kids; full of fun. I've yet to see one even vaguely vexed. They all chipped together and bought a linguaphone set so that they could talk to me better. So I keep getting "Would you like another glass of soda?" or "Take these suitcases to our room, please."
Each day starts at five o'clock. I wash my face by the light of the moon. I have my own room with four tatami mats and my own little outhouse. The food is good. Our staples are rice and seaweed but the cook is really talented. Monastery life is certainly a change. I've never done so much bowing in my life. There's a very exact protocol, especially during meals, of bowing and joining hands as if in prayer. They must think I'm very polite because now I just bow at every pause. That way I figure I'm covered.
At times I feel like a cow in labor. You see, my koan is mu and I'm supposed to bellow this (discreetly, where necessary) at every available opportunity. I scared the wits out of the poor cook who thought the noise was her cat being brutalized.
So I'm happy, healthy and out of mischief. Imagine, me in bed by nine every night! And cleaning every day. That's not as bad as I feared. I even clean voluntarily.
Can you believe that? They have a wonderful cleaning agent here. We use it on floors, sinks, windows, metal, you name it. Elbow grease. That's it. Not even mops. Everything is done with rags and water.
The place is totally non-sexist. I half expected to be pointed towards the kitchen but I saw wood and move furniture with the best of them. And no condescending "Didn't she do well?" It's just taken for granted. I'm totally "one of the lads" except I'm not bald. Next month we go up to the north of Japan, to Iwate Prefecture, to do begging. That should be an experience, begging in the snow. They say it's very beautiful there. I'm looking forward to seeing some countryside.
Love, M
Saturday, November 21, 1979
I go to Toshoji temple. The master can't speak English. They give me my room, four tatami mats wide. There's a little desk, cushion and mattress. We go upstairs to chant. The statues look pagan. I've no idea what I'm getting into. Dinner is disastrous. We kneel around benches. There is a precise way to do everything, a million bows. Silence. The damn egg roll is so big and greasy that I can't pick it up. I'm behind the others, gobbling, trying to catch up. The voice of the master shatters the silence. "You eat slowly." I don't know if it's a comment or a command. I take it as the latter and relax and am grateful that the one thing he said was so right.
Wednesday, November 25
I finally had a really good meditation. For a few moments my mind stopped its incessant chattering and I was down very deep.
In the morning I felt very restless with thoughts of how long I should stay, should I go elsewhere, will I be very old before going back to my own world? In the evening there is meditation and service. I feel very high. We had a banquet afterwards, with sake to drink. I look at these men, laughing, enjoying, knowing. Like the old men in pubs at home, they drink through the grey curls of smoke. They are simple men, kneeling long hours on a cushion, leading spartan lives, but they are no Himalayan hermits. They drink and revel. It would be a good and wonderful thing to grow old like these men.
Thursday, November 26
An ancient man, a great master, Dai Achukyo Chitana Songi, comes to pay his respects to Go Roshi. Two women help him hobble up the steps. I gasp in awe and reverence, "He's beautiful." Tetsuro repeats my exclamation and another visiting senior motions for me to follow. We sit, the six of us, in Go Roshi's snug reception room. I feel so privileged. I can't understand a word. The others serve us. I can only watch this man, the power, wisdom and dignity he exudes.
Jiko gives me a drawing of a gold-colored harp being strummed by a ringleted maiden in an evening gown. "That's you," he says. I'm touched. His name means "sunny." He's always trying out awkward English idioms, like "It's all Greek to me." His face crinkles when he smiles, a Peter Pan. He spends long hours copying chants into rotnaji [English characters] for me.
At the service I feel very high, can't stop smiling. At tea-time the Zen Society gathers and I'm briefly questioned about my intentions. Jiko tells me I'm to be Go Roshi's jewel. I'm elated. About one meditation a day seems to be a good one.
Today I had my first real doku-san [interview with Roshi about one's practice]. (I went before but had no interpreter). Go Roshi gave me the koan of mu. Nothingness. Only mu. I become filled with mu.
The interpreter and Tetso call me to their room. They have both attained enlightenment. They question me about my motives and knowledge. All the time my pulse beats "nothingness, nothingness." Poems have come to me between the beats of mu.
Cathy-san was enlightened in three years, one priest in a year. I need not wait for old age, just follow Go Roshi. I have total faith in him. He can see inside me. He has the strength to kill my ego so that I can be free. "Without fail," he says, "you will attain enlightenment."
I can scarcely contain myself. "Nothingness, nothingness." It's like a jungle drum beating through my veins, but I must fight for it. I sleep in a frenzy. I keep awakening hearing "Nothingness, nothingness."
Saturday, November 28
I work to mu. I hate the interruption of talking because slowly through the day and its idle chatter, nothingness slips. I meditate three times. My body.
Inside and all around is nothing. No thing. No separation. A geyser in a lake appears to be a separate thing but is the lake. In the morning there is question-time. I ask Go Roshi the meaning of enlightenment. He strikes me. Not hard. When you are hit, you feel pain.
Another Week
I went to dokusan. I was determined not to be tricked into using words. Words give form, apparent substance, to nothingness. Roshi asked me what was mu. I said "nothingness." He hit me. What do I feel? I was about to say pain but due to my resolution to avoid words, I said "nothingness." "Continue," he said. I had reached my answer through logic. He was right. Think only of mu, nothing else. Don't study Japanese or sit in the corridor—only mu.
At the English bookstore, all the conflicting theories of Zen and schools had confused and upset me. I bought a book I already had but then refused to read it. Words. I want to know from inside.
The days went on, full of mu. I avoided the others' company, stopped laughing and only thought of mu. At times it drove me crazy—mu, mu, rattling in my brain, not allowed to think of anything else. I jump up and throw it out, annoyed. Other times I go down, down, down with it, down beneath words where my breath is gentle. Like looking up through the lake and the surface is a sentence and I'm below. Gentle at times. Quiet. A little smile slipping across my face. Sometimes I sit an hour and a half before there's five minutes of calm.
At times I'm so happy, other times so vexed with my trivial mind.
Sunday Evening
Takeo suggested how I should breathe. I tried and gradually got more and more excited. Mu rose vibrating up my spine, exploded in my head. Everything was simple. I was laughing. Mu was only mu. I felt ecstatic, couldn't contain my joy. I ran out of the hall, kissed the trees, stood in the garden and was the garden, really was it. All through dinner I beamed. Jiko kept staring. The others had described enlightenment. This was so much stronger. I didn't meditate that night, only lay wrapped snug in bed, listening to the rain.
Monday Morning
Christmas Eve: I go to dokusan. "How have you apprehended mu?" Mu is mu. I'm smiling, happy, not at all nervous, still elated. "Continue!" The bell goes ting-a- ding-ding. I'm dismissed.
I felt crushed. He didn't know. Didn't he know? How could he know? But I knew. Damn. It was Christmas eve.
I was cold, and sick of soji [cleaning], afraid that Tenno thought I wasn't doing enough, so from guilt I was working more. Hating the guilt. Thinking of home and family and how long I'd be stuck doing stupid, menial cleaning and with no enlightenment.
Tears prick my eyes. Juro and Eshin, like mother hens, tend me. I sit in Eshin's tiny, dark, freezing hole, wrapped tight in his wool kimono, listening to music. I sit in Eshin's tiny, dark, freezing hole, wrapped tight in his wool kimono, listening to music. I try to really listen, to stop words. I don't do any soji and wonder what Tenno thinks.
Roshi buys a Christmas cake, the cook buys champagne and they give me a party. Five monks huddled around wooden benches. When we sing we see our breath. The green plastic holly and frosting tree look odd on the strawberry cream cake. They light the candles. Don't all Western cakes have candles? I wait for them to burn down. They toast me and cheer me. Jiko writes out "The Song of Wandering Aengus" on a subway map. It's not Christmas, but it's the Christmas spirit. They gave me a real lift.
New Year's Eve party: These little monks know how to have fun. Here I am, my friends all monks—it seems strange. I sang "Auld Lang Syne." It's the first time I've sung alone in public and not cared. Little by little I'm gaining understanding, though my meditations have been very shallow.
I want to be a Zen master.
Kannonji Temple, Iwateken, January 6, 1980
Funny about my age. Go Roshi's son thought I was thirty. I looked in the mirror and I looked thirty. When I came here to Kannonji [country temple in Iwate Prefecture, owned by the roshi] they say I look a teenager. I look in the mirror and I look like a teenager.
Sometimes mu is so beautiful. Kneeling on the bare boards, by the warmth of the wood stove, the day is a grey, snowy twilight. I'm mixing the soup around and around, brown into a foam, around and around. Breathing deeply and softly a mu, I feel peace.
Five in the morning zazen. Sutras, and our breath puffs steam engine billows of icy vapor. I look at these men, their hard, kind faces, and I love them. I then look at the old woman, bent double, who for the past ten years (since she gave the land on which Kannonji was built) has hobbled over to the temple every morning for sutra. A bare silhouette in the pre-dawn light, bent over her cane she shuffles through the snow. And before breakfast we are out shovelling the virgin white, and I don't even mind. Rice and soup, plain and hearty.
Takuhatsu, layer upon layer of clothes, sometimes ten, with our begging bowls and bells we walk slowly through the streets of Morioka, through the snow and sleet, in straw sandals, bells ringing, chanting. The little old women slide open the panel on their doors, drop a coin in a bowl and stand, with bent head and long apron, waiting for a monk's blessing. Sometimes they gasp in surprise when they see me—a woman, a gaijin. When I walk, just walk, chanting, not wondering what time it is or watching the doors, I am very happy.
Riko-san is very hard and very good, a man of precious metal. He walks through the snow storms to get me warm clothes. He teaches me in simple broken English about Buddhism. He is simple and pure and has no doubts. So too is his wife. I love her. A temple woman asked in wonder whether I was a boy or a girl, then brought her child to kneel before me and kept taking my hands to kiss them. I wonder what she was saying.
There's been much fuss since I was interviewed on TV and in the newspaper. Now people point to me, want to put their offerings in my bowl, children follow me on the street. In jest, Taro-san calls me a goddess, Buddha of the caravan. Silly, because the fuss is on account of my being foreign and female.
The devout women of Morioka invite us to lunches. Oh, such food! They never eat with us—probably couldn't afford to—but reverently wait outside the room. With tears in their eyes they thank us for the privilege of serving us. I watch them on their knees bowing and feel weird to be in this role, especially in another culture from my own. At one luncheon it was decided that I had a Japanese face. Of course my face is as Irish as turf but it's all part of their acceptance of me. Several people have said that I don't seem Western. When I was in South America I didn't feel estranged either; they said I seemed Latin. Quien sabe?
The woman in the fish shop served us hot sake and rice. It's warming after hours in the snow. All around lie the bodies of fish, bodies heaped on bodies with gaping eyes and mouths. I no longer want to eat fish. I wouldn't catch one myself: shellfish and eggs I can handle. But then I eat fish for lunch because I eat what's given me.
Toshioji, Tokyo, February 21
Yesterday I bought books. I read about mu, read that mu is not a mantra, don't just repeat mu but struggle with "What is mu?" I went upstairs to zendo mu. I am mu.
I am nothing, nothing, nothingness. I do not exist (though I do). But nothing, absolutely nothing.
Something trembled near my eyes. I wept, lay down on the tatami and wept huge, heaving tears. I was nothing, my dreams, my hopes, my conceits were nothing. I cried funeral tears. I was at my own funeral and no one else had come. It was crying and crying and crying and….
Downstairs, it was time to make toast. Tetsuro-san asked what was wrong. I am nothing, and it's very hard and very sad and tears pricked. "Hontol [Really?] You are near enlightenment. You must go to dokusan." I know I'm not near enlightenment but I would like to go to dokusan. I do mu, a deep total mu. Afterwards, my vocal cords hurt. Roshin says keep with mu 'til sesshin [usually an intensive week of zazen] and then I will attain enlightenment. (As for that "will"—try "may.")
After dinner, Roshi says "Put an ad in the paper for a new cook." He doesn't like my cooking. The fish was too hard (two weeks old, I scraped off the mold), the salad too hearty. It was true. I wasn't that put out. It was true. Tho' I liked cooking, wished it had been good. I felt too drained to really react to be really hurt.
You must struggle with a koan, fight with it and for it. My energy in mu is renewed asking what is it? Getting up in the morning is one of the hardest things for me. So I will get up even earlier and go to hondo and sit.
March 1
There was no answer to the ad for a new cook. Yesterday Roshi asked us if we could continue cooking. He said at first he thought we were trying to kill him, hard rice and dinner that smelled like medicine. I have to laugh; I love his frankness, but now he says everything is delicious. He thought we would soon tire of the kitchen but we are in high spirits and the kitchen is always clean. Jiko said that of course I would rather do the garden, but it's okay. It's still cold for the garden.
This morning, meditating, I couldn't still my mind for a moment. I kept thinking of different things to cook, etc. Was annoyed with myself. After sutra we had the ceremony where each person roars a question and Roshi answers. Tetsuro-san told me to go up.
"I don't know what to say," I whispered, flustered.
"Sit there," he said. So I thought I didn't have to ask a question.
Then Roshi calls, "Soshin-san."
I go up and wait for Tetsuro-san to tell me the Japanese I must say. Nothing. I look at him imploringly. "What do I say?"
"Ask your question." So I ask but my voice is small because of the awe and confusion I feel. "What is Buddha?"
I have so many questions. He waits a long time. I cannot understand the answer. Afterwards Tetsuro-san says, "Roshi said, 'You are silent, but your mind is like thunder."
I feel crushed. He's saying my mind is a storm; I have no peace. I think of that morning's scattered meditation, how hard it often is to keep my mind on things. He knows I'm so far from enlightenment, it seems like no use—I'll never calm my mind. I ask Jiko what he meant. "Only an allusion to the weather; never mind." I go again to Tetsuro-san. He says it is a common Zen phrase, no bad meaning, comes from a Chinese poem and is like saying "the old man is silent but his life is etched in his face." I'm slightly consoled.
Jo-san. Roshi has been appointed one of the top teachers in Japan. How could I have been so lucky to stumble upon his temple, decide to stay (under the illusion he spoke English), be accepted and have to pay nothing?
Roshi said something about when I was silent this morning. The other Roshi who came to announce Ban Roshi's promotion said he admired me coming as a foreigner and doing Zen seriously, that I was simple in my confusion. Jiko fumbles to translate and Roshi cuts in saying in English, laughing, "You are wonderful, number one."
March 5
Why can I not still my mind? Last night's and this morning's meditations were so scattered.
March 7
I have been meditating consistently now for three months (they couldn't believe that—thought that it must be a year and three months). I can perceive subtle changes. My posture is different, composure better. I'm more quiet. I remember finding Sean's silences unbearable and needed constant chatter and once had to stop myself from begging him to talk about just anything. I'm no longer compulsive in eating and drinking. If I do something, I like to do it properly and I care less about others' opinions of me. I can even serve a bad dinner, feel sorry that it was bad but not be upset to the core and watching each expression. I'm much better disciplined but I don't know how permanent any of these changes are. So I am a bit afraid to go back to the "real world."
Mum sent a letter saying she was sad I had given up the idea of a Ph.D at the Sorbonne (which of course I haven't) and appealing to me to help her sell her Dublin house in the summer. But I am finally doing what I have wanted and needed to do all my life and am afraid to break. I consider Buddhism my "religion," if it can be called that. On the other hand, I do want to continue with my outside life at some stage and finish the koans. So Maybe I should find a suitable temple and get on with it as I'll have to break from here sooner or later. I love, respect and trust Roshi completely, yet I should not be attached even to him.
March 16
My moods changed so yesterday. Afternoon, lovely zazen in the sunshine. evening, distracted, unable to focus. I got frustrated; I'm hopeless, useless. I waited up to give Go Roshi a late dinner. He beamed, really seemed to emit light and I was elated. He said "saiko" [the best!| but Tessan-san was outraged. However I made it he said it tasted like water. Just can't please everyone. All my presents backfired. First the curry for Tessan. Then I wanted to buy him a pastry but it turned out to be bread with chocolate on top. I wanted to give the child a treat and left it beside him but he didn't realize it was his.
March 17
Listening to music in Masato's room, I went to another world, my other life. He is a kind of bridge, some thirty years old, long, scraggly hair arranged to cover the incipient baldness. He is gentle and silent, a voice that coos "zazen" with the tranquility of the wise. Yet he only talks about his stereo and his memories. Perhaps he thinks it's all we have in common. But his peace is real. He hitched across the States and Europe, can understand me, knows the road. The music is American. We drink coffee but sit on the floor. And it's very strange. The room is chilly, not cold, just so the skin tenses and tingles. Roshi is out, the music loud. I'm internalizing the music, really am the music, transported, transcending. I can't help smiling. I feel I'm bursting, vibrating up and down my spine.
Mio-san took photos. I looked at mine and was strongly hit by having seen it before. In Masato's room, looking at the albums, I felt I knew all these people well, but couldn't place them. Odd.
End of April
Last night after washing up and a very distracted zazen, we called on Tetso-san.
Suddenly he says, "Let's go to Ginza." So we're off, himself, myself and Jiko-san, cruising through the flashing lights, priests of the night. On to Roppongi where we go to a bar, the Berni Inn. I haven't been in a bar since I lived in San Francisco. I feel I'm encased by this red wallpaper, English crockery, dart board and the sound of "old boys" English interspersed with the clickety-clack of Japanese. Too subdued for a pub, it had supermarket music and more sherry than beer. "Namu myo ho renge kyo" [the chant of the Nichiren sect], said someone as we passed—a strange sight, I suppose. Two Japanese approached us, bought us Irish whiskeys. Jiko-san was getting definitely looser, laughing, boasting of how wonderful Ireland was. Very comical. He was in his element, with whiskey and an audience. I enjoyed myself thoroughly, laughed and laughed. Tetso- san was quiet, seemed somehow out of things. He was drinking juice (was driver) but it wasn't only that. Jiko-san was a riot. Often as I've cursed the old devil, I actually miss him now that he's in Kyoto. When I was responding to circumstances with my ego, feeling put out by criticism or when Takeo-san would lose his temper over nothing, I'd think of Jiko-san. "i yo, nan- demo ii yo" ["It's OK! Anything's OK!"]. Totally unflappable.
Kannonji Temple, Iwateken, May 2
The second day of the fifth month of 1980. Twenty-two days before I celebrate a quarter century.
Sesshin has begun.
Dokusan. I did mu with all my heart and all my soul and all my being. Everything was squeezed out until my head touched the floor.
"Is it your mind or your heart or your body saying mu?"
"I don't know. " Tears are flowing without reason; I laugh without reason.
"What is the difference between I don't know and mu?"
"No difference. " Go Roshi whacks me.
"Ouch I. "
"Who feels pain?"
"I do."
Then, when I'm not looking, he jumps up, embraces me. "Bikkun shita! [You surprised me!]." I tumble backwards, laughing. He holds my hand tightly, my thumb.
"This is I don't know."
"I know."
"You must see mu in everything."
I leave dokusan, crying and laughing, with Tachibana Sensei apologizing for his English translation. That's okay. He encourages me. I go to dokusan with Kobai-san.
"Where does mu come from?"
"I don't know—how can it come from somewhere? It doesn't have a place. "
Kobai-san is very fish-like, cold comfort.
"We've all struggled with the problem."
"It comes from me," I told her.
"If that's your answer, go to dokusan."
In we go again. Go Roshi says "zenzen wakaranai" [You don't understand at all].
I'm crushed, devastated. Roshi says, "Next time, come alone."
After lunch we rest. I'm crying, feel wretched, forlorn. I can't do it. Tessan-san has such strength in his mu; the fellow in white has such persistence. I couldn't keep on like him (I take big pauses between mu's). He thumps his head, bleating and beating. I lie down weeping and muing and half sleeping. I resolve not to go to bed that night or any night until kensho [satori, or enlightenment].
Going into zendo I hear Go Roshi say something about Soshin, (probably saying "I was wrong; she's hopeless"). I'm called to dokusan. I feel so dejected, empty-minded. It doesn't even occur to me to wonder why Go Roshi wants me to come alone.
"Mu-do? [How is your mu?]"
I mu for him with all my strength, raising myself high and squeezing every bit of breath into mu until my head touches the floor.
"Once more again," he says in English. (He doesn't speak English but I don't register surprise.)
I do so.
Then "once more again."
My first and only thought was "He may make me do this for ages." Then he jumped at me, grabbed me—"This body is muji [the figure of mu], this head, eyes, ears."
Suddenly I'm laughing and crying muji. I don't even realize "now I am muji" but I simply was muji and everything around me.
And he hits different parts of my body. "This is muji." Count 20 in muji—20 parts of me, 20 muji in Kannonji, all around me. We're holding on to each other, laughing and laughing. "Heart muji," he says, thumping me, "and Go Roshi's heart muji," I say, belting him back. We're embracing.
"Kensho shita [you have realized your Buddha-nature," says he.
I'm surprised. I was too self-conscious even to know that it was kensho [seeing one's own true-nature]. Only when I got outside and was looking at everything and really seeing mu did I finally know. Suddenly I understood why we must take care of things just because they exist; we are of no greater and of no lesser value.
At dinner the only words spoken aloud rang in my ears, "Maura-san go kensho itashimashita [Maura has seen into her Buddha Nature]."
At first I was so exhausted I felt neither joy nor sorrow, just relief. The next day I was ecstatic, couldn't stop smiling. Then all was as before—or at least, so it seems. Everyone tells me I look different. It's hard to be sure. I can't be bothered looking for big changes. I began the koans and flew through about twelve. Maybe they came easily because of my reading. I don't know.
After the kensho itself, a wonderful thing happened. That morning I had been fed from the strength of Tessan-san's and the others' mu's. Now that I had been "passed," as it were, I felt the desperation in their calling and I put all my strength into mu. With each breath in I thought "Tessan- san is—", the huge breath out was "MU!" I called and I called to him. He went to dokusan and had kensho. There was still work to be done. Tessan-san and I cried and cried to the other monk. He answered, wailing.
In harmony we shouted, trying to urge him harder and harder. I lost myself completely. I was him, Tessan-san, mu, all dissolved. But he didn't have kensho. I resolved that if he stayed up late, I wouldn't sleep but would urge him on. He didn't stay up. I was exhausted. Everything was expended. My throat was raw. I lost my voice, couldn't speak for two days. Still I tried calling to him the next day. The other head priest thought it strange and asked me to stop.
From Pure Heart, Enlightened Mind, The Zen Journal and Letters of Maura Soshin O'Halloran. © 1994 Charles E. Tuttle Co., Inc. Reprinted by permission of the publisher.