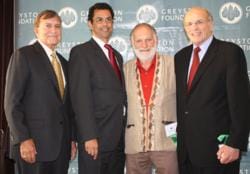 The Greyston Foundation – the Yonkers, NY-based "entrepreneurial and spiritually grounded not-for-profit organization" that began with Bernie Glassman and the Zen Peacemakers' Greyston Bakery – raised over $300,000 at this year's Greyston Annual Benefit. All of the funds raised will support the organization's community development efforts, which are aimed at "achieving personal and community transformation."
Among other things, the Greyston Foundation provides jobs, affordable housing, medical and holistic care for HIV patients, child care, life skills and environmental education for children and teenagers, and employment and training for the homeless and previously incarcerated.
The event, held at X2O Xaviars on the Hudson in Yonkers, honored Carl E. Petrillo, president and CEO of Yonkers Contracting, for "his dedication to Greyston Foundation." Bernie Glassman presented Christopher Davis with the first-ever Bernie Glassman Award, which was given in recognition of "achievement in Davis' personal growth and movement along his path toward self-sufficiency." You can read more about the benefit here.