This recipe comes from Annie Somerville, executive chef at Greens, the renowned vegetarian restaurant started by San Francisco Zen Center in 1979.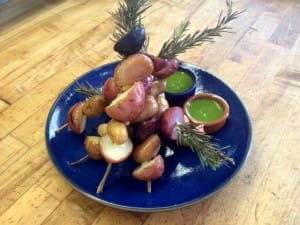 It's one of several recipes mentioned in Colleen Morton Busch's profile of Zen Center, Always Beginner's Mind, in our September 2012 magazine, and Somerville says it's a favorite at Greens.
The potatoes are great when served with Somerville's bright green chimichurri sauce, so we've included the recipe for that, too.
Grilled Potatoes on Rosemary Skewers
You can combine a variety of potatoes for colorful skewers — little reds, fingerlings, purple Peruvians, Yukon golds or yellow finns. Be sure to select strong sprigs that will support the weight of the potatoes, and save the stripped rosemary needles to sprinkle over the coals. Serve hot off the grill.
Makes 6 to 8 skewers
2 pounds small potatoes
Olive oil
Salt and pepper
6 to 8 strong rosemary sprigs, about 8 cut inches long
Prepare the grill.
Preheat the oven to 400º F.
Toss the potatoes in a baking dish with a little olive oil and sprinkle with salt and pepper. Cover and roast until tender, 35 to 40 minutes. While the potatoes are roasting, strip the rosemary off the sprigs, leaving abut 2 inches of rosemary at the top.
When the potatoes are cool enough to handle, cut larger potatoes in half; leave small potatoes whole. Place them on the rosemary skewers, alternating varieties and colors. Brush the skewered potatoes with olive oil and sprinkle with salt and pepper.
Grill over coals until marked, 4 to 5 minutes. Serve immediately.
Tip: Soak the rosemary skewers in water overnight to keep the green tops from catching fire.
Chimichurri Sauce
"This smooth, piquant sauce is great with grilled vegetables or served over rice or quinoa," she says. "It's also a delicious marinade." It's best when served the day it's made so it keeps its bright green color.
Makes about 1 1/2 cups
1/2 cup olive oil
¼ cup red wine vinegar
1/3 cup water
2 teaspoons chopped garlic
1/2 teaspoon salt, plus more to taste
1 bunch curly parsley, large stems removed, about 3 cups packed leaves
½ teaspoon red pepper flakes, plus more to taste
Combine olive oil, vinegar, water, garlic, and salt in the blender. Add the parsley and blend until
emulsified. Add pepper flakes after pureing. Season to taste with salt and pepper flakes.
Tip: Increase the garlic to 1 tablespoon for stronger garlic flavor.