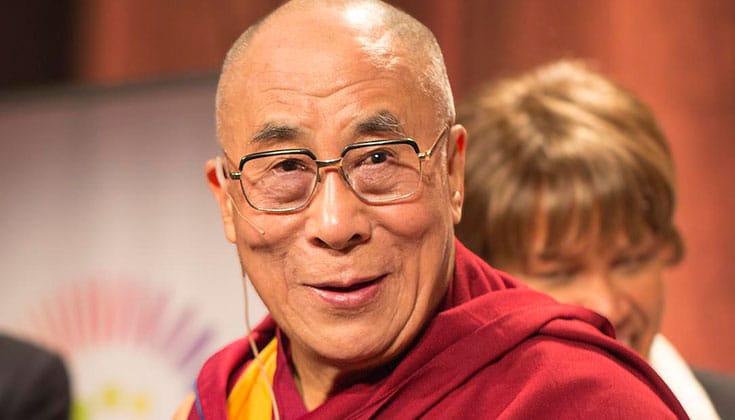 The Dalai Lama. Photo by
Christopher Michel
.
The Guardian's editorial board describes slights to the Dalai Lama as "extremely distasteful" and calls on leaders to resist pressure from China.
In the face of China's increasing efforts to undermine the Dalai Lama, the editorial board of The Guardian has called on leaders around the world to respect the Dalai Lama's role as a spiritual leader and voice of peace.
Recently, multiple political and religious leaders have prominently — and somewhat embarrassingly — barred the Dalai Lama from meetings, bowing to Chinese pressure to disassociate from a man who China deems its enemy. Last month, the Vatican excluded the Dalai Lama from an interfaith meeting. "It seems clear that this was the result of Chinese pressure," writes The Guardian.
In its editorial, published on Sunday afternoon, the paper contends that the pressure from China should be resisted. It describes these diplomatic snubs as "extremely distasteful" and says they are a blow to moral authority. Furthermore, The Guardian writes,
"This corresponds very badly with the view of the western general public, which is that the Dalai Lama is one of the most significant and benevolent religious leaders in the world today, a man who genuinely stands for a spirituality of peace and mutual understanding."
China got negative press for its Dalai Lama policies last week when the Washington Post reported that the state is struggling to legitimize its Panchen Lama (who is the presumed successor to the Dalai Lama, appointed by the state after the Dalai Lama's pick for the role mysteriously disappeared) in the eyes of the Tibetan people.
The Chinese government also received criticism in 2014 for insisting that the Dalai Lama must reincarnate, and last year it was revealed that the state had been supporting a break-off sect of Tibetan Buddhism in an effort to smear the Dalai Lama and co-opt Tibetan Buddhism.
"Spiritual leaders pray for peace" is not a headline to set the pulses racing. It is news only when they pray for war. Even that, unfortunately, is common enough to raise little attention these days. But something happened last week, almost entirely neglected by the media, which was remarkable and sinister.