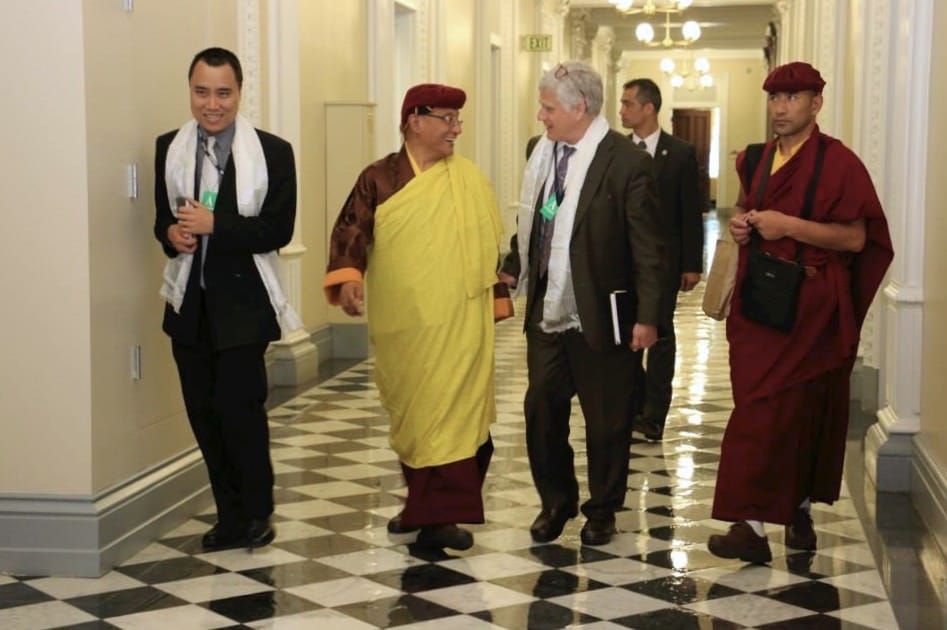 Gyalwang Drukpa in the halls of the White House, building support for the Himalayan region. Photo by
Live to Love International on Facebook
.
Thursday was a busy day for the Gyalwang Drukpa, head of the Drukpa, or Dragon, Order of Buddhism. As the Baltimore Sun reports, he spent time in West Baltimore "with more than a dozen local ministers and other peace advocates, offering prayers, blessings and words of encouragement in the aftermath of last week's unrest over the death of Freddie Gray. […] 'We all must work together hand-in-hand, to get something done, to get educated, to get transformed so that we can live in harmony with a greater sense of love, faith and devotion,' he said. 'As a spiritual master, it is my privilege to share some of my prayers with you on this crucial occasion.'"
The Gyalwang Drukpa also visited the White House, joining a roundtable discussion hosted and attended by the National Security Council, with members of the Council on Global Equality and Live to Love International.
As Human Rights Campaign reports:
In the discussion, The Drukpa said that Buddhism is based on turning faith into action. He expressed grave sorrow at the negative treatment meted out to LGBT people around the world and noted that he has taken a principled stand that LGBT people are entitled to full human rights.

The Drukpa was one of the first religious leaders in India to call on the government to scrap Section 377, which criminalizes sodomy.  The Drukpa did this despite the fact that LGBT issues are considered taboo or "sensitive" to varying degrees throughout Asia. He has since faced criticism and threats from those who are unhappy about his stance.
Read HRC's full report here.
See Also: