From "The Pentacle" to Corpse Pose, yoga teacher Cyndi Lee invites you to open up and watch the movie of your mind.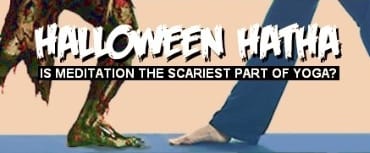 "Openness doesn't come from resisting our fears but from getting to know them well."
Last Halloween, one of the teachers here at OM Yoga Center began his evening class by inviting the students to request the yoga poses they found scary. He was not surprised by fancy suggestions such as bending backward to touch the head to the floor, handstands, five-minute headstands and, of course, various pretzels of the leg-behind-the-neck category. But the entire class was a little surprised when one of the students requested meditation, saying, "That's the most scary part of yoga."
Pema Chodron, in her book, The Places That Scare You, reminds us how the Buddha taught that flexibility and openness bring strength, and running from groundlessness brings pain. She asks, "But do we understand that becoming familiar with the running away is the key? Openness doesn't come from resisting our fears but from getting to know them well."
Some of us run away by avoiding our own mind and others run from external environments. Once a year you can find me off to lead a yoga retreat in Costa Rica, leaving New York City with a dharma book, a yoga mat and a tension headache. The open-air studio where I teach in Central America is filled with a sensuous composition of sweet birdsong, ripening fruit and fragrant flowers. I cross my legs, sit down on the beautiful wooden floor and feel healthy, inspired and nurtured by the quiet and the space.
Then I come home to downtown Manhattan, where the air quality makes me nauseated and the construction work shakes my whole building. I go to sleep listening to drunken hipsters at the snobby restaurant outside my bedroom window, and I wake up to fire engines roaring out of the station in the next block. I inhale fumes from the car mechanic's shop downstairs, I shower over the rumbling of the subway.
Even though I love New York, it's a challenge to let in this barrage of toxicity. Is it really true that I will feel more open-hearted and flexible in both body and mind if I can be brave enough to let in difficulty, rather than shutting it out?
Whether or not the environmental rubs are external or internal, opening is scary because it comes under the category of "being" rather than "doing." We are all used to managing our experience and are generally comfortable with a project mentality. Even for many experienced hatha yogis, sitting still in meditation requires more effort and more courage than doing 108 sun salutations. For others, opening up to traffic, family expectations or noisy neighbors is the toughest challenge.
The basic premise of yoga is union, and for most of us the idea of connecting to everything and everyone sounds inspiring and beautiful—until we encounter irritation. Then we begin to pick and choose who and what we want to relate to. But divine union doesn't mean we should figure out what is divine and just get with that. It means everything is divine—including us—and when we can be brave enough to relax our judgments, our opinions, our fears, we once again feel that divinity, harmony, flow and strength.
The following yoga program offers a series of physical openings—hips, shoulders, spine—done slowly with a panoramic sense of awareness. As the toxic tension in your muscles is released, your breath naturally deepens. That in turn calms your nervous system. This re-balancing helps us feel more confident and able to open to our environment, whether it is a loud city, a peaceful beach or our own tense body.
You may want to go faster, push and pull or withdraw altogether from a position, but unless you feel it to be an injurious situation, remain in each pose for as long as I have recommended. Staying in the asanas for an extended period allows you to begin to notice the impermanence of each sensation.
You may recognize your own tendency to run away by spacing out, making mental notes, shifting the position or going to the refrigerator. Come back to your breath. Notice how your body can seem to have both places and spaces. Watch the movie of your mind. Don't worry.
1. Pentacle: This is a good way to begin your practice because it is simple. Feel your body relaxing and absorbing into the floor. Let your mind be quiet, and observe the sensations of your physical body—blood flow, heartbeat, lungs moving, an itch. Let go of all expectations and see what it is like to be you right now. Stay here for five minutes. You can also do this in between each of the following poses, if you like.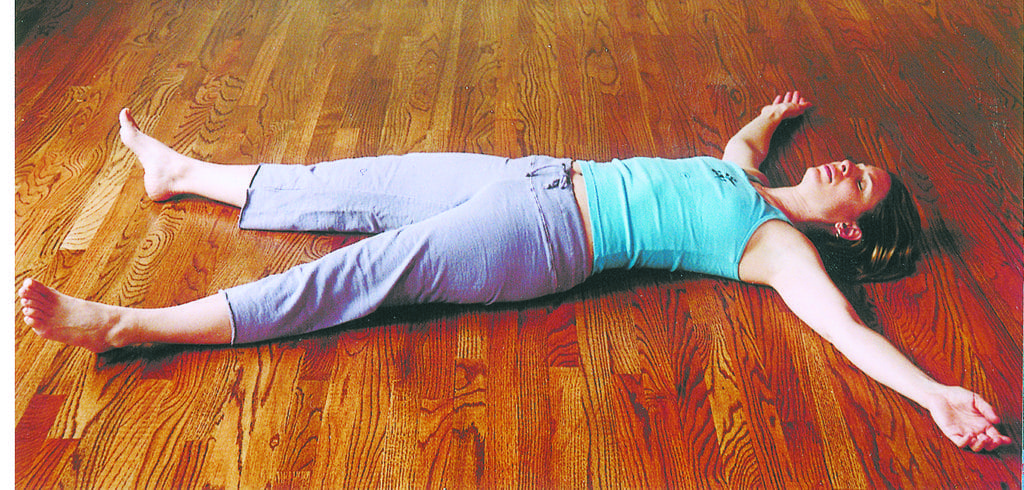 2. Shoulder Opener: You can sit with your legs crossed or in any comfortable position you like. If your hands don't touch, hold on to a towel or belt. If they do touch, let your fingers be sensitive. Try not to grip your hands together but hold hands with yourself the way you would like someone else to hold hands with you. Do each side for one minute.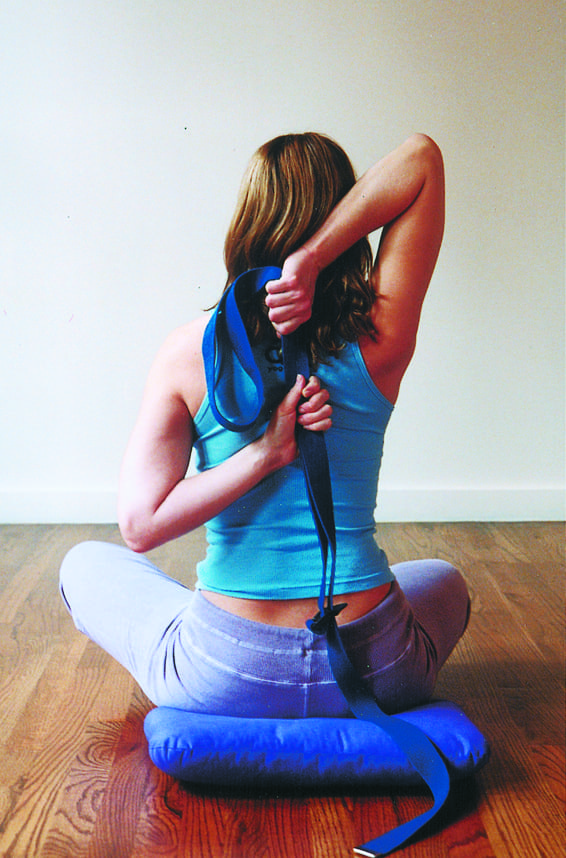 3. Cobbler's Pose: This opens up the lower back, groin and hamstrings. If you are tight in any of these places—and almost all of us are—sit on a small pillow. Do not push on any part of your body. Watch and wait. This pose is only good for you if you are willing to let your hips take as long as they need to open. You can't force a flower to bloom by ripping the petals open. Stay here for three minutes.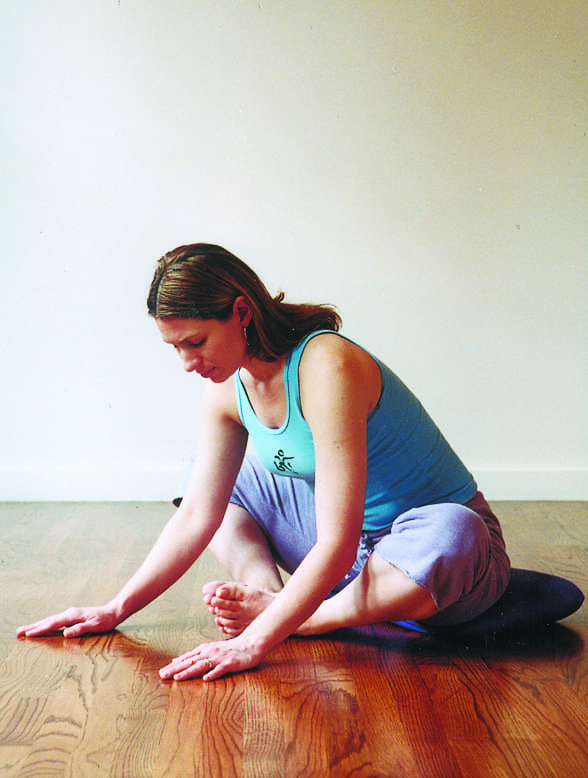 4. Supine Twist: Good for massaging internal organs as well as spinal muscles. Stay here for about one minute.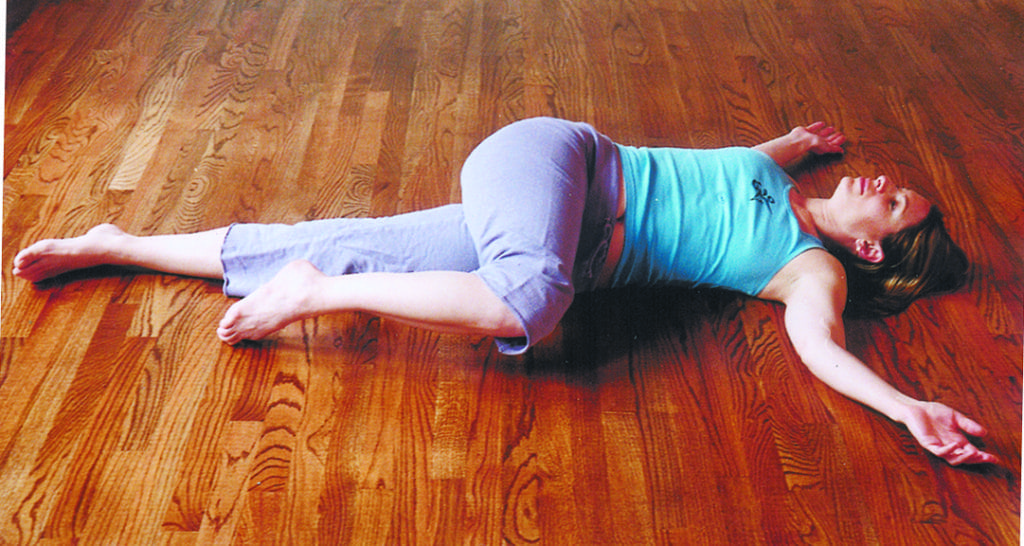 5. Pigeon: Try to point your pelvis and your chest straight ahead. If your front hip lifts up when you do that, it means you need to put a pillow or two under it. This will enable you to do the pose properly, so please don't resist that suggestion. Lift up onto your fingertips to get the most length in the spine. You can lift your chest to make a slight backbend. Do each side for one or two minutes.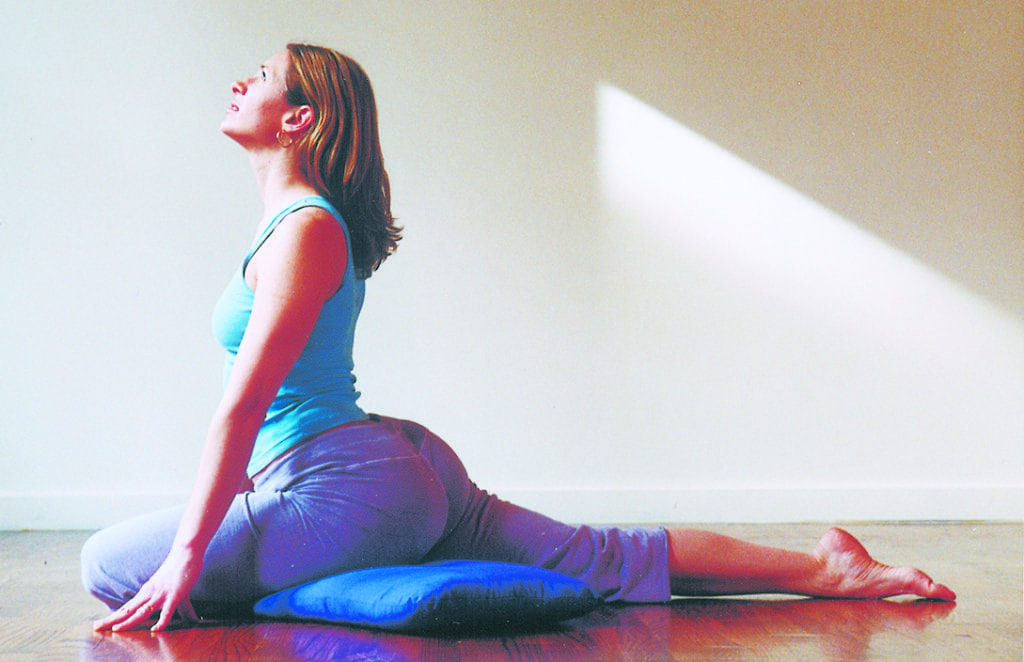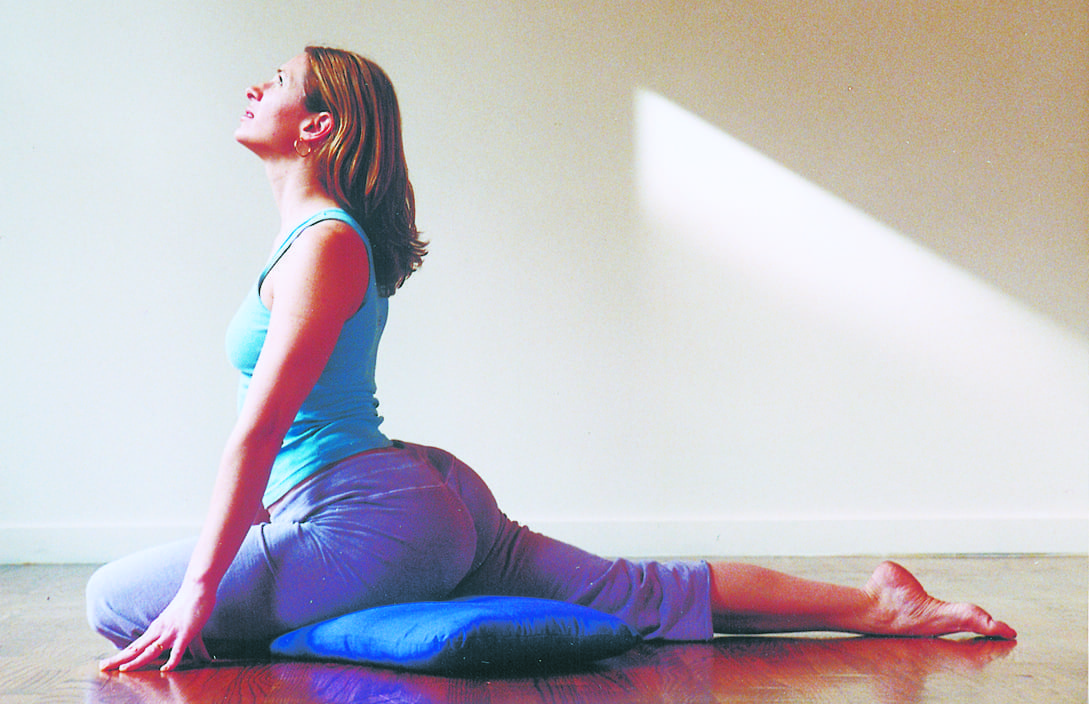 6. Knee to Chest: Another gentle hip opener and a spinal re-balancing after the previous back-bending action. Do each leg for five breaths, and then do both legs together for five breaths. You can repeat this again, if you like it.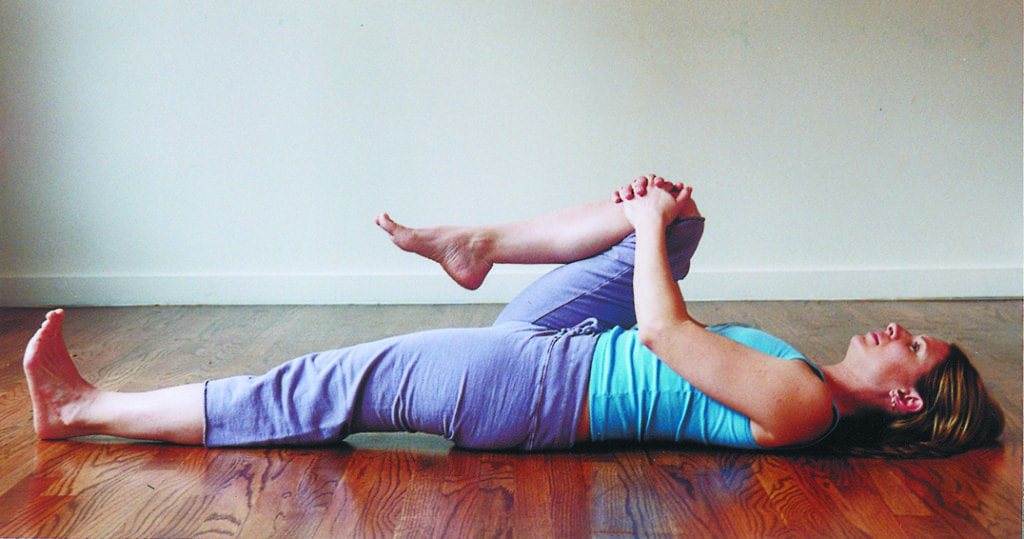 7. Corpse Pose: Finish your practice with complete relaxation. You can stay here for five or ten minutes. If you fall asleep, that's O.K., but not the goal. The idea here is to relax all physical effort, yet watch how your thoughts and physical sensations continuously change and evolve as you stay put right there on the floor.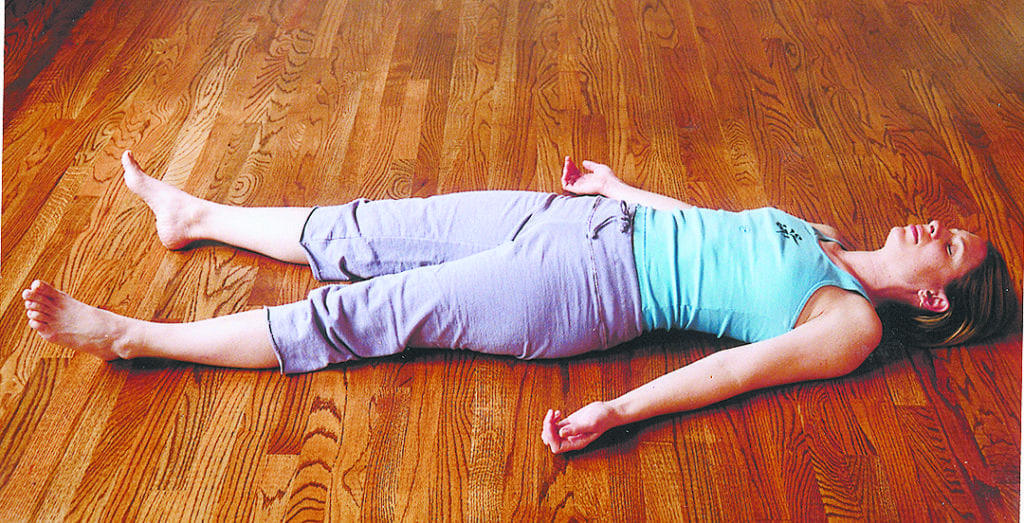 Thank you for reading Lion
'

s Roar. Now can we ask for your help?

Lion's Roar is a nonprofit. Our mission is to share the wisdom of the Buddha's teachings—to inspire, comfort, support, and enlighten readers around the world. Our aspiration is to keep LionsRoar.com available to everyone, providing a supportive, inspiring Buddhist community that anyone can access, from curious beginners to committed meditators. Do you share our aspiration? We can't do this without your help.

Lion's Roar reaches more readers like you than ever before. Unfortunately, advertising and other revenues are falling for print and online media. We know we have something deeply precious to share with the world, and we want to continue this important work. Can you help support our efforts now?

Lion's Roar is independent, unbiased, not-for-profit, and supported by readers like you. Please donate today and help the lion's roar echo for readers around the world.