Each Friday, we share three topical longreads in our Weekend Reader newsletter. This week, LionsRoar.com editor Sam Littlefair discusses the meaning and importance of Vesak. Sign up here to receive the Weekend Reader in your inbox.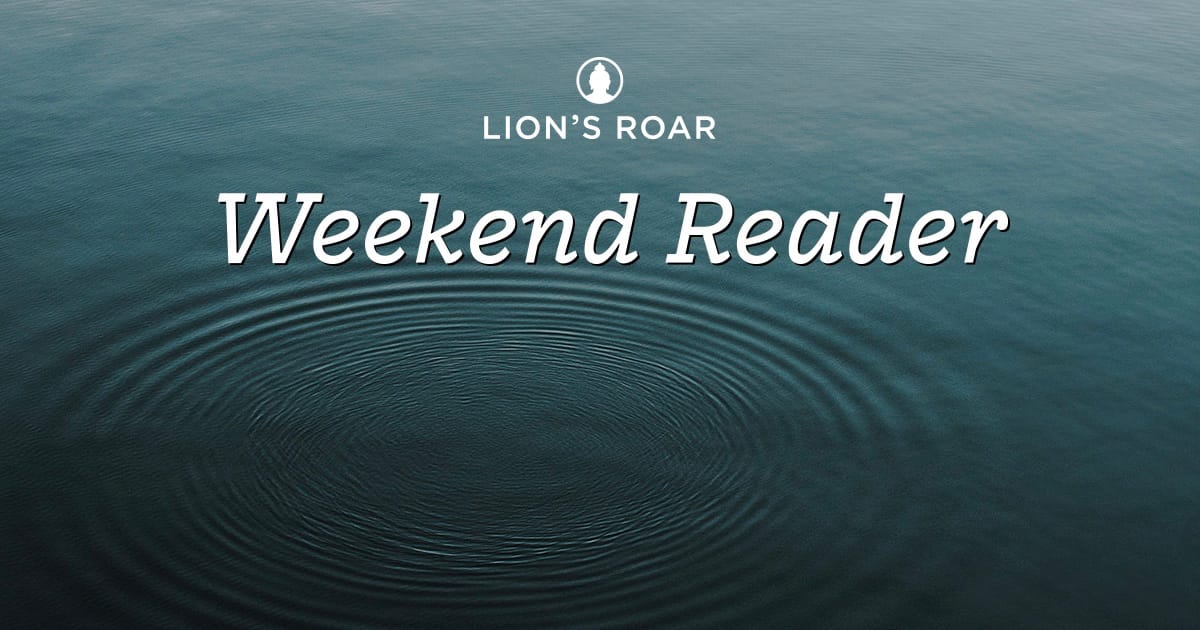 On Tuesday, millions of Buddhists will celebrate Vesak, or "Buddha Day." As LionsRoar.com assistant editor Lilly Greenblatt writes, Vesak "marks the birth, enlightenment, and death of the historical Buddha, Siddhartha Gautama, born 2,600 years ago. These three significant events in the Buddha's life are all said to have happened on the same day many years apart."
Those who celebrate don't all celebrate on the same day. In China, for instance, Vesak is often celebrated in June. But, for everyone, the occasion offers a chance to appreciate the Buddha and all that he did. In that spirit, this Weekend Reader explores who the Buddha was, what he taught, and how his words still inspire us today.
—Sam Littlefair, editor, LionsRoar.com
"Buddha" means "one who is awake." The Buddha who lived 2,600 years ago was not a god. He was an ordinary person, named Siddhartha Gautama, whose profound insights inspired the world.
"The traditional story begins with Siddhartha Gautama's birth in Lumbini, Nepal, in about 567 BCE. He was the son of a king, raised in sheltered opulence. He married and had a son. Prince Siddhartha was twenty-nine years old when his life changed. In carriage rides outside his palaces he first saw a sick person, then an old man, then a corpse. This shook him to the core of his being; he realized that his privileged status would not protect him from sickness, old age, and death. When he saw a spiritual seeker — a mendicant 'holy man' ― the urge to seek peace of mind arose in him."
If you're looking for relief from suffering, argues Buddhist scholar and author Glenn Wallis, you won't find it in some mythical figure named the Buddha but in the teachings of Siddhartha Gautama―an ordinary person like us, who became one of the world's most gifted spiritual teachers.
"Along the way, something unexpected happened. I met one of the world's most gifted teachers. He is Gautama, the human figure behind the fanciful facade of the Buddha. Like the Stoics, Epicureans, and Platonists in ancient Greece and Rome, Gautama instructed in the manner of a philosopher, a lover of wisdom. He taught and modeled a viable way to human flourishing, and did so rooted firmly in everyday life. With precision, care, and intelligence, Gautama articulated for us the categories and practices through which we may clearly understand our lives and, doing so, know for ourselves the simple happiness of existing, in difficult as well as trouble-free times. And all of his advice on these matters stands in full view―conspicuous, open to scrutiny, testable."
The true Buddha isn't limited to the body or mind of a particular person who lived long ago. He is present today, says Jack Kornfield, in teachers pointing the way to a timeless freedom.
Each time he taught, the Buddha pointed the way to timeless freedom. In the same way, the freedom taught by the Buddha is brought to life by the teachers of awakening in modern times. When Zen Master Suzuki Roshi first gave teachings on beginner's mind, the hearts of many of the students listening were opened to a freedom beyond past and future. When the Dalai Lama took the teaching seat surrounded by thousands of followers in New York's Madison Square Garden, he pointed the way to the same liberation and compassion as the Buddha. When Sharon Salzberg and Pema Chödrön speak to crowds of students on loving-kindness and compassion, the human suffering and sorrow of all who listen, their conflicts and judgment, are all held in a vast spaciousness of freedom that is our true nature.
What makes these modern teachings authenic is the understanding that the true Buddha is not limited to the body or mind of a particular man who lived long ago.