When author Karen Connelly loses her cool in a battle of wills with her three-year-old, she learns valuable lessons about mindful parenting.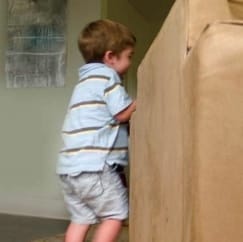 "Timo, will you please give that to me?"
"No."
"That isn't your toy, Timo. That belongs to Mama. It's not a good idea to make a mess, okay?" I purse my lips and shudder, wondering why on earth I would say that it isn't a good idea to make a mess. That's just fanning the fire.
Timo, a three-year-old master of the universe, stands on the other side of the sofa, an open challenge animating his small face. His dark eyes sparkle with pleasure. From his point of view, this is a game we've played many times before, chasing each other around the sofa. Naturally, he knows that he has something he's not supposed to have, something that I want, but that only adds to the excitement. Like many parents, I'm often distracted as I engage with my child; the phone needs to be answered, the rice on the floor needs to be cleaned up, this one newspaper article has grabbed my attention—just this one, please, just a minute, just a minute!—as he stands beside me at the table or crawls on my lap or shouts for me to come now and I pretend to engage with him while simultaneously ignoring him. He always knows when I am ignoring him.
Ha! Now he knows I am genuinely involved. No wonder he's thrilled.
I've followed him from the kitchen to the living room, a distance of twenty feet. We are just steps apart now, but I don't want to make another wrong move. His left hand is outstretched, like a runner about to sprint; his right hand clutches an extra-thick permanent black marker, which is poised above the tawny back of the sofa.
This is a moment for practical as well as philosophical parenting concerns. Why is that leather sofa dark yellow? What were we thinking when we bought it? Why was that permanent marker left in the kitchen drawer, among the washable kiddie felts and crayons? Why must I care so much?