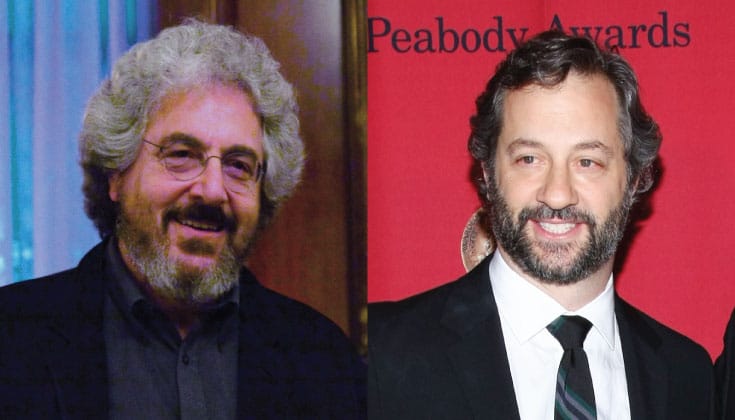 Harold Ramis (left) by
Justin Hoch
. Judd Apatow (right) by
Anders Krusberg
.
Comedy fans won't want to miss Sick in the Head, Judd Apatow's collection of his interviews through the years with some of America's finest comedians, stand-up and otherwise. (It's now in paperback.) And if you're interested in the collision of Buddhism and comedy — as we are — then you'll especially want to read Apatow's discussion with the legendary and late Harold Ramis about the influence of Buddhism on him and his classic film, Groundhog Day. And that's just what we have here for you. Enjoy:
Judd Apatow: At what time in your life did you get acquainted with or interested in Buddhism? It seems like it influences your approach.
Harold Ramis: My best friend in college, we went to San Francisco together and graduated college in '66. The word hippie had not been coined yet. We called ourselves freaks and beatniks. We went to San Francisco. The Haigh-Ashbury was flowering. Jimi Hendrix was playing, the Grateful Dead, Janis Joplin, Big Brother and the Holding Company, Jefferson Airplane, the whole thing. My roommate, David Cohen, was really stunned by it. We were both really powerfully affected by this radical energy that was going on. It was political, cultural, consciousness, religious… it was everything.
Zen Buddhism is the cleanest, sparest, most rigorous religious practice there is.
David went back to San Francisco. He'd been in four years of psychoanalysis — all through college — formal, Freudian psychoanalysis. So when he got to San Francisco he made a methodological investigation of all the new religious and spiritual movements, from bioenergetics to yoga. He moved systematically through all these movements and finally came to the San Francisco Zen Center.
Zen Buddhism is the cleanest, sparest, most rigorous religious practice there is. You sit for forty minutes in an extremely painful cross-legged position trying to keep your mind centered and focused. [Editor's note: Read actual Zazen/zen meditation instructions here.] He became a full-fledged Zen monk and finally a Zen priest. He worked his way up thought the Zen Center and stayed there more than twenty years.
I so admired his practice and this amazing calm it brought to him. I started reading Buddhism and thinking about it. I don't claim to be Buddhist. I'm too lazy. Then I met my wife. She'd spent her college years in a Buddhist meditation center in L.A., and her mother lived for thirty years in a Buddhist meditation center. Everything I'd heard and read about it so impressed me. I grew up Jewish, and then I found out that American Buddhists are less than five percent of the population, but thirty percent of them are Jews. It's kind of an amazing statistic. It fits nicely with the Talmudic approach to life, which I'd been evolving. I'm so lazy that I just did a very superficial investigation of Buddhism and distilled it down to something the size of a Chinese takeout menu. It's literally that size. It's threefold, and I call it the "Five-Minute Buddhist." It reminds how to think – not what to think, but how to think. It's a good response to existentialism, which is a psychology I embrace. There's an actual school of existential psychology – a discipline – and that's the one that makes the most sense to me. I wear Buddhist meditation beads. As Tony Hendra says in Spinal Tap, "It's an affectation."
As someone who is an existentialist with a dash of Buddhism, if that's your philosophy, you seem like a serene, happy person. How have you taken the darkest philosophy there is and found peace for yourself?
Harold: Serenity is an illusion, but if anything is possible and I can do anything, then there's a limitless capacity to do good. That's what Groundhog Day is about. In Groundhog Day, Bill destroys all meaning for himself. Buddhism says our self doesn't even exist. The self is a convenient illusion that gives us ego. In conventional terms, of course, it exists. There's a name and a picture on your driver's license, you have to get dressed in the morning, and your paycheck is addressed to somebody, so you have a self. But it's really an illusion. I did a group exercise, and we were asked to face another person and describe ourselves in two minutes. I started describing myself, and from the very first statement started thinking, That's not really true. That's what I like to think about myself, but I'm not as good as I'm saying. It's all a projection.
For much more on Ramis and Groundhog Day, see Perry Garfinkel's feature, "And If He Sees His Shadow…" from the Lion's Roar archives.
[Oh — and one more related neat find from Sick in the Head is Jerry Seinfeld's quick comment on Zen and meditation (Seinfeld is a practitioner of TM, not zazen), which is followed up by this brief exchange:
Apatow: I read a lot of Zen but it ultimately makes me unhappy because I don't want to be one drop in the ocean.
Seinfeld: I do. ]
Interview excerpt reproduced here by permission of Austin Film Festival, Inc. (c)2016. All rights reserved.
Harold Ramis didn't intend "Groundhog Day" to be Buddhist, but it's a dharma classic