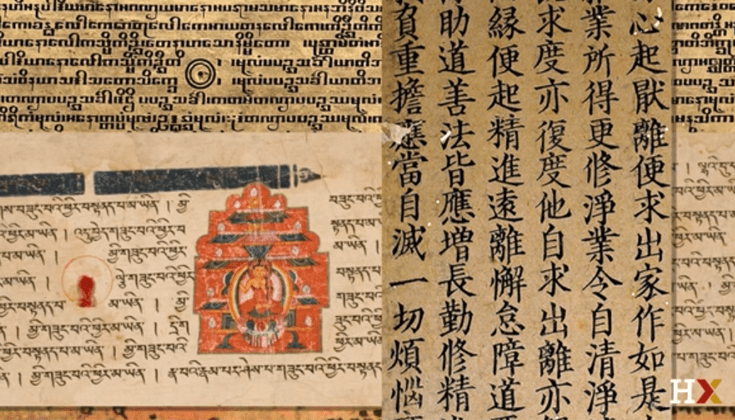 Buddhist scriptures shown in the introductory video for "Buddhism Through Its Scriptures."
Harvard University's free interactive course "Buddhism Through Its Scriptures" begins today on their online learning platform.
"Buddhism Through Its Scriptures" is the third module of the HarvardX series "World Religions through their Scriptures."
The course is taught by Charles Hallisey, the Yehan Numata Senior Lecturer on Buddhist Literatures at the Harvard Divinity School. There are eight days of lessons presented through both video and text that can be completed on the user's own time.
The course was previously available as archived content, but begins again today as an interactive course which includes discussion threads in each lesson. Students have until Aug 30, 2018 to complete the course, at which point its content will be archived. Students have the option of purchasing a certificate verifying completion of the course, but anyone can enroll and participate in the course free-of-charge.
The course syllabus reads:
Whether you are new to the study of religion or the study of Buddhism or you have been studying it and/or practicing it for years, this course will provide you with the opportunity to become acquainted with a variety of Buddhist scriptures while guiding you to think about them—their contents as well as their places in Buddhist life—in new ways.
Through a combination of carefully selected readings, both scriptural and informational, as well as exposure to various forms of Buddhist practice such as meditation, art, devotional acts, and literary works, you will also learn how to interpret, reflect upon, and connect Buddhist scriptures to your own life and deepen your understanding of the the world as well as of Buddhism in the process.
Hallisey notes that unlike in Christianity or Islam, there is no central Buddhist text, but there are many scriptures and writings to be studied. Excerpts from the Lotus Sutra, The Sutra of Golden Light, and The Heart Sutra are all studied within the course, alongside many other Buddhist writings and associated articles.
You can find more information about the course here.
THANK YOU FOR READING LION'S ROAR. CAN WE ASK FOR YOUR HELP?
At Lion's Roar, our mission is to communicate Buddhist wisdom in today's world. The connections we share with you — our readers — are what drive us to fulfill this mission.

Today, we're asking you to make a further connection with Lion's Roar. Can you help us with a donation today?
As an independent nonprofit committed to sharing Buddhist wisdom in all its diversity and breadth, Lion's Roar depends on the support of readers like you. If you have felt the benefit of Buddhist practice and wisdom in your own life, please support our work so that many others can benefit, too.

Please donate today — your support makes all the difference.

Lion's Roar is a registered charity in the US and Canada. All US & Canadian donations are tax deductible to the full extent allowed by law.