Each Friday, we share three topical longreads in our Weekend Reader newsletter. This week, Buddhadharma editor Tynette Deveaux introduces the Fall 2019 issue — a special women's issue highlighting and celebrating women's enormous contribution to the dharma. Sign up here to receive the Weekend Reader in your inbox.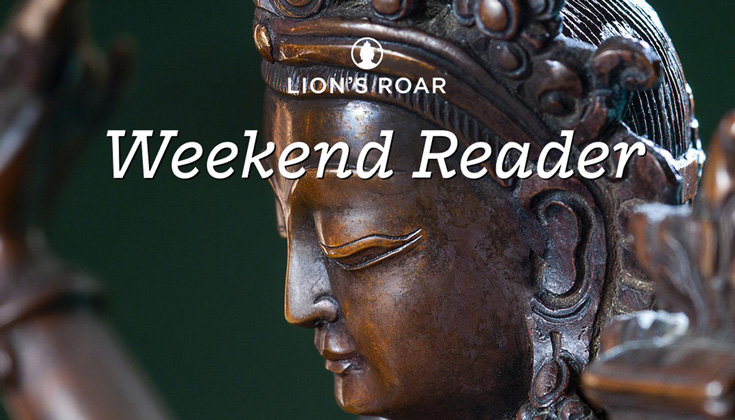 Earlier this summer, while working on the production of Buddhadharma's special women's issue, I was reading through a selection of Matty Weingast's new translation of the Therigatha, a collection of poems written by the Buddha's early female disciples. Suddenly, I was overcome with emotion, inconveniently in our open concept office. Clutching the pages, I rushed to a private room, closed the door, and burst into tears.
The poem I was reading was "Ubbiri – The Earth," which recounts the experience of a mother who wanders the woods looking for her lost daughter. She doesn't find her, but she discovers a deep sense of sisterhood with all the women who have known great loss.
This issue is a tapestry of sisterhood that transcends time. Stephanie Balkwill's "Becoming a Buddha: Lessons from Little Girls" reveals how stories in ancient texts have called into question women's ability to become enlightened, and how women — and girls — have skillfully pushed back. In "The Sakyadhita Movement," we learn that same struggle is alive and well today, though it takes different forms, such as lack of funding and other support for female monastics. In "Hear Our Voices," Pema Khandro Rinpoche speaks candidly with four seasoned dharma teachers about navigating patriarchy in Buddhism and the positive changes they are seeing.
Many women readers will feel supported and perhaps even validated by this issue. But it's not just for them. As Thanissara's article "Reclaiming the Sacred Feminine" makes clear, the feminine and masculine are different ways of knowing that transcend binary categories of men and women. Everyone needs to nurture the feminine if we are to heal our world and the divisions that are destroying it. It's also necessary, she explains, for our dharma transmission to be complete.
This special issue featuring a diversity of women teachers and writers is a milestone for Buddhism in North America. I hope you will savor the wisdom, longing, and joy it imparts.
-Tynette Deveaux, editor, Buddhadharma
Through a textual analysis of the Lotus Sutra and its commentaries and The Sutra of the Girl Marvelous Wisdom, Buddhist scholar Stephanie Balkwill examines the historical arguments around the question: "Can women attain buddhahood in a female form?"
Despite making such an impassioned declaration regarding the genderlessness of her own forthcoming buddha-land, Marvelous Wisdom does indeed transform her female form and take on a male body. Why does she do it? The answer to this problem lies not in her body, but in her audience. In the buddha-land of Shakyamuni, her female body is a problem. Shakyamuni's buddha-land — the land in which we all live and practice — is a defiled land, a land full of defects. Such defects affect an individual's ability to practice the Buddha's teaching. In this particular case, such defects work to uphold traditional notions of gender and sexualized bodies that prevent the advanced male disciples in Shakyamuni's assembly from recognizing that the young girl, Marvelous Wisdom, is a highly advanced being on the path to buddhahood.
Judith Hertog profiles the Sakyadhita International Association of Buddhist Women, which has been leading the way for gender equality in Buddhism for more than thirty years.
Over the past thirty-two years, Sakyadhita has grown into a well-respected organization with over two thousand members internationally. It has been instrumental in advocating for the welfare of women in Buddhism, supporting their education, and publishing research on the role of women in the dharma, both present-day and historical. It has also jump-started a movement to reintroduce full ordination for nuns in all Buddhist traditions.
Myokei Caine-Barrett, Narayan Helen Liebenson, Rebecca Li, and Myoan Grace Schireson share their experiences and insights into being a female teacher and leader in today's world. Introduced and moderated by Pema Khandro Rinpoche.
Pema Khandro Rinpoche: I believe we stand at the threshold between eras. In the new era, it is possible to envision gender equality — but that possibility relies, in large part, on the female leaders who live and teach today and upon those who support them. We all have a part to play in this new era — male, female, nonbinary, transgender. We all must collaborate in articulating — through our practices and through our lives — Buddhism expressed as its highest potential, as a system that affirms the dignity of all beings.
Can you help us at a critical time?

COVID-19 has brought tremendous suffering, uncertainty, fear, and strain to the world.
Our sincere wish is that these Buddhist teachings, guided practices, and stories can be a balm in these difficult times. Over the past month, over 400,000 readers like you have visited our site, reading almost a million pages and streaming over 120,000 hours of video teachings. We want to provide even more Buddhist wisdom but our resources are strained. Can you help us?
No one is free from the pandemic's impact, including Lion's Roar. We rely significantly on advertising and newsstand sales to support our work — both of which have dropped precipitously this year. Can you lend your support to Lion's Roar at this critical time?