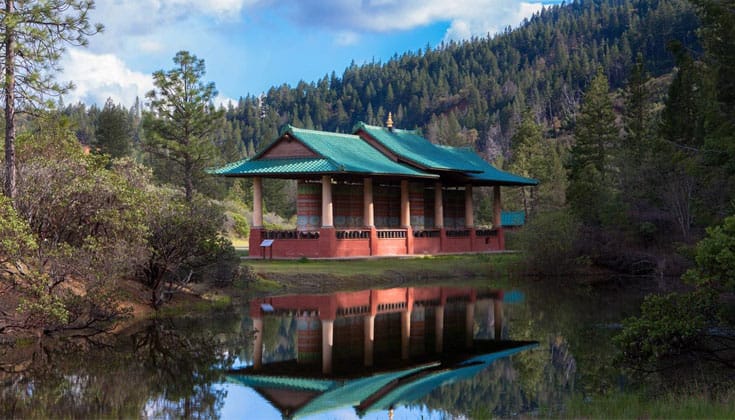 The Prayer Wheel House at Chagdud Gonpa Rigdzin Ling. Photo via the center on
Facebook.
California's Helena wildfire is moving quickly through high winds, in the vicinity of Chagdud Gonpa Rigdzin Ling Buddhist retreat center in Junction City, according to a post on their Facebook page Thursday.
Thursday's official update on the wildfire, stated it was burning along Highway 299, on both sides of the Trinity River. The wildfire was mapped at approximately 5,000 acres with 0% containment. The most recent official update maps the Helena wildfire at 10,930 acres, with an increase to 14% containment.
Abby Rogers, who works for Rigdzin Ling, provided a brief update on their Facebook page Thursday morning:
The gonpa is okay for now. The fire continues to move quickly… Still moving. Wonderful for everyone to make prayers. Some sangha is staying behind, while others have evacuated.
Later Thursday evening, Rigdzin Ling posted another update on Facebook, including a map of the wildfire:
This map shows the activity of the fire in the last 12 hours in red, and the previous 24 hours in yellow/orange. The Gonpa is located just to the left of "Junction City" on the map. The fire has not advanced at nearly the rate of yesterday's firestorm, but is still 0% contained. Thick smoke has prevented aircraft from flying, so the fire is being engaged by 4 hand crews and 2 smoke jumpers, 286 personnel total. We've been asked to do Jetsun prayers.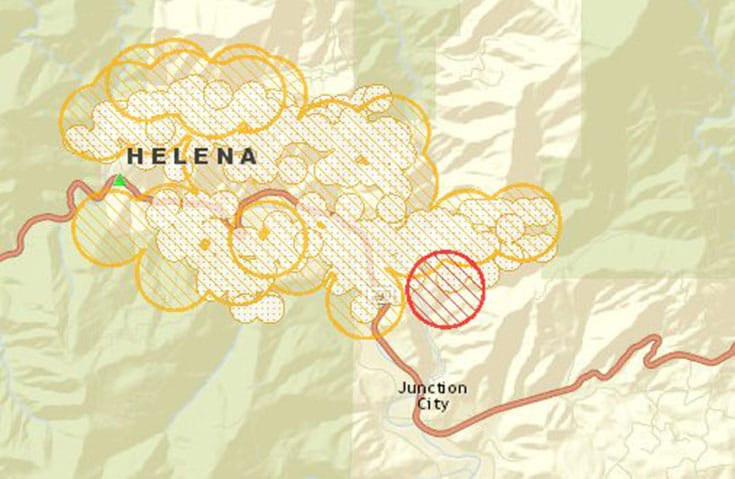 On Sunday, Rigdzin Ling updated their Facebook page again, stating "We are continuing to keep our practices and envision a protection circle surrounding Rinpoche's legacy to all of us. We are in good health and spirits."
Nearly 1500 firefighters from 31 fire crews are currently working to fight and control the blaze, utilizing 113 fire engines, two bulldozers, and eight helicopters. The estimated containment date for the Helena wildfire is October 1, 2017.
Rigdzin Ling retreat center is the North American seat of the Chagdud Gonpa Foundation, an international Nyingma Buddhist organization founded by the late Chagdud Tulku Rinpoche in 1983. They continue to post updates about the Helena wildfire on their Facebook page.