Jan Willis reports on a fundraiser to help preserve 13 unique statues of female practitioners at a Thai nunnery.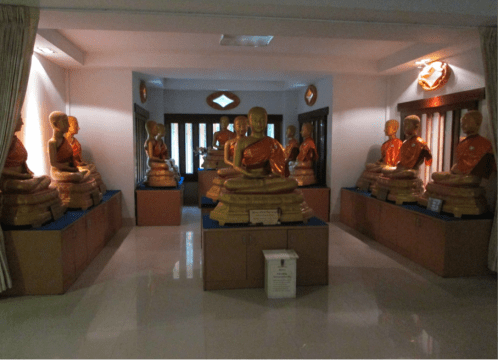 In 2003 Buddhadharma published a piece about the ordination of former university professor Dr. Chatsumarn Kabilsingh. Against societal and historical norms in Thailand, Kabilsingh became the very first Thai woman to receive full ordination as a Theravadin nun. She's now known as Venerable Dhammananda, and ten years later, her commitment to paving the way for other Thai women practitioners remains as strong as ever.
I have known Venerable Dhammananda since 1995. We met at a Sakyadhita Conference in Ladakh, where we were both delivering papers about the plight of Buddhist nuns worldwide. I spoke of nuns in Tibet, Nepal and Ladakh; then Dr. Kabilsingh addressed the history and misunderstandings about the ordination of nuns in Thailand. We became fast friends.
In 2009 I visited Venerable Dhammananda at the nunnery she now heads as its Abbess. Its name is Wat Songdhammakalyani, or the "temple where women uphold the Dharma." The nunnery was founded by her mother, Venerable Voramai, in 1960 in the town of Nakhon Pathom, near Bangkok. Venerable Dhammananda took over after her mother passed away.  In 2009 there were two enrobed women at Songdhamma: the Venerable Mother and a novice (or samaneri), Luang pi Wan-na. Today, there are ten ordained Theravadin nuns there: five fully-ordained bhikkhunis and five novice samaneris. Clearly, the sangha is growing. But, largely due to Venerable Dhammananda's example and encouragement, this growth is also happening all over Thailand. In 2003 there was only one Thai Theravada bhikkhuni in all of Thailand (as compared to roughly 180,000 Theravada monks). Today there are fourteen–and there are eighty-three samaneris waiting in the wings!
For four weeks this past October and November, I lived at Wat Songdhammakalyani. I did Pali chanting and meditation each morning and evening with the ten nuns and usually four to five lay followers gathered there, went on weekly alms-gathering rounds (bindabar) with them, joined in work details, ate morning meals with them, talked with them, and generally observed the flow of nunnery life. I felt blessed.
I was enchanted by the chanting. If I had to be away for a day or two, I found I missed that ritual most of all. At Songdhamma, a special addition is made to the evening session of chants. It is a chant called "Praises to the Thirteen Theris." This stirring chant names and celebrates the thirteen earliest nuns singled-out by the Buddha as being "foremost" — whether in teaching, magical powers, compassionate care, or leadership. (In the morning chanting, "Praises to the Eight Arhats," namely, Upali, Ananda, Mogallano, and so forth, is chanted.) Though entirely fitting, the "Praises to the Thirteen Theris" chant is unique to the rituals and services at Songdhamma. And the reason is startling.
Through a strange story of ignorance on the one hand, and alertness on the other, Songdhamma Nunnery came to house life-sized statues of the Thirteen Theris. No one seems to know how the statues first came to be made, but when they were discovered to be portrayals of women practitioners, a wat near Bangkok prepared to throw them out in the trash.  Fortunately, a monk at the monastery informed Venerable Dhammananda about this plan and offered to send them to her if she would pay the moving charges. She agreed.
This incredible array of statues has since been housed on the ground floor of the Medicine BuddhaVihara at Songdhammakalyani. However, owing to the flooding rains suffered during the last two rainy seasons, especially in the southern regions of Thailand, including Nakhon Pathom and the nunnery itself, these remarkable statues are now in grave danger. After consulting with architects and experts in restoration, a plan has been devised by Songdhamma to "Save the Theris." It calls for the expansion of the current dining facility — outward and upward, so that there will be a three-storied structure — a ground-floor bookstore and parking lot, a second-floor dining area and small activities center, and a third floor dedicated solely to the Thirteen Theris.
The estimated cost of the building project — which has already been begun — is 12 million Thai baht, or $400,000 US.  To help, donations may be made to:
Account Name: WAT SONGDHAMMAKALYANI FUND
Account No: 649 228 5911
Account Type: Savings Account
Bank name: Siam Commercial Bank Public Co. Ltd.
Branch name: Phra Prathone
Bank address: 10 Desa Road, Phra Prathone, Nakhonpathom, 73000
SWIFT Code: SICOTHBK
Given the signal importance of this nunnery, the first of its kind in Thailand, making sure that it remains a place which aims at ensuring that the four-fold community of Buddhist practitioners begun by the Buddha himself — of fully ordained monks, fully ordained nuns, laymen, and laywomen — actually includes women bhikkhunis is important. We ought, it seems to me, in whatever ways we can, help to make sure that this enterprise grows and is maintained and increased in Thailand.