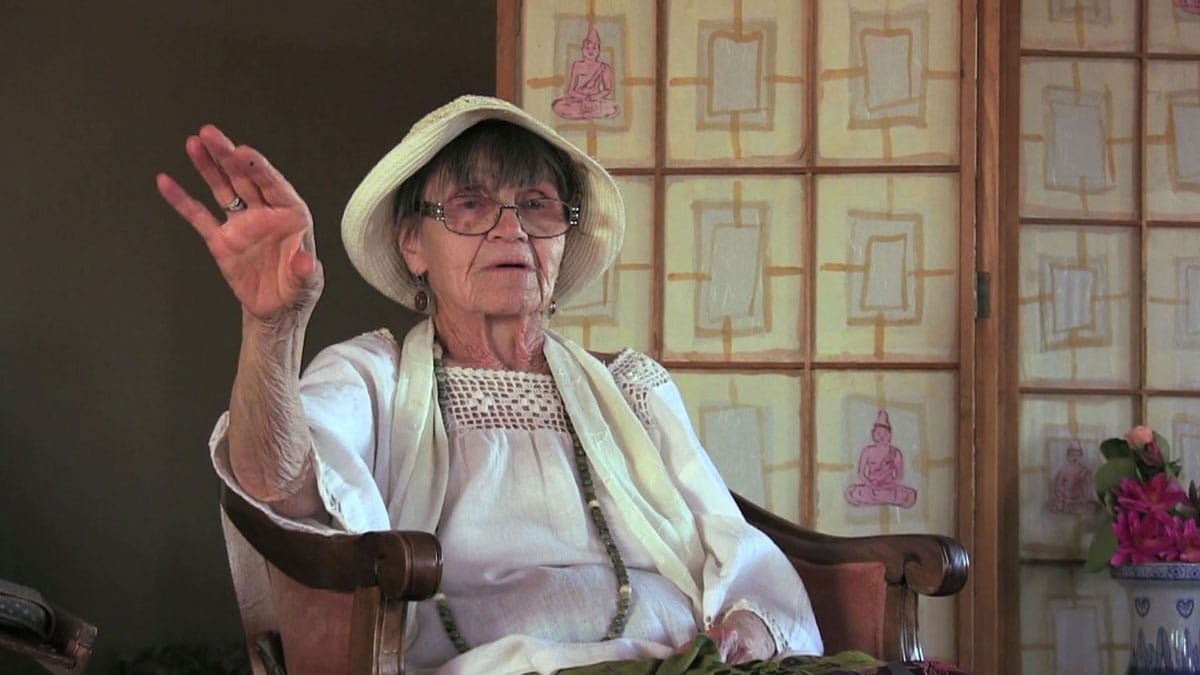 The makers of a new feature-length documentary about Ruth Denison, one of the first women to teach Buddhism in the West, are asking for help to bring their film to theaters.
At 92, Ruth has taught Vipassana meditation for more than forty years. After growing up in the horrors of Nazi Germany and Soviet work camps, she came to the United States in 1957, where her circle included Alan Watts and Aldous Huxley. In 1971 she was authorized to teach by the Burmese Theravada master U Ba Khin. She helped establish the Southern California Zen centers led by Sasaki Roshi and Maezumi Roshi, and for many years has been friends with Jack Kornfield, founder of Spirit Rock, who regularly visits her Dhamma Dena center in the Mojave Desert.
Ruth was the first Buddhist teacher to lead an all-women's retreat. She was an innovator in using movement and dance to train her students in mindfulness. Writes Sandy Boucher, "It is really crucial that the records of great women teachers are produced and disseminated. …[Ruth] is especially cherished by women Buddhist practitioners: Ruth welcomed us and…taught us to accept and honor our physical and mental beings."
Over the past four years the filmmaker Aleksandra Kumorek has captured more than 100 hours of unique footage of Ruth's profound and humorous teachings. Aleksandra has invested her own money in the project and has received funding from the German film institute Nordmedia. Now, in order to get the film to theaters by Spring 2016, she needs help for the final editing and production. An Indiegogo campaign has already raised more than $30,000 towards a $100,000 goal. Would you like to contribute? Visit the campaign's website here.