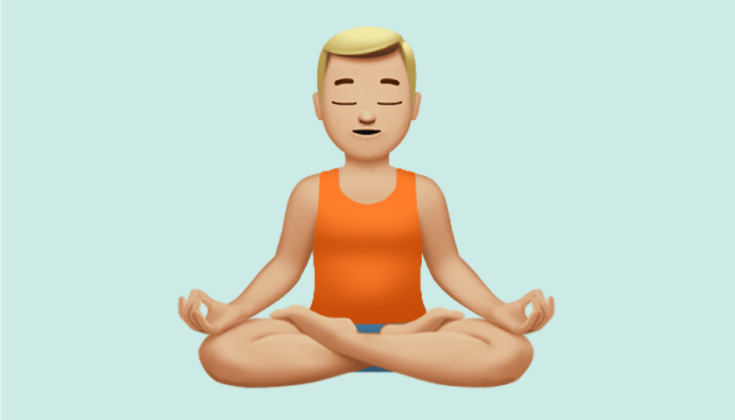 How do you say "I'm busy developing insight into the nature of mind," in a text? Soon, you'll be able to say it the same way it seems everything is communicated in 2017: with an emoji. For World Emoji Day on Monday, Apple released a preview of its forthcoming emojis, including a meditator emoji.
Predicts my colleague, LionsRoar.com assistant editor Lilly Greenblatt, "This is going to be massively over-used: Drinking a green juice? Send this emoji."
The meditator joins two other Buddhism-themed emojis in the Apple keyboard: prayer beads (📿) and a Wheel of Dharma (☸️). In the new emoji, the meditator's thumb and forefinger are joined, forming a zero, and the meditator's feet are resting on the opposing thighs. The posture suggests that this meditator might be practicing Yoga or Hindu meditation. In Buddhist meditation, meditators are often more likely to sit cross-legged with one or both feet resting on the ground and hands placed palms-down on their thighs or joined below the navel. Postures vary from tradition to tradition — though few include joining ones hands in the holding-an-iPhone position 😉.