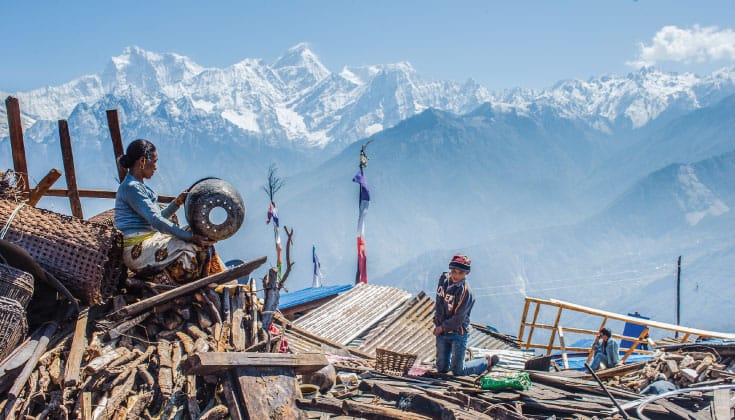 A woman from Singla village extracts her belongings from the rubble. Photo via
Asian Development Bank
.
As Reuters recently reported, "Two months after foreign countries and international agencies pledged $4.1 billion to help Nepal recover from its worst natural disaster, the government has yet to make arrangements to receive the money and has spent nothing on reconstruction."
But some organizations have been able to avoid such problems. Karuna-Shechen is one of them. Founded by Buddhist monk and author Matthieu Ricard, Karuna-Shechen's mission is to provide healthcare, education, and social services for the under-served people of India, Nepal, and Tibet. Director Vivian Kurz talked to Lion's Roar about the situation in Nepal and why KS is an example of what to look for in an organization that seeks to bring relief funds there.
Does KS's status as a Non-Governmental Organization (NGO) minimize the red tape?
The Nepal government is highly inefficient and bureaucratic and, in general, distribution of anything via the government has always been a problem, especially if not done correctly and monitored carefully. Karuna-Shechen had no problem receiving funds because it follows the guidelines needed for NGOs working in Nepal.
We are registered with the government's social-work department and therefore can receive funds from donors through our registered tax-exempt international branches.
Like in any other country, there are government protocols for receiving funds and working with communities. Karuna-Shechen has been working in Nepal for decades, and knows the rules and, as long as they are followed, funds were received in Nepal even directly after the earthquake.
What kind of relief has Karuna-Shechen been able to offer?
For immediate earthquake relief, we worked quickly with local agencies and small NGOs to find the remote villages that were not getting help and to determine what they actually were in need of. Some needed shelters and tarps, others medical care, and food and supplies, or all of the above.
How many people in Nepal have benefited from KS's efforts this year?
Karuna-Shechen was able to provide immediate relief to   200,829 people in 574 villages. We are in Nepal for the long-term and are working on sustainable projects to rebuild lives and villages after the earthquakes.
Visit Karuna-Shechen for general information.