Practice along with Buddhist teacher Kate Lila Wheeler on her journey to becoming "a tender, flawed, slightly braver human being."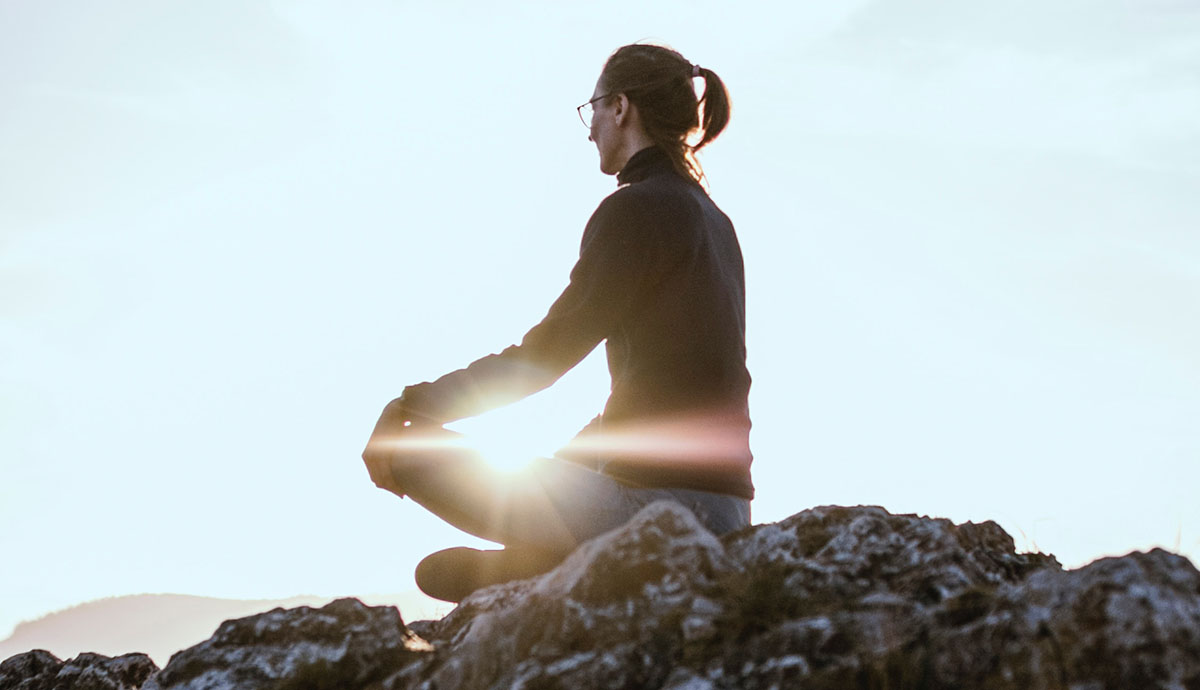 Sometimes I imagine the end of my life, asking big questions: Did I use my time well? Was I kind? Was I tender with the limitations of others, of myself, of my life? All these questions seem to boil down to whether I paid attention—deeply enough, in the right way.
Look around. What is near you? Appreciate any visual objects. Next, listen into space. Any sounds you notice? Let sounds be purely sounds. Sense any silence around them.
Just now, I am alone in a room, fingers tapping out this sentence while echoes of a recent conversation thrum faintly in my upper chest. My intellectual mind reaches into the unknown, like an inchworm wavering atop a blade of grass, wondering what to say. My heart, as I am now comfortable calling it, wants to connect most usefully with you, dear reader. Perhaps a mix of theory, practice, and my own journey as a meditator?
Invite your heart to know whatever it is feeling.
What good is meditation? How do we do it, and why? There is no "God's eye" answer, because subjective experience is where meditation practice starts and ends. That's our human, common substrate—as living beings, we know and feel our own, differing lives. This is the raw material we work with in meditation. How amazing that we can.
If you feel safe enough, close your eyes for a moment. Feel your body. Notice its wholeness, its different parts and areas. Perhaps you feel coolness or warmth on the skin. A soothing darkness behind the eyes. If some areas are spacious, with less sensation, it's fine. Invite tightness in the jaw or shoulders to relax.
When I first plunged into a two-week silent Vipassana retreat at twenty-one, I was astonished to learn that the immediate present deserved attention at all. But I discovered that life came alive in turning toward experience. What had sounded true in books and Buddhist teachers' words now felt real.
The experienced-ness of life amazed me. I still believe this is why the Buddha said the first noble truth of conditioned life is suffering. Being alive is experiential—we undergo and feel things. At any time, anybody's life can glow neon red with pain.
The future Buddha recognized others' suffering before he saw his own. It's said he was moved by an old person, a sick person, and a corpse. His less privileged chauffeur (or charioteer) told him to count himself amongst them. Appalled, the young man ran off to seek an exit from this suffering. After trying many strenuous techniques, he gave up, sat under a tree, and paid simple attention to breath. An ancient path, he said, rediscovered: the experience was already there.
Feel how your body is resting on firmness beneath it. Invite your body to accept support; relax and accept as much support as you would like. Sense any spaciousness around the head and upper areas of your body. If your eyes are open, see spaciousness too.
After my first meditation retreat I was on fire for the next. My life was chaos: working nights at a newspaper, in love with a married man. By the time I had vacation days, I felt as if I was crawling up the steps of the dharma center, to be put back together.
The capacity for suffering implies a need for ethical behavior: compassionately remembering (or acting as if you do) that every living being wants happiness, including you. But how could I be ethical when my heart and mind were so wild?
Restraining the impulse to buy a dress I wanted with money I didn't have, I experienced the cruelty of craving. Indulgence wouldn't end the craving, really. I saw this and felt superior. Actually it was suppression: I lacked the ability to see through the next layer of self-deception.
I continued to pull attention away from stressful mental events and re-place it on breath, the way a mother distracts a child with a toy. The shift subtracted energy from painful patterns. I remember discovering I could enjoy sad moods like thick red velvet curtains. A new intelligence was developing, the mind less reactive.
Self-hatred still seduced me. I remember the shame of ruining the meditation center's perfect snow by walking across it. The teacher tried to persuade me this was delusion. It didn't work. Still, minor transcendences occurred. I felt the subtle energy of yarrow, trying to talk to me. A fellow meditator came down the hall and I instinctively flinched, sure they were angry with me, then unexpectedly saw the fear was all mine. What a strange, beautiful experience. I treasured it.
Invite your heart to know whatever it is feeling. Achy or open, happy or vaguely neutral—let it all be, with less judging and resistance.
"Attention, attention, attention!" one of the retreat's teachers, Larry Rosenberg, would call out into a room full of people being silent. It was a crucial wake-up call.
This is always the first moment, and the last. I saw that for myself. Once with a terrible flu, I knew the next moment could be death—no different from this fleeting one.
Forty years on, it still amazes me that I can direct awareness to such events. The "world" isn't out there. It is looking through my eyes, hearing with my ears, thinking with my brain, feeling in my body. All the fleeting strangeness of life, and it keeps moving, faster and faster.
I remained full of a kind of rage to meditate, to go deeper and stay longer in retreats. I followed mentors to a Burmese monastery, for ultraprecise Theravadan instructions from a strict and loving teacher. I observed belly breaths, pressure of foot on ground, the process of getting lost in thought again and again. The mechanics of attention fascinated me. I discovered on my own how to balance laser-like aim and gentle receptivity. Sensations arose and passed; form and identity eroded. I was a nun, wearing the same clothes as the other nuns. Objects grew tinier and thinner and suddenly all vanished.
Then Sayadaw, my meditation master, offered loving-kindness meditation. It evoked felt-sense images of beings throughout space, and I bathed them in goodwill, including the woman who had terrified me by falling in love with me, and me with her. She was safely far away in the U.S., so I could love her too.
Meanwhile, the Burmese army was murdering unarmed protesters outside the gate of the monastery. The first noble truth roared onto center stage. I exited the country, a kindness for my worried parents. Out of robes, I continued to generate loving-kindness. It brought an unexpected sense of agency that was supportive of actual relationships (though those remain a tricky area). Back in Boston, I told my dear one I needed to be celibate for a year to clear up a traumatic sexual past. My Sayadaw had suggested it.
I began to understand that how I paid attention was important. The quality of attention is influenced by intention. You can invite helpful attitudes, loving-kindness, compassion, focus. Mindfulness is an attitude, too, a way of knowing life.
My year of celibacy ended, and I felt clear and calm enough to invite my friend to be lovers. But she had tired of waiting and found someone who wanted kids.
Invite your mind to relax, to rest in itself. Notice its knowing aspect. Notice the contents and the mind's relationship to whatever it's experiencing. If this doesn't make sense, always allow whatever comes up to be there. There is no correct response to these invitations. When resistance or challenges arise, kindly make space. See if you can let go of making things different.
At forty I found myself at the feet of Himalayan gurus. One used a sharp hand-clap as his deepest instruction. Shock! No room for gradual attitude adjustment. I thought maybe I'd had wrong experiences.
My new gurus contradicted the old ones, too. I sat in on a discussion between a Burmese Sayadaw and a Tibetan Rinpoche. They good-naturedly agreed to meet up in their next life. If they did meet, they agreed, the Tibetan would have been right.
To clear things up I undertook ngondro practice, the profound preliminaries of Vajrayana, infamously consisting of 500,000 prayers, recitations, visualizations, offerings, prostrations. I got angry that I had to make obeisances to a patriarchal image. I didn't believe in praying, either. There were sexual scandals everywhere, and finishing took longer because of it.
Yet I had vowed to finish and did, ten years later. My dear old Rinpoches had all died. A new, younger Tibetan teacher suggested I spend a month in retreat rejoicing at having completed the ngondro. I was glad, but a whole month? Should Buddhists be that optimistic? I began to see this wasn't about congratulating a self, nor did meditation require any particular form. I could open my heart like a hand, intuitively. I could also close my hand, holding on to things. I got married to a nice man who was more complicated, I thought, than I.
When you experience strong difficulty, you can open your eyes and look around. Maybe there's a pleasing visual object to rest your gaze on. Or with eyes closed, discover some rarely visited area inside where there's ease, maybe the corner of a shoulder or the bottoms of your feet.
At fifty-four, I quit my day job and began leading Buddhist retreats. It would take a decade to realize what an impostor I felt. Luckily, for once, seeing was disbelieving. Poof! Impostor vanished on recognition, leaving a tender, flawed, slightly braver human being.
Around the same time, my practice exploded into another unrecognizable form. With friends of color, LGBTQI folks, disabled people, and allies, we've begun unraveling the white privilege, patriarchy, and oppressive attitudes camouflaged deep in the goodness of Western and Eastern Buddhist communities.
Once you've seen oppression, who can look away?
This has not always been fulsomely received—applying modern notions of justice to an ancient tradition appals purists. Mindfulness was always supposed to be applied externally, I argue (yes, argue). And once you've seen oppression, who can look away? Clearly, in his day the Buddha was interested in undermining the caste system. You can tell by how he set up his monks' order by seniority, not caste. People fought about it back then, too. And even if nuns were not as subjugated then as they later became, there's just no excuse!
This more outward-facing practice feels like a purifying fire—uncomfortable, loving, and fraught. I must let myself trust, even need, the love of other people. I feel lucky when I remember to melt objective situations back into embodied personal experiences that are fluid and more workable. Other people's subjectivities are fascinating, and feeling interconnected is food for one who thrived on self-sufficiency.
I yearn for longer quiet times of retreat. Who knows if I'll get such chances? Buddhism has hurt me, too, I must say, with its strictures and institutions full of all too humans. Yet through it I've understood rejoicing, the instruction that puzzled me before. Rejoicing is naturally there when so-called "ego" patterns—the tightness, strange beliefs, vaguely unsavory dishonesty—dissolve. The unmade, unborn, unformed is known in glimpses, as a subtle presence. Mahayana Buddhists say everything is Buddha by nature; Theravadans say the wholesome overcomes the unwholesome. Six of one… It's just such a relief.
"Fletchers straighten arrows; the wise straighten their minds," the Buddha sang, reminding us of who he used to be, a warrior in a patriarchal society. Centuries later, Zen painters and poets praised knotted crooked trees whose wood was useless for militarism. But the Buddha was already there, ironically repurposing arrows for nonharming.
Let's dwell for a moment with the arrow-maker, turning a stick in skilful hands, shaving away unneeded wood. Mistakes are inevitable, yet there's joy in the occupation, making beautiful things that work.
Ah, practice, that humble and relentless invitation. Aren't we always practicing something, making some kind of difference or other?
Who or what knows and feels all this? (Hint: there is no "right" answer.)