Each Friday, we share three topical longreads in our Weekend Reader newsletter. This week, LionsRoar.com editor Sam Littlefair looks at the practice of crying. Sign up here to receive the Weekend Reader in your inbox.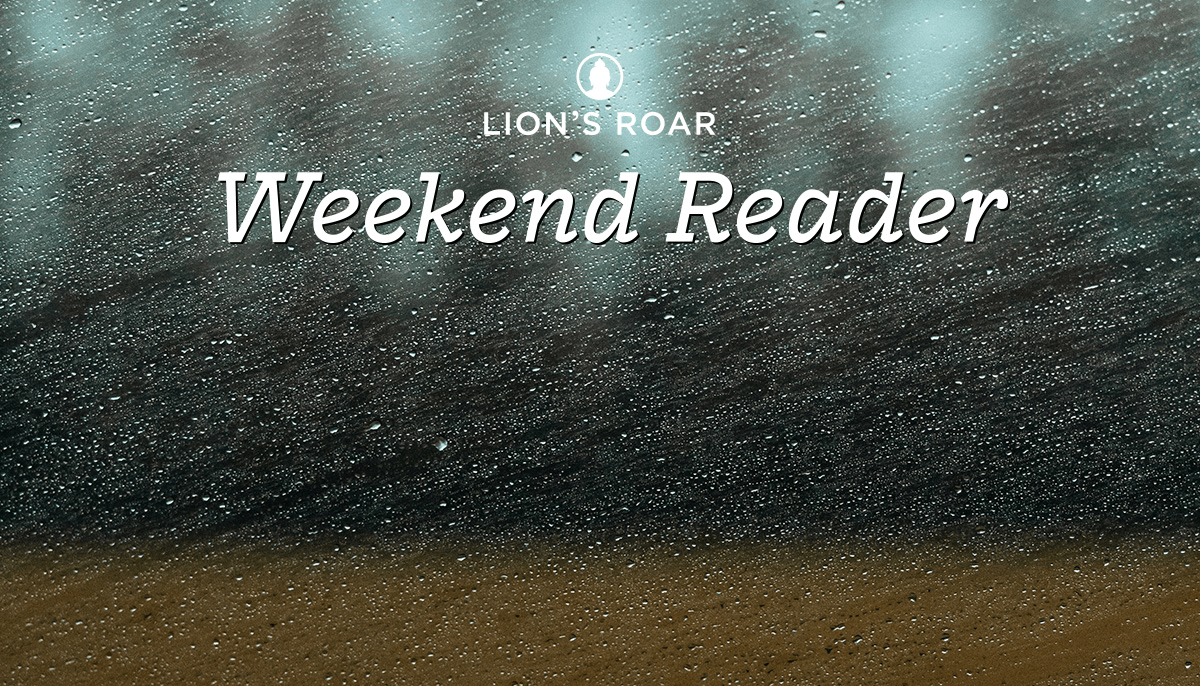 It's been a hard few weeks. As a journalist, it's my job to keep up with the news every day. As a human — and with the world the way it is — that can be really hard. The other day, I was talking with my wife about the many painful, disappointing, and scary things going on in the world, and she commented that I seemed unaffected. I was startled, because I felt deeply affected. But, I realized, I hadn't been showing it. In my attempt to hold myself together in the midst of so much feeling, I had started to appear callous and disaffected. I often want to cry, but I feel like I can't.
I suspected I wasn't the only one feeling this way, so I went to the experts for advice. In this Weekend Reader, Joan Sutherland talks about how each of us contains the whole of existence — including all of its sorrow — and how that is awe-inspiring and, sometimes, heartbreaking. Jack Kornfield explains that when we truly experience this humanity, we feel vast joy and vast sadness that together make one weep. And Gelek Rimpoche offers a practice in tonglen that just might bring you to tears.
—Sam Littlefair, editor, LionsRoar.com
Zen teacher Joan Sutherland on life's dreamlike nature and why it should be embraced.
In this dreamscape of a world, heavens and hell realms are a thought or a phone call or a news broadcast away. Children turn into adults you never could have imagined they carried inside them. The sky over the sea is full of pelicans, and then they almost disappear, and now the sky is full of them again, because humans started using DDT and then stopped. On any morning, what happens on the other side of the world can make you weep over your breakfast.
Perhaps, after all, we shouldn't take our lives so personally, shouldn't think of them as the monologue of busy and insistent and separate selves. Perhaps we are made up of landscapes and events and memories and genetics; of the touch of those we hold dear, our oldest fears, the art that moves us, and those sorrows on the other side of the world that make us weep at the breakfast table. The astronomer Carl Sagan used to say that if you really want to make an apple pie from scratch, you have to start with the Big Bang.
Jack Kornfield, one of the leading Buddhist teachers of our time, talks to Melvin McLeod about the hopeful message that we can have joy and freedom — right here, right now.
There's a beautiful section in the Dhammapada in which the Buddha says, "Live in joy and freedom, even amongst those who are sick or troubled. Live in joy and a peaceful heart, even among those in conflict. Quiet the mind and heart and find the sweet joy of living in the dharma."
This is the Buddha's instruction to us. What it requires is a little bit of a soul-searching, to use a non-Buddhist term—to look at what you really believe about yourself. Am I worthy of well-being and joy? Am I worthy of happiness? The beautiful truth is that joy and freedom are your true nature. This discovery is one of the most wonderful gifts that you can bring into the world.
Of course, with your joy you also bring your tears, because both the unbearable beauty and the ocean of tears that make up human incarnation will present themselves to an awakened heart. So at times you weep. Then you reach your hands out in spontaneous compassion to do what you can to alleviate the sorrows of others.
But you will not allow that to be the end of the story. You won't let the suffering paralyze your heart. Normally we are too loyal to our suffering, but you realize that who you are is so much bigger than what has happened to you in the past. Who you are is consciousness itself, the pure awareness that is able to hold and express love in any circumstance.
Gelek Rimpoche on the practice of tonglen, the way to awaken bodhi mind by doing exactly the opposite of what your ego wants.
Visualize the person right in front of you, and think of their suffering; the disease they have; or the mental, physical and emotional pain they are going through. When you really see your friend suffering with unbearable pain, tears will come to you. That is true caring. It may not be great compassion, but it is a true feeling of compassion.