How to watch a replay of Tuesday night's moving event, PLUS: a helpful selection of some of Lion's Roar's best recent coverage of the Asian American Buddhist experience.
On Tuesday, May 4, at 4pm PDT (7pm EDT) — exactly seven weeks, or forty-nine days, since the Atlanta shootings — Asian American and other Buddhist communities came together online for "May We Gather," a national memorial ceremony for "mourning, mending, and renewal." Read a report from the event by Lion's Roar associate editor Mihiri Tillakaratne here.
As Duncan Ryuken Williams, one of the ceremony's organizers (with Funie Hsu and Chenxing Han) explained to Lion's Roar in a recent interview:
The deeper dimensions of healing require us to bypass the surface level of the cognitive mind and effect a transformation in an embodied manner. A Buddhist ceremony such as the one planned for May 4th provides a way to do just that.

We will chant sutras and mantras that resonate beyond our fixed mental patterns that holds in suffering. We will dedicate our sutra offerings to those most hurt by the animus and violence, naming them so that we can all feel our interlinked lives as fellow beings in Indra's Net. Sometimes healing becomes possible when a turning word or phrase is offered by a teacher; a perspective shift that we hope our Buddhist leaders will offer in their Dharma talks.
For those who wish to read up on the contemporary Asian American Buddhist experience, here's a selection of coverage from Lion's Roar magazine, Buddhadharma: The Practitioner's Quarterly, and LionsRoar.com:
We've Been Here All Along
Funie Hsu says it's time we recognize the contributions of Asian American Buddhists and address the racism and cultural appropriation that marginalizes their ongoing role in transmitting the dharma in the West.
Somewhere in the soil of California's Central Valley lies buried treasure. Scholar and Soto Zen priest Duncan Ryuken Williams tells the story of ten-year-old Masumi Kimura and her family. Like many other Japanese American families living in California before World War II, the Kimuras were farmers, tilling soil and developing irrigation systems for land that had long been dismissed as inarable by white Americans. They were also Buddhist, part of the earliest organized Buddhist community in America. Because of their ethnic and religious background, especially Mr. Kimura's leadership role at the local temple, the family was deemed suspect by the FBI following the bombing of Pearl Harbor.
We're Not Who You Think We Are
Chenxing Han examines the stereotypes that have marginalized Asian American Buddhists and reports on the rich diversity and depth of practice of a new generation of practitioners.
During my undergraduate years, a budding interest in Buddhism prompted me to explore various Buddhist communities in the San Francisco Bay Area. At meditation centers where older white practitioners predominated, I regularly fielded compliments about my ability to speak the language I consider to be my native tongue: "Your English is so good; I can't detect any accent at all!" I was further stymied by the frequent follow-up question, "Where are you from?" Having lived five years in my birthplace of Shanghai, six years in Pennsylvania, and seven in Washington State, then moved to the Bay Area for college after a gap year in Australia and Asia, I struggled for a succinct answer.
Anti-Asian Violence Is an Attack On Us All
Separation is the true root of the alarming rise in anti-Asian violence today, writes Korean American Zen priest Cristina Moon.
In the past year, there has been a sharp and alarming rise in reports of attacks against Asian Americans. In just the past few weeks, particularly horrible acts of violence targeting elderly Asians—ending in injury, disfigurement, and death—have been captured on video. Anti-Asian discrimination is not new—we have a long, shared history of people using the Model Minority Myth, the Perpetual Foreigner stereotype, and diseases to justify anti-Asian xenophobia and violence. But these latest attacks are the clear product of this longstanding bias being exacerbated by both the pandemic and rising white nationalism.
Never Forget Is Now
"Never forget is now," is the slogan of Japanese Americans who see the injustice of WWII internment repeated in the detention of migrants today. Both are rooted, says Duncan Ryuken Williams, in the definition of who is an American and who is not.
The view that Buddhism was a national security threat was not born of a sudden bout of war hysteria. It was part of a long history, which continues to this day, of conflating religion and race to determine who should be included and excluded as Americans.
They Called Us Enemy
In his graphic novel, They Called Us Enemy, actor/activist George Takei tells his own story of growing up in a World War Two internment camp, shining a light on how it must feel to be in an immigration detention center today.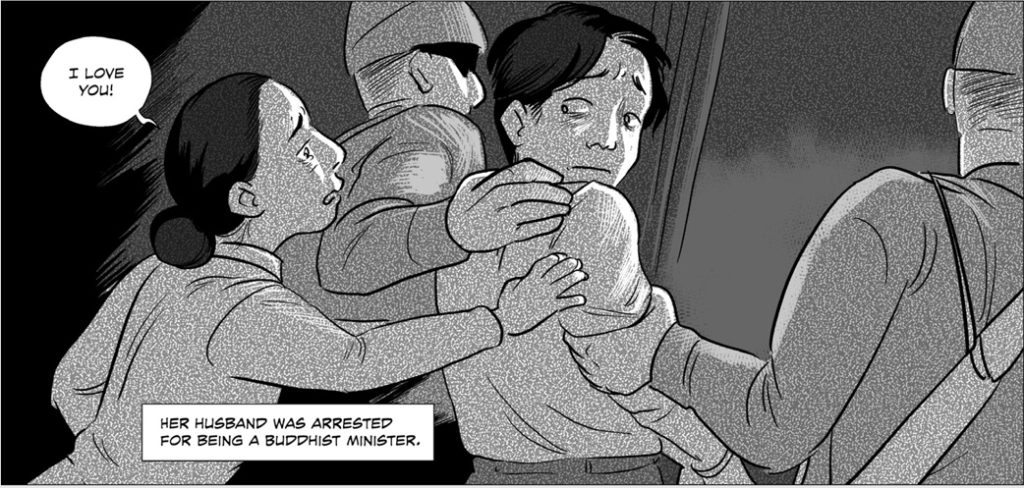 This Land Is Pure Land: The Buddhist Churches of America
Lindsay Kyte traces the history of the Buddhist Churches of America — and the Japanese immigrant experience in America — through four generations of one family.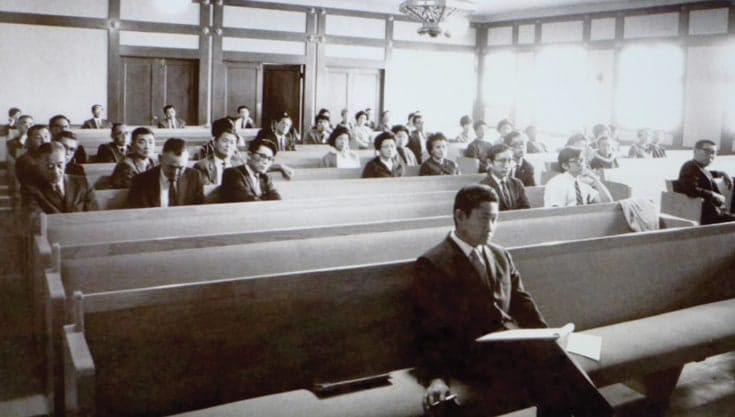 When Akiko Rogers sat down for our interview at the Jodo Shinshu Center in Berkeley, California, she placed a packet of tissues on the table between us. I thought maybe she had a cold. But Rogers knew she was about to tell a story that would bring her, and me, to tears.
We Will Come Back For You
Not so long ago their own families were held in camps like these. That's why Japanese American Buddhists like Satsuki Ina will keep coming back until the tragedy on America's southern border ends.
In March, I joined sixty other Japanese American and Japanese Latin Americans who paid homage to parents and grandparents who had been unjustly incarcerated during WWII at the Crystal City, Texas Family Internment Camp. We were reminded of the interconnectedness of all things as we proceeded to Dilley, Texas, where today 2,400 Central American women and children seeking asylum are being unjustly detained in prison facilities.
Erased No More
After years of painful struggle to fit in, Yenkuei Chuang decides to stand up for her identity, her anger, and the heritage of Asian American Buddhism. She will resist erasure.
This time it happened at the silent retreat. Even the know-it-all didn't know it all. Even the big people falter. Even the teachers.
It is so easy to surrender my intelligence to them, my own knowing to theirs. Smile and say, yeah, like I don't know.
Those Poor Women
Funie Hsu on the intersection of patriarchy and white supremacy in Buddhism.
When talking about increasing the role of women in Buddhism, there is a troubling pattern of people assuming that the problem lies with Asia (and Asians) itself. Asia, according to racialized fantasies, is a den of patriarchy, where women are made to be submissive and passive. Such Orientalist thinking often accompanies a broader ideological partner: the paternalistic idea that Buddhism needs saving from its "traditional" Asian heritage.
Why Did Six Asian Women Have to Die to Be Seen?
Butterfly (Tony Pham) offers a call to responsibility in memory of Daoyou Feng, Hyun Jung Grant, Suncha Kim, Paul Andre Michels, Soon Chung Park, Xiaojie Tan, Delaina Ashley Yaun, and Young Ae Yue.
A couple weeks have passed since eight people, including six Asian women, were shot and killed near Atlanta. The story has already been bumped from the front pages, and there has yet to be a determination on pressing hate crime charges against the 21-year-old white male suspect*. With the investigation ongoing, I observed a question arising — Why do the most vulnerable among us have to die before we see them?