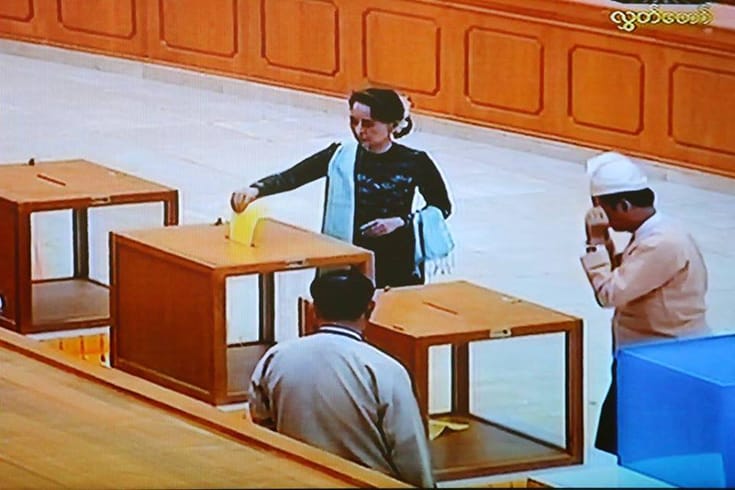 Aung San Suu Kyi casts her ballot in Tuesday's election. Image via
Aung San Suu Kyi
on Facebook.
Htin Kyaw was elected as Myanmar's new president Tuesday, bringing a long history of military leadership in the country to an end.
A trusted friend and aide of Aung San Suu Kyi, the famed Burmese icon of democracy, Htin Kyaw is the first civilian president since 1962. The 69-year-old won the majority vote, receiving 360 of 652 votes. As reported by the New York Times, the win was expected after his nomination by the National League for Democracy (NLD) last week.
"This is the good will and loving kindness of the people. This is a victory of the people. This is sister Daw Aung San Suu Kyi's victory," Htin Kyaw told reporters after his win.
Aung San Suu Kyi, the president of the NLD, is currently unable to serve as president due to a military-drafted constitutional clause. Her two sons and late husband are British, but the clause prevents those with relatives of foreign citizenship from serving in office. However, she will now be able to aid Htin Kyaw in his presidency.
Amongst other issues, Htin Kyaw will be tasked with dealing with rampant poverty throughout Burma, a long history of anti-Muslim violence against the Rohingya minority and problems with economic development.
Aung San Suu Kyi spoke to Alan Clements in a Lion's Roar article nearly 20 years ago, discussing how she managed to bridge her Buddhist practice with her personal political life.
Time has published a profile of Htin Kyaw, detailing the largely unknown life of the new ruler.
Htin Kyaw's presidency will begin April 1.