Via Human Rights Watch: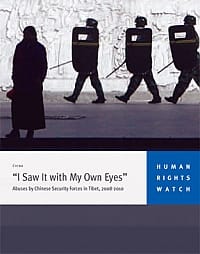 "Eyewitness accounts confirm that Chinese security forces used disproportionate force and acted with deliberate brutality during and after unprecedented Tibetan protests beginning on March 10, 2008, Human Rights Watch said in a new report released today. Many violations continue today, including disappearances, wrongful convictions and imprisonment, persecution of families, and the targeting of Tibetans suspected of sympathizing with the protest movement."
In the report, titled "I Saw It With My Own Eyes," Human Rights Watch has assembled "more than 200 interviews with Tibetan refugees and visitors conducted immediately after they left China, as well as fresh, not previously reported, official Chinese sources. The report details, through eyewitness testimonies, a broad range of abuses committed by security forces both during and after protest incidents, including using disproportionate force in breaking up protests, proceeding to large-scale arbitrary arrests, brutalizing detainees, and torturing suspects in custody."
Click here to download the report.