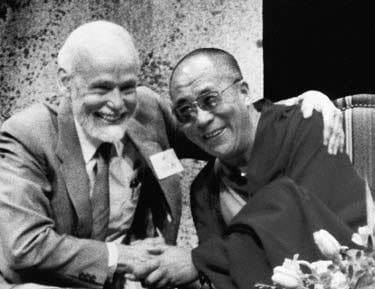 Huston Smith with the Dalai Lama.
Huston Smith, religious studies scholar and bestselling author of The World's Religions (originally released, in 1958, as The Religions of Man) and Why Religion Matters, as well as Buddhism: A Concise Introduction, which Smith co-wrote with Philip Novak, died on December 30 at the age of 97.
Smith had entered hospice in the Fall of 2015. His death has been confirmed and addressed on his official website with a posting that reads, in part:
He was born in 1919 in China to missionary parents and planned to continue in their footsteps as a missionary – but while in college in the U.S., he was exposed to mysticism and was introduced to Gerald Heard, Aldous Huxley, and Vedanta, which changed the direction of his life.

[. . .] His influence has been profound, but perhaps largely hidden from the general public. While many admire his intellect, he was also well-loved for his warmth and fun-loving gentle humor. He will be missed.
Smith was born in China in 1919. (His parents were missionaries there.) His professorial career would take him to the University of Denver, Washington University, MIT, and Syracuse, with his final post being Visiting Professor of Religious Studies at the University of California, Berkeley. Over his life, Smith befriended the Dalai Lama and Thomas Merton, was involved with psychedelic experiments led by Timothy Leary and Richard Alpert (Ram Dass), made Music of Tibet — a historic first recording (in 1967) of the Gyuto Multiphonic Choir, and took up personal study of Zen, Vedanta, and Sufism. He considers himself, ultimately, to be a practicing Christian.
Read Barry Boyce's Lion's Roar feature on Smith, "Fifty Years on the Razor's Edge," here.
This video from 2009 gives a glimpse of Smith's "perspective from the age of ninety about age and the approach of death."