We may not be able to escape the troubles of the world, writes psychotherapist and author Karuna Cayton in his new book, The Misleading Mind, but we can exert control over our reactions. Here, in an exclusive excerpt from the book, he explains how the Buddhist practice of mind training can make the difference.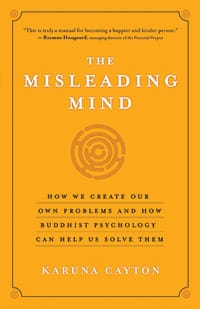 Any experience triggers a reaction. Mind training helps us determine instantly: Is it a helpful reaction? Then, if it's unhelpful, mind training teaches us how to let go of and even transform this emotion before we act upon it. Our minds are very tricky, however. Learning to discern unhelpful or negative reactions takes lots of practice and skill. Our reactions may be subtle or coarse, simple or intricate, but if they include what Buddhism calls the "disturbing emotions" — like anger and rage, desire and yearning, ignorance and confusion, and all of their variants — they qualify as "afflictive states" that need to be subdued. Subduing these afflictions means that we take back our life from the negative states of mind that cause suffering. This is like taking back our home after it has been overrun by unwanted guests.
It reminds me of a story my wife tells: When she was about eighteen years old, there was a horrible typhoon in the city of Darwin in the northwest corner of Australia. She lived many hundreds of miles away in Sydney, but the city still received a large stream of refugees seeking shelter there. My wife, being a dutiful citizen and an idealistic young person, allowed a few hippies to camp out on her floor. She didn't charge them rent, and soon the few hippies grew into several, and then several into almost a dozen. Since she had just a three-bedroom apartment, things began to get out of hand. She finally asked them to leave, but they refused. Eventually, she had to move out of the apartment herself.
And so it is with the disturbing emotions. We invite them in because, in the moment, it seems like the right thing to do. Soon, however, they take over our minds and, in truth, don't do a great job at creating a harmonious inner household. So long as there aren't too many, we might be able to tolerate their presence. We work around them; after all, we invited them in the first place. Eventually, inevitably, the disturbing emotions multiply or expand and become unbearable, and if we fail to be assertive, they take over our house.
We have to be wise. We have to spot unwelcome houseguests before they cross our threshold; we have to learn the best strategies for averting disturbing emotions and then for getting rid of them once they arise in our mind. We begin this process by becoming honest judges of our own capacity: How adept are we at handling difficult situations? For us, which situations trigger which disturbing emotions? That is, to use the difficult houseguest analogy: Not all guests cause us the same level of grief, but also, just because we may be able to handle two guests does not mean we can handle twelve. In fact, we may not be able to handle even one truly pain-in-the-ass guest. As this chapter discusses the disturbing emotions, you may recognize that you are much better at handling some than others, and that, for you, certain situations trigger particularly difficult ones. Until you're more practiced with mind training, don't expect to send your worst houseguests packing right away. Know and respect your own boundaries and manage them; managing one's emotional boundaries is a necessary, if temporary, technique. Tackle one emotion at a time, building your skills and strength, knowing that the ultimate goal is to create a mindset that maintains a harmonious outlook no matter how many or how troublesome your houseguests might be, one that stays in balance no matter what is happening "out there."
This obtainable ability to become acutely aware of our inner workings is liberating, yet it requires persistence. Remember: Treasure those "aha!" moments, those flashes of insight into our inner potential, but keep consistently practicing mind training in order to maintain clarity and awareness. I am fond of a quote by the great golfer Ben Hogan: "The more I practice, the luckier I get!" As we know, it is not "luck" at all but the fruitful results of diligent practice. The path of awakening to our inner potential is to become more adroit at applying the awakening tools and reinforcing our natural endowment or ability to let go of our mental afflictions. As the Buddha promised, in this way we end our suffering.
Excerpted from The Misleading Mind: How We Create Our Own Problems and How Buddhist Psychology Can Help Us Solve Them, 2012 by Karuna Cayton. Published here with permission from New World Library.