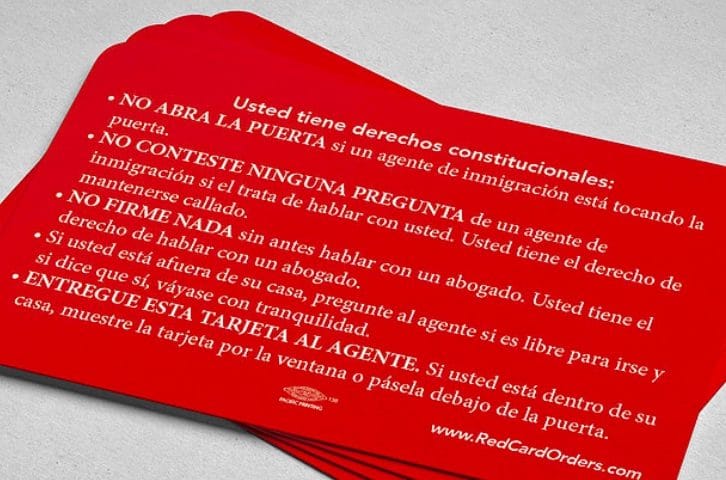 Buddhist teacher Mushim Patricia Ikeda has what she thinks is a great new way for Buddhists to be of service — by getting their various communities to offer a simple item that helps them assert their rights and feel less vulnerable. She explains:
I live and teach in California, which is home to more than 25% of the 800,000 young DACA (Deferred Action for Childhood Arrivals) recipients. As a Buddhist teacher and a resident of Oakland, one of the most diverse urban areas in the U.S., I keep front-and-center in my practice that making refuge as well as offering practices of non-fear are always of vital importance, and now more than ever.
If you are a Buddhist teacher or leader, you are important and you can help the immigrant communities in your area and their non-immigrant allies.
Something you can do quickly right now is order a bunch of these wallet-sized Know Your Rights red cards from the Immigrant Legal Resource Center and give them out for free at your Buddhist temple or center. [The red cards are free to nonprofits in California's Bay Area only. Otherwise they can be ordered from a union printer. I'll bet the price is reasonable.] ILRC says that all people in the United States, regardless of immigration status, have certain rights and protections under the U.S. Constitution. These bilingual cards (Spanish/Hmong/Chinese and English) help people assert their rights and defend themselves in many situations, such as when ICE agents go to a home.
For information about ordering (or printing your own) cards, visit: https://www.ilrc.org/red-cards
Can you help us at a critical time?

COVID-19 has brought tremendous suffering, uncertainty, fear, and strain to the world.
Our sincere wish is that these Buddhist teachings, guided practices, and stories can be a balm in these difficult times. Over the past month, over 400,000 readers like you have visited our site, reading almost a million pages and streaming over 120,000 hours of video teachings. We want to provide even more Buddhist wisdom but our resources are strained. Can you help us?
No one is free from the pandemic's impact, including Lion's Roar. We rely significantly on advertising and newsstand sales to support our work — both of which have dropped precipitously this year. Can you lend your support to Lion's Roar at this critical time?