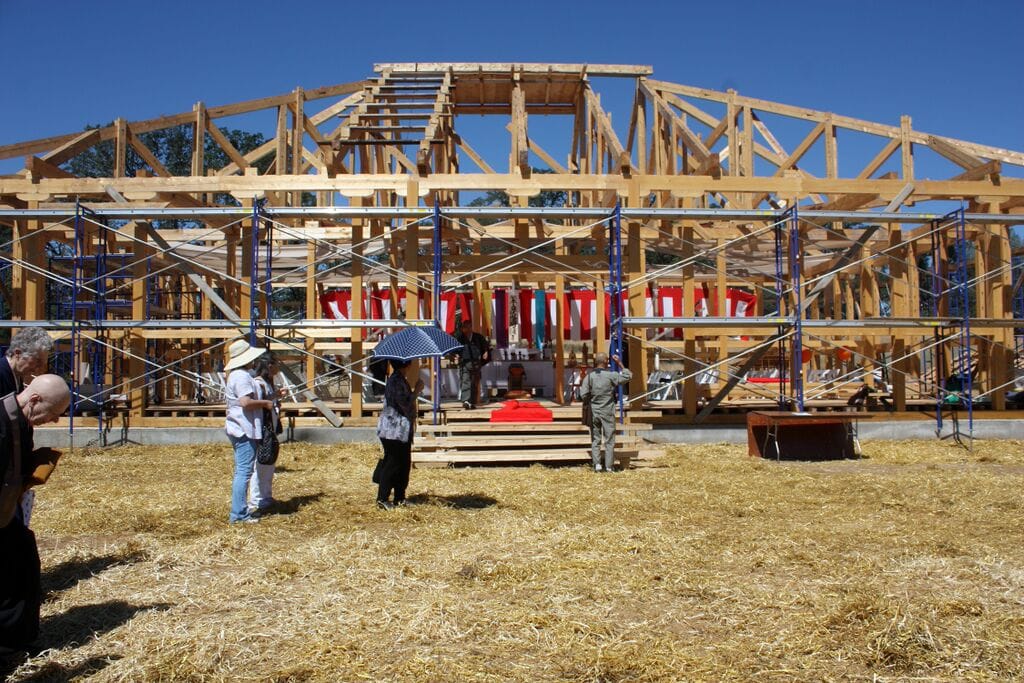 On June 13, on a hundred-acre plot of land not far from wine country in Northern California, priests and supporters from all over the world came together for the framework-raising ceremony of Tenpyozan, which is intended to be the first monastery in the West to offer Zen training of the same style and curriculum as that of traditional monasteries in Japan.
About thirty Soto Zen priests from North American sanghas as well as chief officers from head training temples Eiheiji and Sojiji, officials from the Soto Zen administrative headquarters in Tokyo, and representatives from the Soto Zen offices in Europe, South America, and Hawaii, gathered for a framework-raising ceremony and to celebrate the construction, already underway, of what will be the first Sotoshu-recognized training monastery outside Japan. Lay supporters of the project, consultants, architects, and members of the local community joined in chanting for the monastery's smooth completion and in dedicating the ground as a place of training for future generations.

Tenpyozan (the characters mean "Heavenly Peace Mountain") is the project of Gengo Akiba, abbot of Oakland Zen Center and the head representative of Sotoshu in North America, and Shuyu Togari, abbot of Kichijo-in in Japan. When completed, Tenpyozan will serve as both a year-round monastery for Zen priests in training and a retreat center for laypeople and other interested communities. The buildings, constructed using a mix of traditional carpentry methods and modern techniques, will have all the components of a classic monastery (monks' hall, Buddha hall, and so on) laid out in a configuration that has been prescribed within the Zen tradition for centuries.
Those interested in learning more about the project can visit their website for more details.