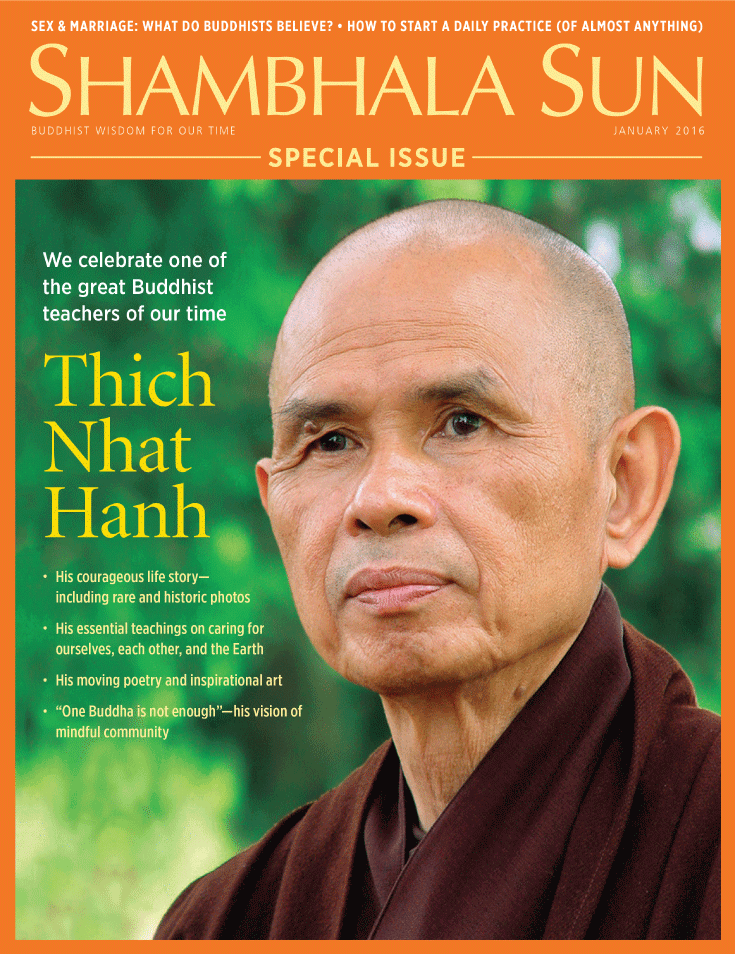 It's our honor to dedicate the January 2016 issue of the Shambhala Sun to one of the great Buddhist teachers of our time, Thich Nhat Hanh. This special issue celebrates his courageous life, his helpful teachings, his beautiful art and his profound legacy.
Thich Nhat Hanh: Celebrating a Life of Courage, Compassion & Enlightenment
His Courageous Life: The Photobiography
From his birth in Vietnam, to monkhood, to his creation and lifelong embodiment of Engaged Buddhism, Lindsay Kyte presents Thich Nhat Hanh's inspiring story, illustrated with rare and historic photographs from each of its eras:
The Birth of Engaged Buddhism: 1926–1959
The School of Youth for Social Service: 1960–1965
The Order of Interbeing: 1966
Exile: 1966–2004
Return to Vietnam: 2005–2008
World Teacher
His Profound Legacy: One Buddha is Not Enough
Rachel Neumann takes you to Thich Nhat Hanh's community in southwest France, where you'll meet his closest collaborator, Sister Chan Khong, and members of the new generation of teachers and practitioners who are putting his teachings on mindfulness and compassion at the fore of their lives every day.
His Helpful Teachings: Essential Writings from Thich Nhat Hanh
Buddhist Philosophy
Beyond Birth and Death
Impermanence and Nonself
The Two Dimensions
Meditation
Darkness Becomes Light
Your True Home
100% Present
Psychology
The Wounded Child Inside
Seeds from Our Ancestors
Be Like a Tree in a Storm
Zen
Beyond Words
The Zen Master
The Businessless Person
The True Person
Peace
Engaged Buddhism
The Seeds of War
The Human Behind the Label
Inclusiveness
Saving the Earth
The Bell Tolls
Touching the Earth
The Buddha of Our Time
Bodhisattva Earth Holder
A Future Is Possible
His Beautiful Art & Poetry: This Is It
Songs and poems by Thich Nhat Hanh, matched with his famed inspirational calligraphies.
The Moment
From Where I Sit
Ready for Another Reality? by Vincent Horn
Neurotribes: The New Diversity, with Steve Silberman
Bodhisattvas
Idealism for the Real World, with Manny Medeiros
Bodhi Chatter
Dharma, pop culture, and good-natured gossip
Heart & Mind
Why You Should Watch Inside Out with Your Kids, by Melissa Myozen Blacker
Plus: Blacker's top five movies with Buddhist lessons
Advice for Difficult Times
Hey, That Was My Idea! Norman Fischer responds
Plus: Fischer on taking your mind to the gym
This Dharma Life
Sit Down and Make Yourself Uncomfortable, by Karen Maezen Miller
Share Your Wisdom
Do you think of Buddhism as religion, philosophy, or psychology?
Online: Charles Prebish, Dzogchen Ponlop Rinpoche, and Joan Sutherland debate the question.
How to Practice
Six Steps to Establish a Daily Practice—Of Almost Anything, by Anne Cushman
Beginner's Mind
The 6 Transcendent Perfections
Insight Meditation Society
Do Buddhists follow prescribed rules regarding marriage or sexuality?
Do Buddhists believe in heaven and hell?
I've been reading a lot of Buddhist books and now I want to find a teacher. How do I go about it?
Meet a Teacher
Ethan Nichtern
Departments
Seeds from a Boundless Life, by Zenkei Blanche Hartman
Reviews
The True Source of Healing, by Tenzin Wangyal Rinpoche
This Moment is Full of Wonders, by Thich Nhat Hanh
The Relaxed Mind, by Dza Kilung Rinpoche
Dharma Delight, by Musho Rodney Greenblat
M Train, by Patti Smith
Kindfulness Meditation, by Ajahn Brahm
The Point of Vanishing, by Howard Axelrod
Start Here Now, by Susan Piver
Can you help us at a critical time?

COVID-19 has brought tremendous suffering, uncertainty, fear, and strain to the world.
Our sincere wish is that these Buddhist teachings, guided practices, and stories can be a balm in these difficult times. Over the past month, over 400,000 readers like you have visited our site, reading almost a million pages and streaming over 120,000 hours of video teachings. We want to provide even more Buddhist wisdom but our resources are strained. Can you help us?
No one is free from the pandemic's impact, including Lion's Roar. We rely significantly on advertising and newsstand sales to support our work — both of which have dropped precipitously this year. Can you lend your support to Lion's Roar at this critical time?