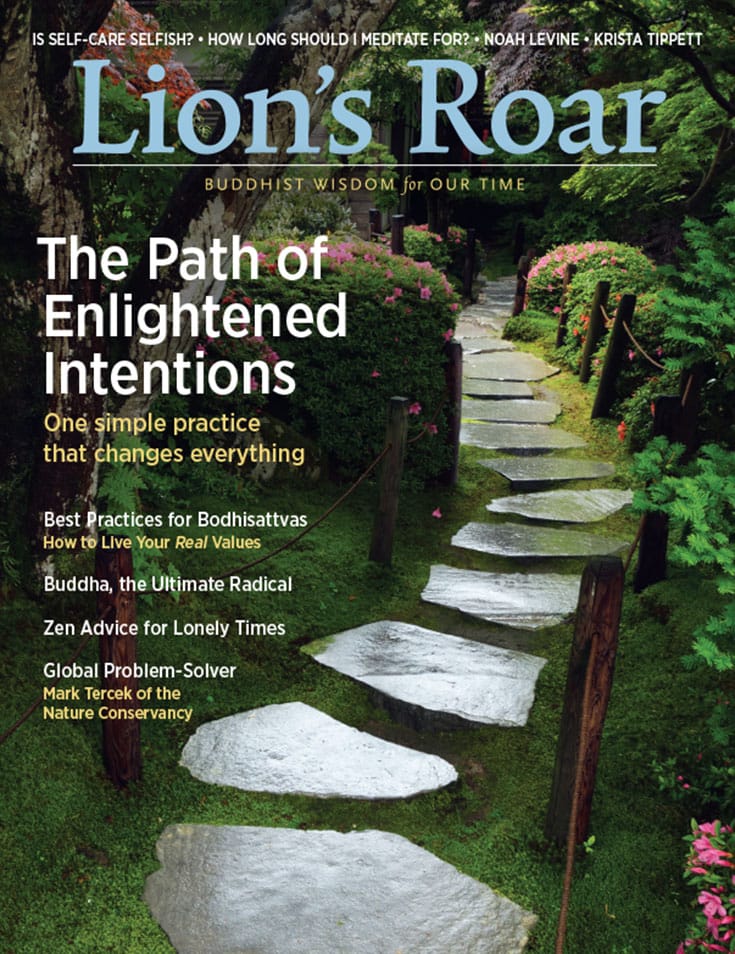 The January 2017 Lion's Roar magazine features teachings on the practice of intention-setting, plus Buddhist teachers on the meaning of the holidays.
The Path of Enlightened Intentions
Forget About the Road to Hell, by Rod Meade Sperry
One Simple Practice That Changes Everything
Making sure that your intentions align with your real values, says Insight Meditation teacher Sylvia Boorstein, is one of the best ways to lead the life you want.
Practice: What Are My Intentions for Today?
Intention Is the Practice
On the Buddhist path, says Zen teacher Norman Fischer, intention deepens into commitment and then into vow. At that point, your intentions and your life become one.
Practice: Four Reflections That Will Strengthen
Your Intention to Meditate
Today Will Be a Day of Love and Joy
The twin practices of intention and dedication, says Thupten Jinpa, can make every day one of love, benefit, and joy.
Practice: Setting Your Intentions at the Beginning of the Day
Practice: Making a Dedication at the End of the Day
Plus
Krista Tippett: Voice of America's Spiritual Journey
The host of On Being reflects on the spiritual movement in America—how it's grown, where it's going, and what makes it uniquely American.
Best Practices for Bodhisattvas
Traditional Buddhist vows can seem pretty hardcore, but they're really just guides to a good human life. Zen teacher Josh Bartok translates them into values we can all relate to.
Have a Very Buddhist Christmas
Joy, giving, family, and peace—people of all faiths can celebrate these values of the holiday season. Eight Buddhists offer their take on yuletide dharma.
Bonnie Nadzam: One Perfect Christmas
Lama Rod Owens: How I Discovered the Meaning of Christmas
Ira Sukrungruang: "Thank Buddha"
Kate Johnson: An Ordinary Miracle
Mary Rose O'Reilley: Houses Full of Light
Lodro Rinzler: Holiday Gifts
Bhante Suddhaso: A Time to Perfect Our Compassion
Rachel Neumann: "We're Celebrationists"
The Moment 
From Where I Sit
Buddha, the Ultimate Radical, by Andrew Olendzki
Global Problem-Solver: Mark Tercek of the Nature Conservancy
Q&A
Why Ann Patchett Can't Write Villains
Heart & Mind
The Do-Nothing Farmer's Guide to a Perfect Harvest, by Mark Frank
Advice for Difficult Times
Holiday Blues, by Karen Maezen Miller
This Dharma Life
The Breath of Love, by Rev. Sarah Siegel
Share Your Wisdom
What Is Your Favorite Novel with Buddhist Themes?
How to Practice
Mindful Eating, by Jan Chozen Bays
Beginner's Mind
Buddhism by the Numbers: The 8 Consciousnesses
FAQs: How Long Should I Meditate For? Why Do Buddhists Chant? Is Self-Care Selfish?
Who, What, Where: Stupas
Meet a Teacher
Myokei Caine-Barrett, Shonin
Books / Reviews
Ocean of Insight: A Sailor's Voyage from Despair to Hope, by Heather Lyn Mann
We review Chasing Water: Elegy of an Olympian by Anthony Ervin and Constantine Markides, Buddha's Diet: The Ancient Art of Losing Weight Without Losing Your Mind by Tara Cottrell and Dan Zigmond, A Guided Tour of Hell: A Graphic Memoir by Samuel Bercholz, and more.