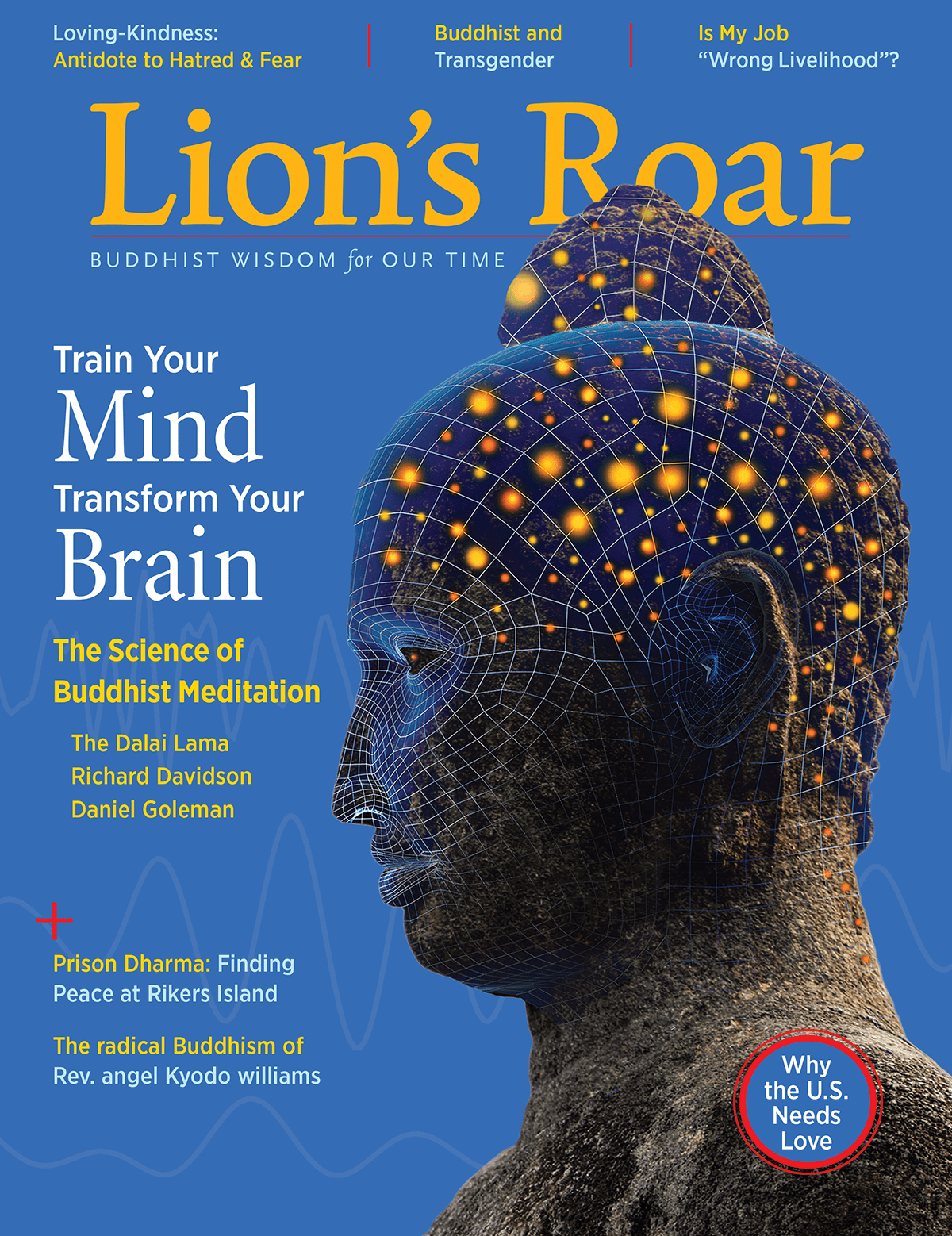 The January 2018 Lion's Roar magazine explores the science of Buddhist meditation, with features on the science of mind and brain from the Dalai Lama, Richard Davidson, and Daniel Goleman. Inside, you'll also find Van Jones and Lama Tsomo on why America needs love, the radical dharma of Rev. angel Kyodo williams, and more.
Train Your Mind to Transform Your Brain: The Science of Buddhist Meditation
EDITORIAL / WELCOME TO THE ISSUE
Yes, But Does It Work? by Melvin McLeod
How Meditation Changes Your Brain — and Your Life
When neuroscientists tested expert meditators, they discovered Buddhist meditation can alter deep-seated traits in our brain patterns and character. Daniel Goleman and Richard Davidson tell the story of this revolutionary breakthrough in our understanding of how meditation works.
The Dalai Lama explains why conventional science isn't enough—we also need the inner science of mind that Buddhist meditators specialize in.
What We Know and What We Don't
While people have believed for thousands of years that meditation works, the search for scientific proof is just beginning. The team at Greater Good Science Center assesses the current state of the science — what we do, don't, and might know.
Plus
Disrupting Suffering at Rikers Island
No one escapes suffering in America's most notorious jail. Jennifer Keishin Armstrong profiles Justin von Bujdoss, the first-ever Buddhist chaplain at Rikers Island.
Shit Happens in Folsom Prison
Tony Bernhard isn't afraid to get real when he teaches in Folsom Prison's Psychiatric Services Unit, where men inside cages learn to meditate.
Many dedicated volunteers offer Buddhist teachings and practices in prisons across the U.S.
Love and Justice
"I just want people to be liberated": John DeMont on the radical Buddhism of Rev. angel Kyodo williams.
Love doesn't mean we have to agree, but we don't have to be enemies. CNN's Van Jones and Buddhist teacher Lama Tsomo on how love lays the ground for real dialogue and change.
The Moment
From Where I Sit
Why We Must March: Dena Merriam
This Dharma Life
Where I Make Sense: Finn Enke
Advice for Difficult Times
My Livelihood Doesn't Seem Right by Michael Carroll
Heart & Mind
Music Night by Ryan Winger
Share Your Wisdom
How do you express your Buddhist values through political, social, or environmental activity? Readers respond.
How to Practice
Metta for a Troubled Time by Mushim Patricia Ikeda
Beginner's Mind
Buddhism by the Numbers: The 5 Buddha Families
FAQs: Unmet Teachers, Bowing, Drowsiness & Agitation
Who, What, Where: The Rubin Museum of Art
Meet a Teacher
Noah Levine
Books/Reviews
HOT OFF THE PRESS
Seeing Beyond the Screen — Excerpted from What Now?: Meditation for Your Twenties and Beyond by Yael Shy
BOOK BRIEFS
We review Beyond The Self by Matthieu Ricard and Wolf Singer, A Fierce Heart by Spring Washam, The Departure, a film by Lana Wilson, and more.
THANK YOU FOR READING LION'S ROAR. CAN WE ASK FOR YOUR HELP?
At Lion's Roar, our mission is to communicate Buddhist wisdom in today's world. The connections we share with you — our readers — are what drive us to fulfill this mission.

Today, we're asking you to make a further connection with Lion's Roar. Can you help us with a donation today?
As an independent nonprofit committed to sharing Buddhist wisdom in all its diversity and breadth, Lion's Roar depends on the support of readers like you. If you have felt the benefit of Buddhist practice and wisdom in your own life, please support our work so that many others can benefit, too.

Please donate today — your support makes all the difference.

Lion's Roar is a registered charity in the US and Canada. All US & Canadian donations are tax deductible to the full extent allowed by law.