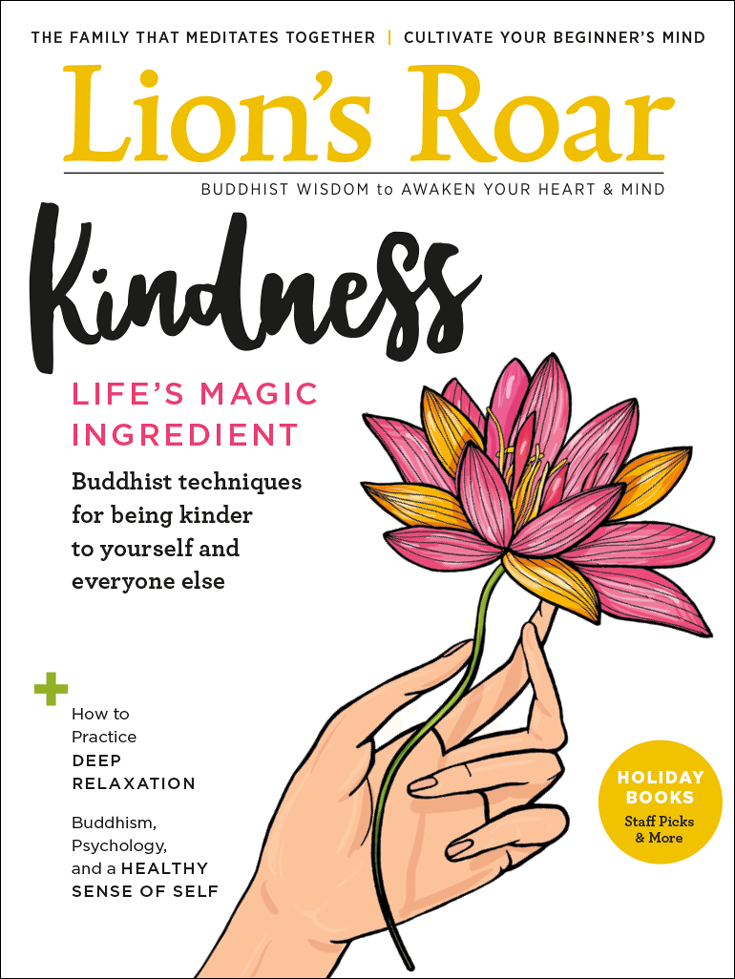 The January 2019 issue of Lion's Roar magazine features Buddhist techniques for being kinder to yourself and everyone else. Inside, you'll find teachings from Pema Khandro Rinpoche, Lama Rod Owens, and Mushim Patricia Ikeda; a deep relaxation practice from Sister Chan Khong; a profile of Roshi Pat Enkyo O'Hara; and much more.
Kindness: Life's Magic Elixir
What Does It Mean to Be Kind? by Haleigh Atwood
A Kinder World Begins with You
Using traditional metta practice as a guide, six Buddhist teachers offer practical wisdom for being kinder to yourself, your loved ones, and everyone else.
Be Kind to Yourself by Pema Khandro Rinpoche
Be Kind to Your Loved Ones by Lama Rod Owens
Be Kind to Neutral People by Norman Fischer
Be Kind to Difficult People by Karen Maezen Miller
Be Kind to Everyone by Melissa Myozen Blacker
How to Practice Loving-Kindness Meditation by Mushim Patricia Ikeda
Kindness Changes Everything
True stories about the power of kindness.
After the Storm by Rachel Neumann
Strangers No More by Shahara Godfrey
We Marched Singing & Dancing by Kyle Lemle
Be Kindness by Noliwe Alexander
Tender Heroes by Seiho Mudo Morris
Plus
On a pilgrimage to India, Andrea Miller connects with the flesh-and-blood Buddha. His humanity, she finds, is more inspiring than any legend. It means awakening is possible for all of us.
The Dharma Was Built on These Bricks
Andrea Miller visits the ruins of Nalanda, the great university where much of what we know today as Buddhism was developed.
A lifelong outsider, Pat Enkyo O'Hara leads a warm and engaged Zen community in New York's Greenwich Village. Lindsay Kyte profiles one of Buddhism's leading woman teachers.
The Family That Meditates Together…
It's not easy, but getting your family to meditate could be the best thing you do as a parent.
Gail Silver on how to interest your kids in breathing, seeing, and being.
Artist and writer Susan MacLeod observes the foibles, humor, and caring of life in a nursing home. There, she and her mother finally came to know each other.
The Moment
FROM WHERE I SIT
No One Owns the Earth by David R. Loy
BODHISATTVAS
Educating Himalayan Children: Shirley Blair
Heart & mind
How to Cultivate Your Beginner's Mind by Ezra Bayda
ADVICE FOR DIFFICULT TIMES
Healthy Self or No Self? by Barry Magid
Weekend Wisdom
The Joy of Crying by Sam Littlefair
THIS DHARMA LIFE
A Toast to Paying Attention! by Dan Zigmond
Inside Buddhadharma
Actions Speak Louder Than Worldviews by Thanissaro Bhikku
HOW TO PRACTICE
Deep Relaxation by Sister Chan Khong
SHARE YOUR WISDOM
How does Buddhism inform your parenting?
BEGINNER'S MIND
Buddhism by the Numbers: The 3 Marks of Existence
FAQs: Safe Communities, Emptiness vs. Nothingness, Books for POCs
Who, What, Where: Who, What, Where: Tara
You'll find more Dharma FAQs and other articles for your beginner's mind here.
MEET A TEACHER
Greg Snyder
Books/Reviews
Lion's Roar staff picks their favorite books of 2018.
BOOK BRIEFS
We review The Compassionate Kitchen by Thubten Chodron, Love for Imperfect Things by Haemin Sunim, Aging for Beginners  by Ezra Bayda, with Elizabeth Hamilton, and more.
THANK YOU FOR READING LION'S ROAR. CAN WE ASK FOR YOUR HELP?
At Lion's Roar, our mission is to communicate Buddhist wisdom in today's world. The connections we share with you — our readers — are what drive us to fulfill this mission.

Today, we're asking you to make a further connection with Lion's Roar. Can you help us with a donation today?
As an independent nonprofit committed to sharing Buddhist wisdom in all its diversity and breadth, Lion's Roar depends on the support of readers like you. If you have felt the benefit of Buddhist practice and wisdom in your own life, please support our work so that many others can benefit, too.

Please donate today — your support makes all the difference.

Lion's Roar is a registered charity in the US and Canada. All US & Canadian donations are tax deductible to the full extent allowed by law.