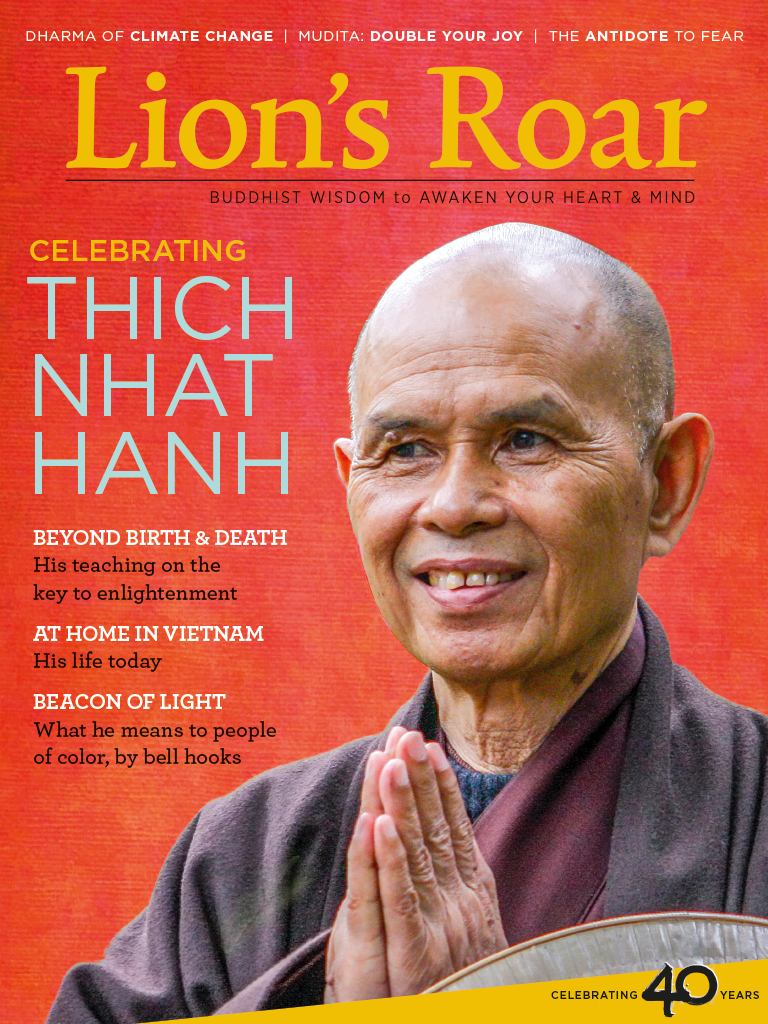 The January 2020 issue of Lion's Roar magazine celebrates one of the great spiritual teachers of our time, Thich Nhat Hanh. Inside, you'll find his teaching on the key to enlightenment, a report on his life today, and appreciations of his impact from bell hooks, Kaira Jewel Lingo, and Alan Senauke. You'll also find a helpful body scan practice from Greater Good Science Center; Zen teacher Reb Anderson on how to be a bodhisattva; an interview with Governor David Ige of Hawaii; Buddhist book reviews; and much more.
Celebrating Thich Nhat Hanh
We honor one of the great spiritual teachers of our time. Zen master, activist, poet, and teacher of mindfulness, he's helped millions and changed Buddhism.
We're Made for This Time by Melvin McLeod
Thich Nhat Hanh's teaching on how to transcend all dualities. That's the key to enlightenment.
Five years after his stroke, Thich Nhat Hanh is enjoying a quiet, contemplative life in the temple where he lived as a young novice. Sister Annabel Laity shares the moving experience of visiting her teacher there.
A Teacher for Our Time
As a Zen master, peace activist, and teacher of mindful living, Thich Nhat Hanh has helped millions and changed Buddhism. Three people who have been guided by his life and teachings reflect on his importance.
Peace in Every Step by Alan Senauke
Love Is the Most Important Thing by Kaira Jewel Lingo
Continuing Thay's Teachings
Meet eight of Thich Nhat Hanh's students who are now teachers themselves. In their own unique ways, they're helping to carry his dharma into the future.
Under the Bombs by Sister Chan Khong
A Hand to Hold by Annabelle Zinser
How to Model Meditation for Your Kids by Gail Silver
I Have Arrived by Brother Phap Hai
Someone to Blame by Mitchell Ratner
The Garden Path by Zachiah Murray
Your Relationship Can Flower by Peggy Rowe Ward and Larry Ward
Tea Meditation by Joseph Emet
Plus
The Future of Buddhism
Concluding our yearlong look at Buddhism in the next 40 years, we hear from five young Buddhists who share their goals, ideals, and hopes for Buddhism.
We Need More Heart by Ravi Mishra
When I Think About The Future of Buddhism by Tara Umemoto
Three Dharma Gates by Aaron Stryker
The Future is Now by Johnny Edward Dean Jr.
More Yokes for More Folks by Bri Barnett
How to Be a Bodhisattva
Zen teacher Reb Anderson on the six heroic practices enlightened beings do — and so can you.
Greater Good
Oh, Hello There, Body
From your facial muscles down to your toes, tuning into how each part of your body feels can help you discover what your body really needs.
Heart & Mind
Don't Pull the Trigger
Sometimes all it takes is a word or simple event and our thoughts and emotions are off to the races. David Richo on the fear that's behind our triggers—and the antidote to it.
This Dharma Life
No Ordinary Bird
Zen teacher Benjamin Mui Pumphrey on appreciating not just the rare birds, but also the sparrows and crows.
Christiane Wolf on how to multiply the joy in your life with mudita — delight in the happiness of others.
From Where I Sit
Our House Is On Fire
The Buddha's wisdom, says Bhikkhu Bodhi, shows us how to meet the climate crisis—by changing society for the better.
Q&A
Buddhism Is Never Apart from Who I Am: Governor David Ige of Hawaii
Advice for Difficult Times
Forever Offline by Melvin Escobar
Weekend Wisdom
Perfectly Imperfect by Sandra Hannebohm
Inside Buddhadharma
Touch the Infinite by Vanessa Zuisei Goddard
Beginner's Mind
Buddhism by the Numbers: The 5 Kleshas
FAQs: Do all Buddhists meditate?, Accumulating merit, Books for beginners
Who, What, Where: Pretas or "Hungry Ghosts"
You'll find more Dharma FAQs and other articles for your beginner's mind here.
Share Your Wisdom
Buddhist Tattoos
From dragons to lotuses — why people turn their bodies into sacred art.
Meet the Teachers
Peggy Rowe Ward & Larry Ward
Books/Reviews
Hot off the press
Naked in the Zendo, by Grace Schireson
Book Reviews
We review Radical Compassion by Tara Brach, The Inner Work of Racial Justice by Rhonda V. Magee, Buddha's Office by Dan Zigmond, and more.